The Harry Potter And The Half-Blood Prince Scene Fans Thought Was Way Too Cringey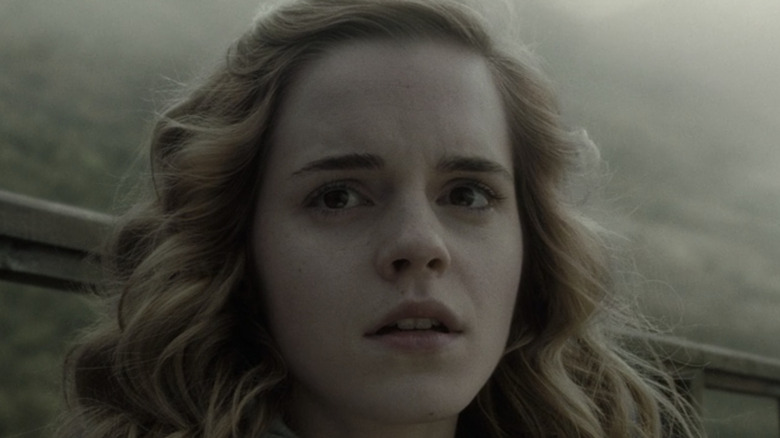 Warner Bros. Pictures
Though there are plenty out there who might consider the "Harry Potter" film franchise to be a collection of timeless classics, the fact remains that there are plenty of moments throughout the series that are just flat-out cringeworthy. Just because our characters live in a magical world full of witches and wizards doesn't mean they are exempt from the awkward, uncomfortable moments that come with growing up — and of all the films in the franchise, there are perhaps none that better exemplify said awkwardness than "Harry Potter and the Half-Blood Prince."
The David Yates-directed film includes a plethora of embarrassingly awkward moments, including a scene where Harry Potter (Daniel Radcliffe) clumsily flirts with a waitress, a scene where Ron Weasley (Rupert Grint) accidentally swallows a love potion and falls in love with a girl he's never met, and of course, the infamous "shoelace" scene, wherein Ginny Weasley (Bonnie Wright) attempts to flirt with Harry by bending over and "romantically" tying his shoe for him. And yet even with the staggering number of uncomfortable moments scattered throughout this film, there is perhaps no "Half-Blood Prince" scene as cringeworthy as the scene where Hermione (Emma Watson) and Lavender Brown (Jessie Cave) argue in the hospital wing.
Fans agree that the hospital wing scene is incredibly uncomfortable
The scene in question focuses on Ron as he recovers in the hospital wing after being poisoned, surrounded by Harry, Hermione, and Ginny. Several teachers are also present, including Minerva McGonagall (Maggie Smith), Severus Snape (Alan Rickman), Horace Slughorn (Jim Broadbent), and Albus Dumbledore (Michael Gambon). The scene itself gets off to a particularly ​​nauseating start as Lavender enters the room screaming, "Where's my Won-Won?" This is followed by a furious argument between Lavender and Hermione over who cares more about "Won-Won," which ends when Ron says the name "Hermione" in his sleep and Lavender starts bawling.
Aside from the fact that Lavender continues to refer to Ron as "Won-Won" throughout the entire scene, what truly makes the encounter so uncomfortable is the fact that the teachers in the room are forced to watch this high school melodrama play out in front of them. "Is there a more cringe[-]inducing scene than this?" wrote u/Dillidolli on Reddit, accompanied by a screencap of Lavender shouting in front of the teachers. "The fact that the teachers didn't leave and just stood there made it even more cringe," agreed u/skullfucyou.
While most users agreed that the scene was exceptionally cringeworthy, others pointed out that the awkwardness was entirely realistic. "I like that it was awkward," wrote u/rebel_child12. "The relationships seemed genuine in that all teenage relationships are freaking awkward and sometimes cringy." Whether you enjoyed the scene's overt awkwardness or not, the simple fact remains that this is undoubtedly one of the most cringe-inducing scenes in the entire film.