How The Stunt Workers In Cobra Kai Perfected Their Skills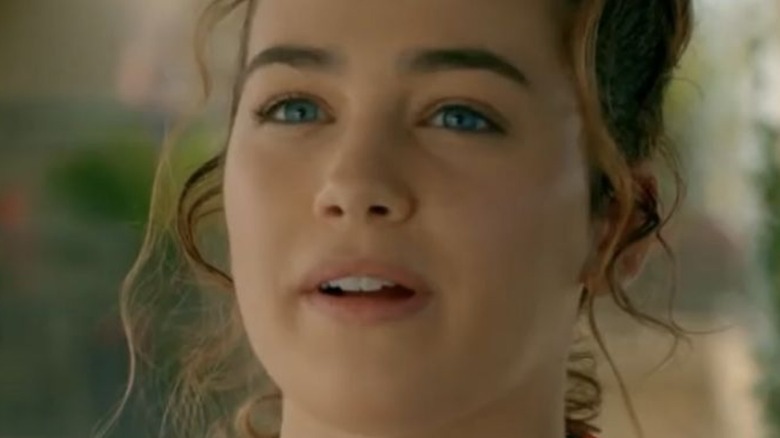 Netflix
A key reason why "Cobra Kai" has become so successful is the fact that it has a little something for everyone to enjoy. If you're a fan of the original "Karate Kid" films and want to see what became of your favorite characters, the show has you covered. If you'd prefer to get invested in the often dramatic lives of franchise newcomers, "Cobra Kai" doesn't disappoint either. Of course, if you like hard-hitting, fast-paced martial arts action, you can rest assured that no matter which season you're watching, you'll be thoroughly entertained.
Season after season, the students and instructors under the Cobra Kai and Miyagi-Do banners do battle in everything from sanctioned competitions to heated street fights. Some of these confrontations have resulted in some uncomfortably brutal moments, but even still, there's no denying how impressive most of these fight sequences look. Part of that comes from the skilled actors tasked with bringing them to life, although most of the legwork goes to the stunt department, which works tirelessly to make "Cobra Kai" action scenes look cinematic yet realistic.
As one could imagine, seamlessly pulling off stunts for a TV series like "Cobra Kai" isn't a quick or easy process. However, the team behind the small screen favorite has managed to perfect it. Here's how.
Practice and mental focus are paramount to stunt success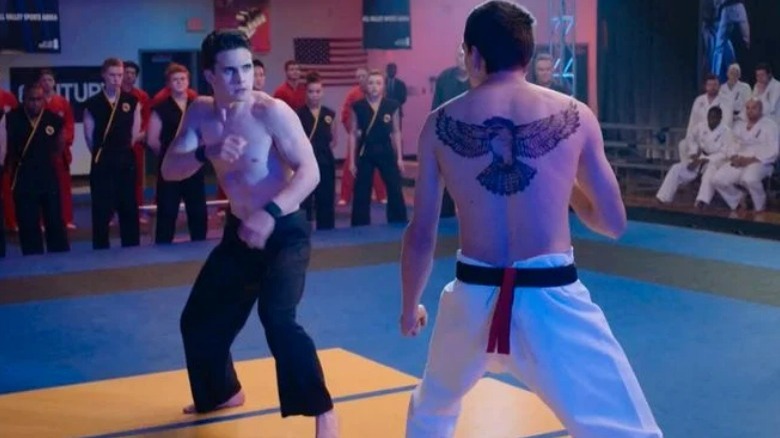 Netflix
In August of 2021, stunt workers from across the television world came together to tell Variety about their line of work. Jahnel Curfman, who played a big hand in the choreography of "Cobra Kai," gladly offered her insight. She explains that the Season 3 brawl at the LaRusso house presented more than a few challenges — chief among them being that the crew shot it as one continuous take with numerous actors having to hit their marks at just the right time. Nevertheless, thanks to careful planning, practice, and communication with the actors, they pulled the scene off.
"Being mentally focused is key to staying safe and making sure my performance really pops," Curfman noted, though staying safe isn't always guaranteed. For instance, during an interview with Vanity Fair, Mary Mouser revealed that she broke her thumb during one of Tory Nichols (Peyton List) and Sam LaRusso's (Mouser) Season 4 scraps. "Peyton accidentally fell because she was in those heels, fell on my hand, and my thumb went pop," she said, recalling trying to soldier on and ignore the pain, but one of the stuntmen knew something was wrong, so he got her proper medical treatment.
Acting is often a pretty safe profession, but it's not entirely void of risk. As evidenced by Mary Mouser's experience filming "Cobra Kai" Season 4, accidents can, and will, happen at the drop of a dime. Thankfully, talented stunt people like Jahnel Curfman are around to minimize the risk using their invaluable stunt knowledge.