The Classic Top Gun Character Jon Hamm Drew Inspiration From For Top Gun: Maverick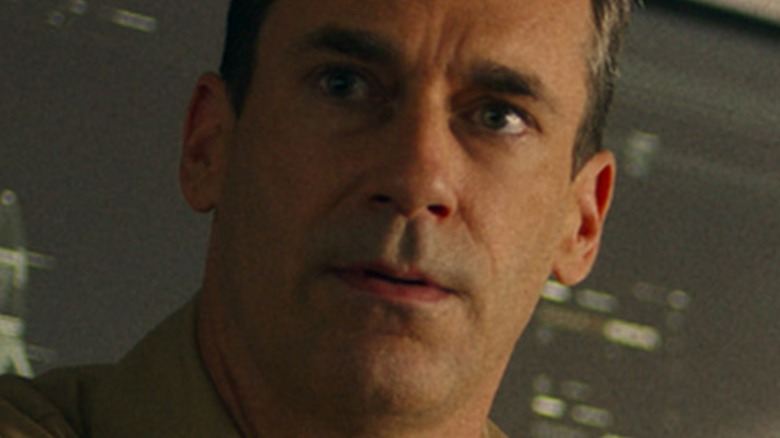 Paramount Pictures
The original "Top Gun" film from the late director Tony Scott blew audiences away back in 1986, providing them with plenty of action and drama from the cockpit of a fighter jet. Now decades removed from its theatrical debut, a sequel has come to life courtesy of Paramount Pictures and director Joseph Kosinski. Titled "Top Gun: Maverick," this often pause-worthy sequel gets moviegoers up to speed on what has become of skilled pilot Pete "Maverick" Mitchell (Tom Cruise) in the years since his first outing at the movies, but that's not all.
In continuing the story of Maverick and other legacy characters such as Tom "Iceman" Kazansky (Val Kilmer), the second "Top Gun" film also spotlights a brand new crew. Among the fresh faces are Miles Teller as Bradley "Rooster" Bradshaw — the son of Nick "Goose" Bradshaw (Anthony Edwards) from the first film –, Monica Barbaro as Natasha "Phoenix" Trace, and Glen Powell as Jake "Hangman" Seresin. Jon Hamm also features as Beau "Cyclone" Simpson: a no-nonsense military man who doesn't approve of Maverick's methods despite his success.
To best pull off his Cyclone portrayal in "Top Gun: Maverick" and help capture the spirit of the 1986 classic, Jon Hamm looked to an iconic "Top Gun" character for inspiration. Here's who he channeled in front of the camera.
Mike Metcalf informed Hamm's Cyclone performance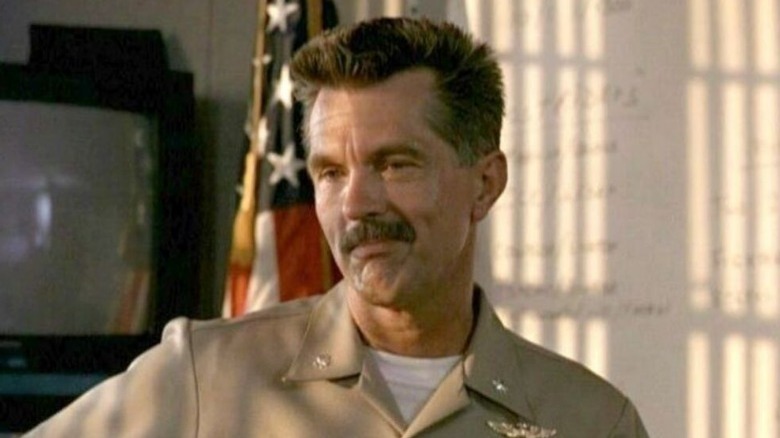 Paramount Pictures
Following the theatrical debut of "Top Gun: Maverick," Jon Hamm sat down with The Hollywood Reporter to discuss his experience working on the film. In doing so, he shed some light on how he went about playing Cyclone and revealed that he looked to Tom Skerritt's performance as Mike "Viper" Metcalf from the first "Top Gun" for guidance. "He's got that tough love sensibility, but he also has that great line at the end, 'I'll fly with you.' It's a begrudging mutual respect, and my character has a lot of that, too," Hamm said, voicing his adoration for Skerritt and his acting skills.
Tom Skerritt's Viper featured quite heavily in "Top Gun," initially giving Maverick a hard time for his reckless flying. However, by the film's end, the two pilots find common ground, with Viper even revealing that he served alongside Maverick's father, Duke Mitchell, during the Vietnam War. That sounds like a friendship worth exploring in "Top Gun: Maverick," but as it turns out, it's not something the continuation concerns itself with. As Skerritt revealed on an installment of Deluxe Edition: A Classic Pop Culture Podcast, he did film a scene for the film, but it was hardly anything substantial.
Even without Viper around, Maverick still has to deal with an authority figure, this time in the form of Cyclone. Bearing in mind Jon Hamm's preparation for the part, though, shades of that past dynamic lived on in "Top Gun: Maverick" after all.