Jon Hamm And Writer Justin Marks On Capturing The Spirit Of The Original Top Gun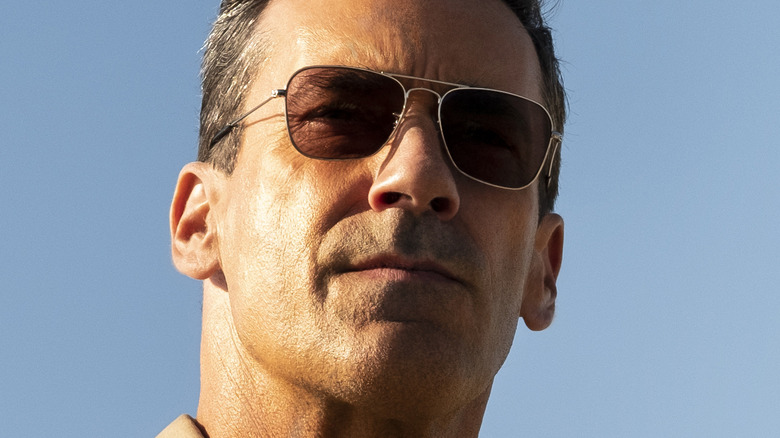 Paramount
It was 36 years ago this month that "Top Gun" came out and took the world by storm. Directed by Tony Scott and starring Tom Cruise, the melodrama about an elite group of Navy pilot trainees and their relationships, rivalries, and romances — all set against some of the most dangerous flying in the world — was a tremendous hit with audiences. It arguably turned Tom Cruise from a rising star into a superstar (via Men's Journal), launched scores of pop culture memes, and added a new wrinkle to the already established and proven "summer blockbuster" formula.
Now, all these years later, "Top Gun: Maverick" will finally continue the story of Cruise's Captain Pete "Maverick" Mitchell, who returns to the Navy's TOPGUN flight school to train a new team of pilots for a high-risk mission that some may not return from. But Maverick also has to deal with the ghosts of his past and face a future in which doing what he loves most — flying — may no longer be an option for him.
In crafting the sequel, Cruise, director Joseph Kosinski, producer Jerry Bruckheimer, and producer-screenwriter Christopher McQuarrie (along with other scribes) had to consider one question before they started: What made "Top Gun" so special to fans back then?
"I think the original film defined what it meant to be cool for a lot of kids in my generation," said co-star Jon Hamm, who plays new character Admiral Beau "Cyclone" Simpson. "I was 15 years old and I just know me and my friends thought everything about that movie was so cool."
Top Gun: Maverick had to be about more than just nostalgia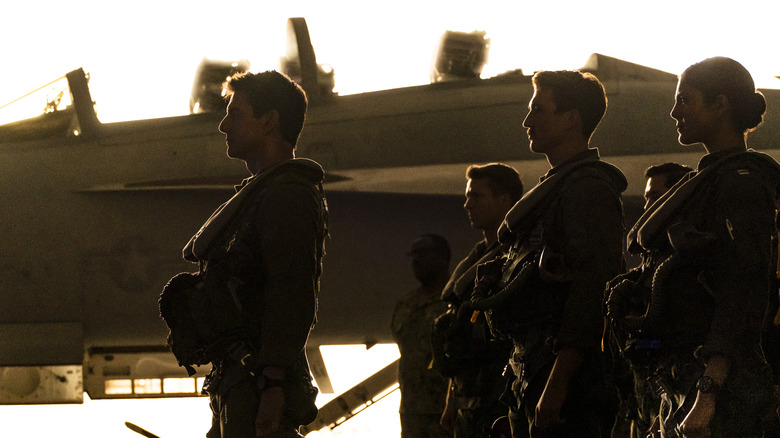 Paramount
Speaking on the red carpet at the San Diego premiere of "Top Gun: Maverick," Jon Hamm said that the original "Top Gun" probably motivated a certain amount of the people who saw it to serve their country, while also expressing ideas that are also still very much part of the fabric of "Top Gun: Maverick."
"If you ask a couple of the naval aviators and veterans that we have here, ['Top Gun'] inspired a whole generation of men and women to join the Navy," explained Hamm. "I think the lessons that you learn when you join the service as a naval aviator, or a sailor, or whatever branch you choose are about sacrifice, you learn about teamwork, loyalty, duty, responsibility, and all those things. Those are the themes we have in the film."
One challenge that the filmmakers had to overcome was how to take those themes — as well as the characters, the settings, and other aspects of the first film that audiences loved — and make something new out of them without turning "Maverick" into just a nostalgia-fest.
"We knew going into it, if we're going to do it again, we have to find some way to capture that same lightning in a bottle," said Justin Marks, who collaborated on the film's story. "We had feelings from the original that we wanted to maintain ... [but] you've got to find something new, and I think that's something Tom [Cruise] was really intent on finding."
Marks added, "I think at the end of the day, it's about what feeling 'Top Gun' creates for us, and when you think about that, you don't want to just play the greatest hits ... You want to feel like this is something that reminds you of the movie you love. But it's got to make new legends."
"Top Gun: Maverick" arrives in theaters everywhere on May 27.