The Marvel Star George Miller Considered Casting In Furiosa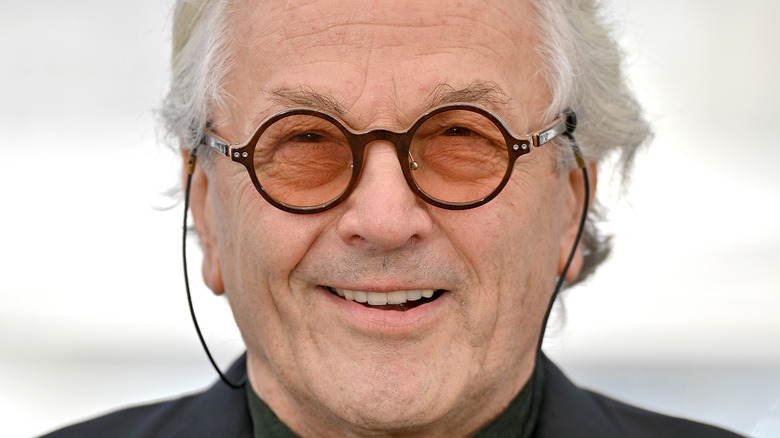 Lionel Hahn/Getty Images
While famed filmmaker George Miller is preparing his upcoming film — the romantic fantasy drama "Three Thousand Years of Longing" — his mind is also very much on the long-anticipated dystopian action thriller "Furiosa," the prequel to his 2015 box office blockbuster "Mad Max: Fury Road."
A reboot of Miller's famed "Mad Max" film series that starred Mel Gibson in the titular role, "Mad Max: Fury Road" not only starred Tom Hardy as the new version of the antihero Max Rockatansky but also introduced another badass who the audience could root for — Imperator Furiosa. Realized with, well, fury, by Charlize Theron, Furiosa was a war captain under the evil post-apocalyptic ruler Immortan Joe (Hugh Keays-Byrne) until she turned against the tyrant with the aid of Max.
As Miller wraps up production on "Three Thousand Years of Longing" for its late summer release, he's also in the early stages of putting together the cast of the "Mad Max: Fury Road" prequel, which stars "The Queen's Gambit" breakout star Anya Taylor-Joy as the younger version of Furiosa. Having the benefit of working with several talented actors over the course of his 40-plus years in feature films, it's no surprise that some recognizable names instantly spring to Miller's mind when casting for his new projects. When it came to the cast of "Furiosa," Miller said he didn't have to look far for potential stars, including an Oscar-winning actor who once played a pivotal role in the Marvel Cinematic Universe.
Miller says he looked for a creative way to cast Tilda Swinton in Furiosa
"Three Thousand Years of Longing" stars Tilda Swinton as Alithea Binnie, a lonesome scholar who unwittingly unleashes a Djinn (Idris Elba) from an ancient relic. If the genie grants Alithea three wishes, he will be able to go free. Of course, Swinton and Elba have turned in their fair share of memorable performances over the years, including a pair of roles in the MCU. Elba played Thor's ally Heimdall in three of the God of Thunder's movies as well as two Avengers movies, while Swinton played assumed the role of The Ancient One in "Doctor Strange" and "Avengers: Endgame" and reprised the voice of the character in the Marvel Studios/Disney+ series "What If...?"
In a Q&A with The Hollywood Reporter, Miller said he was so impressed with Swinton in "Three Thousand Years of Longing" that he seriously considered casting her in "Furiosa."
"To be perfectly honest, it was the first thing I thought about," Miller revealed to THR. "As you know, in 'Suspiria,' she played three roles, one of which is an old man, so I thought, 'Well, she could play one of the men [in "Furiosa"].' But unfortunately, there was no role that she would fit. I said to her, 'I really, really tried, especially for me, but there wasn't anything.'"
Miller passed on casting Swinton in Furiosa as a move of respect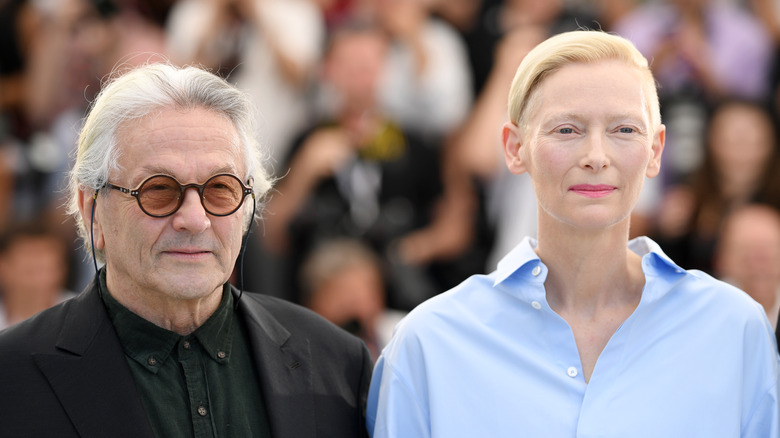 Pascal Le Segretain/Getty Images
Swinton has amassed nearly 100 credits in her 35-plus years in showbiz, including turns in such acclaimed films as "We Need to Talk About Kevin," "The Curious Case of Benjamin Button," and most recently, "The French Dispatch." One of her biggest achievements came in 2008 when she won an Oscar for Best Supporting Actress for her riveting role opposite George Clooney in the legal drama "Michael Clayton."
Ultimately, Miller told THR that he decided against casting Swinton in "Furiosa" because of the uncertainty surrounding the fate of her character after filming the role. As such, Miller's respect for the actor overruled his wavering thoughts of casting Swinton merely for the sake of wanting to work with her again.
"If you force a character into a film, it's usually the first one to end up on the cutting room floor. I would never do that to her, but I definitely wanted to make it happen," Miller told THR. "I've thought of all the other films that I have and the ideas I have in my mind to see what she can play. Same with Idris. I must say, he's wonderful. Watching them work together was such a delight for me. Having the characters on the page and in your head is one thing, but it's another to see the actors manifest the characters."
"Three Thousand Years of Longing" is set for an August 31 release in theaters. "Furiosa" is currently pegged for release sometime in 2024.