The One Role That Changed The Course Of Tilda Swinton's Career Forever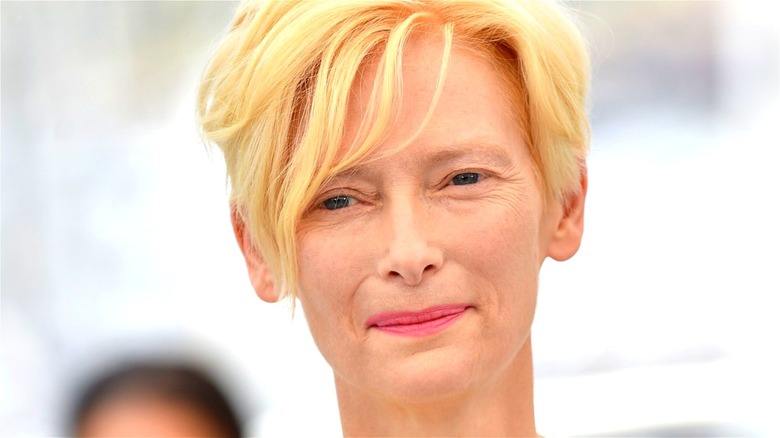 Lionel Hahn/Getty
Tilda Swinton has amassed one of the most eclectic and interesting careers of practically any actor working today. She got her start in the industry performing in an array of experimental films in the 1980s. After a slew of awards, she began getting into more mainstream affairs, culminating in winning the Academy Award for Best Supporting Actress for 2007's "Michael Clayton." It was around this time she began to see more mainstream success, including roles in the "Chronicles of Narnia" franchise as well as the Marvel Cinematic Universe as The Ancient One in "Doctor Strange" and "Avengers: Endgame."
She's had a long and storied career, one that has seen her act in pretty much every type of film imaginable, from independent features to blockbusters. It would be safe to say that no singular role could ever truly define such a legacy. However, in Tilda Swinton's filmography, one movie could really be seen as a turning point.
Orlando allowed Tilda Swinton to embrace androgyny
Tilda Swinton has often maintained an androgynous nature within her own personal aesthetic, and that's seeped into her body of work, as well. On that particular subject to W Magazine, Swinton once said, "People talk about androgyny in all sorts of dull ways. [Surrealist artist Claude] Cahun looked at the limitlessness of an androgynous gesture, which I've always been interested in" (via Red Carpet Fashion Awards). "Limitlessness" could also be a good word to describe Swinton's career as a whole, as she's managed to play a wide breadth of characters, and the world began to see as much with her role in the 1992 film "Orlando."
"Orlando" follows a 17th-century nobleman, played by Swinton, who inherits a large chunk of property from Queen Elizabeth I (Quentin Crisp), who commands the individual never to change. Decades later, Orlando is shocked to wake up as a woman, with the right to her property now called into question. The performance allowed Swinton to fully embrace both male and female attributes, going from army wear to lustrous gowns. And she's able to maneuver between the two with gravitas and aplomb.
"Orlando" shows how one person can live a life in defiance of a singular definition, nicely summarizing Swinton's life as an actor. She's never been pigeonholed to a single type of role or genre of film. She weaves in and out of various performances with ease, never allowing things like gender expression to get in the way of whatever role she wants to play.