The Violent Season 1 Callback In Stranger Things 4 Episode 7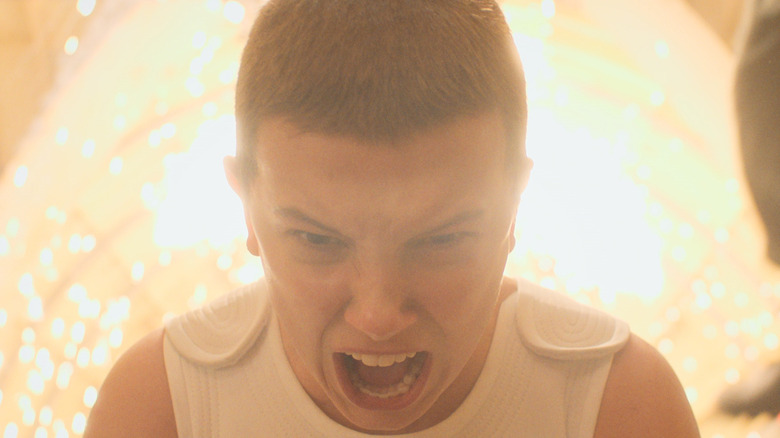 Netflix
Contains spoilers for "Stranger Things" Season 4
After almost three years of waiting, new episodes of "Stranger Things" have finally premiered. The first part of Season 4 picks up a few months after the events of "The Battle of Starcourt." In the aftermath of that deadly encounter, many characters have gone their separate ways.
Eleven (Millie Bobby Brown), now living under the name Jane Hopper, is struggling to adapt to her new life in California with Joyce (Winona Ryder), Jonathan (Charlie Heaton), and Will (Noah Schnapp). Meanwhile, a lot has changed back in Hawkins. Lucas (Caleb McLaughlin), Dustin (Gaten Matarazzo), Max (Sadie Sink), and Mike (Finn Wolfhard) are now in high school, and, although they've remained friends, the group has drifted apart. However, the characters are horrified when their past comes back to haunt them in the form of a monster, dubbed Vecna, who can reach into our world and kill people telepathically.
Portrayed by Jamie Campbell Bower, Vecna's origins are slowly revealed as Eleven works to regain her powers. In a shocking twist, viewers learn that Vecna has a connection to Eleven's traumatic past. Although Eleven initially manages to banish Vecna to the Upside Down, he returns more powerful than ever. Season 4 has so many twists and turns that fans might not have noticed that Eleven's first encounter with Vecna ends in the same manner as a previous confrontation with a being from the Upside Down.
Eleven defeats the Demogorgon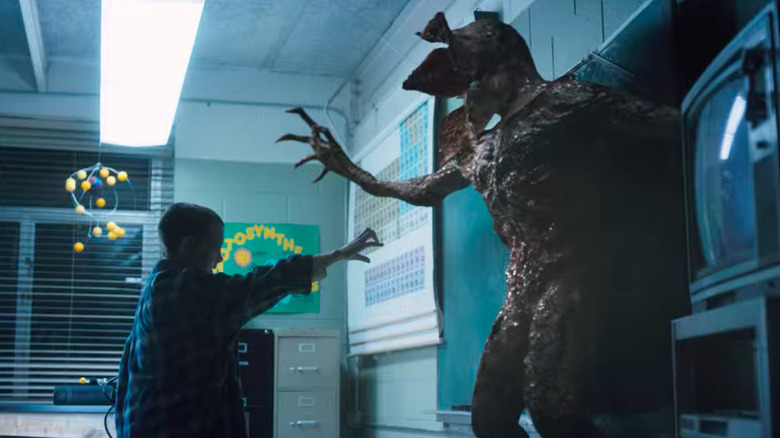 Netflix
In Season 1, Episode 8 ("The Upside Down"), Eleven finally confronts the Demogorgon after spending several episodes trying to dissuade her friends from hunting it. Eleven knows all too well how dangerous the Demogorgon can be, as it was her fear of the monster that opened the first gate to the Upside Down. After their enemies converge on them at the middle school, the kids are backed into a corner when the Demogorgon appears. 
Depleted from using her powers to search for Will, it takes all the strength Eleven has left to destroy the creature. She telepathically slams the Demogorgon against a blackboard, bidding a tearful farewell to her friends before finishing the job. Although she's already faced a life of captivity, Eleven feels responsible for introducing the monster to our world and knows that she's the only person powerful enough to stop it. Her heroic sacrifice allows Will to return home, although Eleven vanishes in the aftermath. 
Now that Season 4 has been released, viewers might have noticed several callbacks to earlier episodes, including a vicious telepathic battle that answers questions fans have had since the series first premiered.
Eleven is greater than One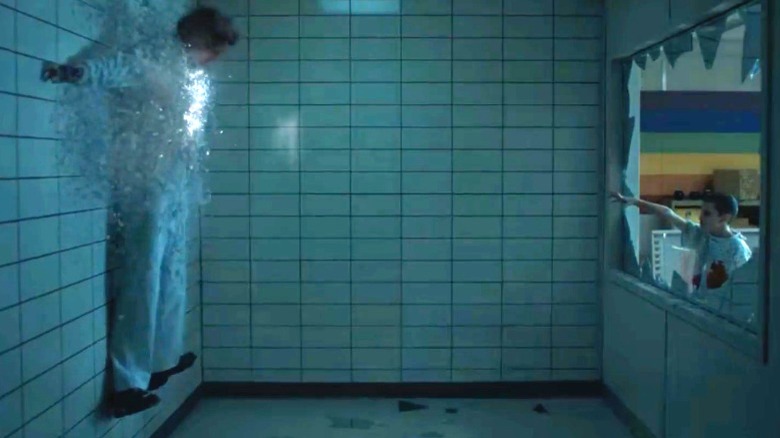 Netflix
The Demogorgon's demise is paralleled in Season 4, Episode 7 ("The Massacre at Hawkins Lab"), which serves as the finale for the first half of Season 4. Notably, the scene in question is actually hinted at a whole six episodes earlier. In the first few minutes of Season 4, Episode 1 ("The Hellfire Club"), Dr. Martin Brenner (Matthew Modine) confronts Eleven for seemingly killing all her fellow test subjects. However, it is later revealed that not all is as it seems.
In a bid to get her powers back, Eleven undergoes induced flashbacks to the days she spent at Hawkins Lab, where she befriends a kind-hearted orderly who tries to help her escape. However, the orderly ultimately unleashes his own telepathic powers, revealing himself as One, whose supernatural abilities provided the catalyst for Dr. Brenner's experiments. Contrary to what the season premiere implies, it is eventually revealed that One is the true murderer, and young Eleven faces off against him in a violent confrontation. 
Fighting the Demogorgon is child's play compared to an encounter with One, who is just as powerful, if not more so, than Eleven. However, just when you think Eleven is down for the count, she draws strength from memories of her mother and overpowers her opponent. Pinned up against the wall, One disintegrates, fading away just like the Demogorgon. Eleven's outburst opens up a gate to the Upside Down, where One tumbles into a dark, thunderous world that transforms him into Vecna. 
These details finally explain why the residents of the Upside Down are so determined to destroy Eleven and her allies, while also tentatively implying that our heroes will eventually triumph against evil.