The Stranger Things X D&D Fan Theory That The Cast Absolutely Loves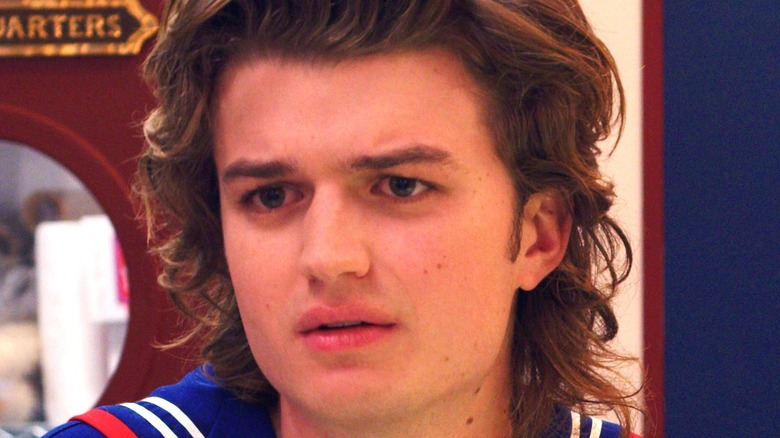 Netflix
Netflix's "Stranger Things" is firmly rooted in 1980s nostalgia, and one cultural relic from that era that stays front and center throughout the series is the fantasy role-playing game Dungeons & Dragons. Mike Wheeler (Finn Wolfhard), Dustin Henderson (Gaten Matarazzo), Lucas Sinclair (Caleb McLaughlin), and Will Byers (Noah Schnapp) form an adventuring party before the series even begins. Of course, throughout the series, they welcome new members to their group as multiple real-life threats begin to emerge in Hawkins.
As their battles with the monsters from the Upside Down intensify, the party increasingly relies on the knowledge and experience they've gained from years of playing the game. Somewhat surprisingly, this information proves vital to helping them battle the Mind Flayer, the Demogorgon, and — in the soon-to-be-released fourth season — another malevolent creature straight from the D&D dictionary. Even as they age past their fanatical interest in the game and pass the tradition on to Lucas' younger sister Erica (Priah Ferguson), the core four's familiarity with Dungeons & Dragons remains an umbrella over how they relate to their increasingly supernatural world. 
In an interview with Vanity Fair, "Stranger Things" cast members Natalia Dyer, Maya Hawke, Joe Keery, and Joseph Quinn read a number of interesting fan theories. One viewer had a suggestion that delightfully prompted all four stars to speculate on ways to build upon the idea.
A fan suggested that Stranger Things is just an imagined game of Dungeons & Dragons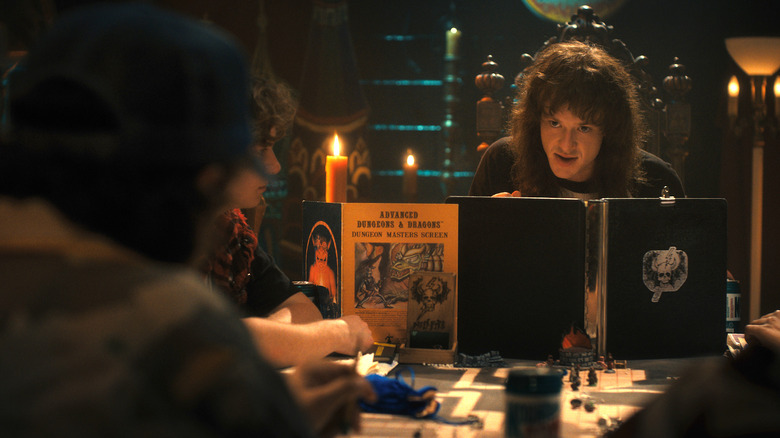 Courtesy of Netflix
Joe Keery shared a theory from viewer PaulDePaola, who suggested that the entire series is simply an advanced campaign for the core four party members. According to this writer's theory, the series is playing out entirely in the imagination of the adult versions of these characters. "The whole show is just an elaborate D&D game," he read. "The kids are actually all grown up and fantasizing about their childhood nightmares." 
All four cast members were instantly intrigued by the idea. Joseph Quinn suggested that he and the other satellite members of the "Stranger Things" adventure party could have been conjured in the minds of the core four from people peripheral to their lives, as often happens in dreams. Keery likened the theory to the plot of "Jumanji" and suggested that Bill Hader play the older version of Finn Wolfhard as he did in "It." Similarly, Maya Hawke mentioned that many fans have pointed out a resemblance between Millie Bobby Brown and Natalie Portman.  
Of course, the vision of a fictional world within another world is also at the core of "The Neverending Story," the noted favorite film of Dustin and his sweetheart Suzie (Gabriella Pizzolo), giving this particular theory an additional level of intrigue. The suggestion also explains how so much of the D&D Dictionary has found its way to Hawkins, including the names and behaviors of several of the group's most menacing threats.