Who Plays Young Vesemir In The Witcher?
Season 2 of Netflix's "The Witcher" has upheld the series' reputation as a surprisingly fun, lovable, and highly entertaining TV adaptation of both the original Andrzej Sapkowski novels and their massively popular RPG video game counterparts. Just as in Season 1, the most recent batch of episodes of the Lauren Schmidt Hissrich-developed show, released in December 2021, made the far and near reaches of the Continent accessible to both longtime fans and newcomers by staying true to the spirit of Sapkowski's characters.
On that note, one particularly noteworthy Season 2 introduction was Vesemir, the elder Wolf School witcher who served as the mentor and de-facto father figure to Geralt of Rivia (Henry Cavill) and his generation's fellow witchers during their upbringing. A wise, world-weary man, Vesemir was brought to life with the requisite gravitas by Kim Bodnia, who proved to be as pitch-perfect a casting choice as Cavill himself. But even before Bodnia had set foot on the set of "The Witcher," Vesemir had already made an appearance on the series via a vocal cameo in the Season 1 finale "Much More." That then segued into a protagonist role in the animated prequel film "The Witcher: Nightmare of the Wolf," where his younger self was voiced by the same actor who played him before Bodnia. That would be Theo James, an English actor you might have seen (or heard) in a few other roles before.
Theo James has been a prolific film and TV actor since 2010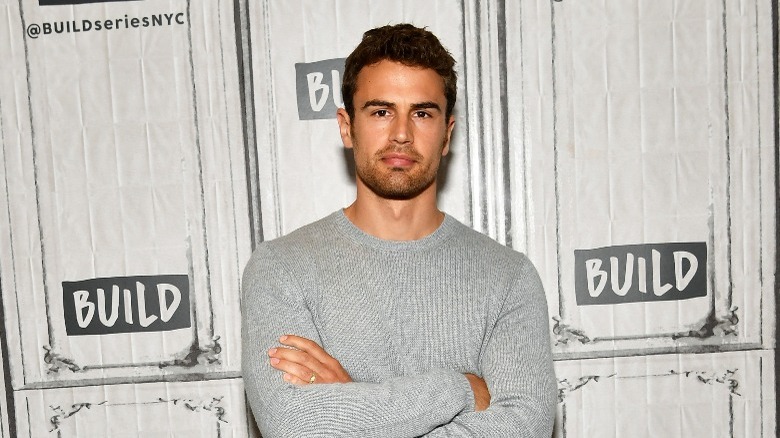 Slaven Vlasic/Getty
English actor Theo James, an alum of the traditional Bristol Old Vic Theatre School (via Sky Living), has been a consistent presence across film and television since his 2010 debut on the two-part BBC One miniseries "A Passionate Woman." In the years immediately following his debut, he managed to snag leading roles on the British supernatural series "Bedlam" and the American police drama "Golden Boy." He also made appearances in films like "You Will Meet a Tall Dark Stranger" and "The Inbetweeners Movie." His most famous role by far, however, is that of Tobias "Four" Eaton, the primary love interest of protagonist Tris Prior (Shailene Woodley), in the three released films of the "Divergent" film franchise.
It's no surprise that Netflix would enlist him for a voice role for both "The Witcher" and "Nightmare of the Wolf," seeing as he already had ample voice acting experience under the streamer's banner. Before his time on The Continent, James lent his voice to "Castlevania" as Hector, the conflicted necromancer enlisted by Dracula (Graham McTavish) as a henchman in his war on humanity; he also had a recurring spot as Rek'yr on Netflix's "The Dark Crystal: Age of Resistance."
Most recently, James starred in the HBO series "The Time Traveler's Wife."