Why The Umbrella Academy Fans Are Loving This Line From A Previous Aidan Gallagher Show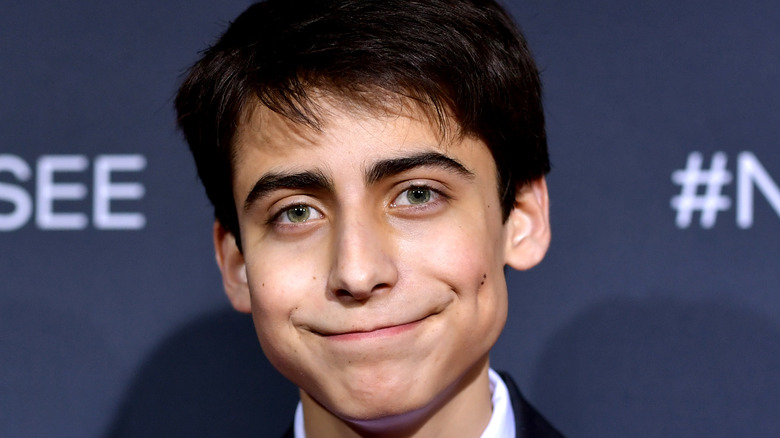 Emma Mcintyre/Getty Images
The story of Netflix's "The Umbrella Academy" is adapted from the comic series of the same name released in the mid-2000s by Dark Horse Comics. In the show, fans are introduced to the live-action academy featuring Luther (Tom Hopper), Diego (David Castañeda), Allison (Emmy Raver-Lampman), Klaus (Robert Sheehan), Number Five (Aidan Gallagher), Ben (Justin H. Min), and Vanya (Elliot Page). All are adopted by billionaire Reginald Hargreeves (Colm Feore) when 43 different women who show no signs of pregnancy suddenly have children that also seem to have superhuman abilities.
In Season 1, fans first meet the members of the titular club in a completely broken state, with all members split up on their own separate missions, missing, or in Ben's case, dead. At the end of the season, the entire academy regroups to stop Vanya from inadvertently causing the end of the world, something that is only discovered due to Five's ability to time travel. Season 2 takes place mostly in the 1960s, ultimately leading the seven of them to team up again in order to prevent disaster, with the entire family nearly dying in the process.
Gallagher's Five will undoubtedly continue to serve as a crucial member of the team moving into Season 3 and beyond. Obviously, his powers are arguably some of the most important given that he can even save the family (and the rest of the world) from death. Recently, fans have discovered an interesting connection between Five's abilities and a previous show Gallagher was on.
Aidan Gallagher's character on Nicky, Ricky, Dicky, & Dawn wanted to time travel
According to a recent Reddit thread, fans of Aidan Gallagher's Number Five on "The Umbrella Academy" have pointed out a surprising connection between his portrayal of the time traveler and the young actor's time as Nicky on the 2014 sitcom "Nicky, Ricky, Dicky & Dawn." 
In the post, u/badguywindow included a set of screenshots, previously posted by u/raqunzel, of a scene from "Nicky, Ricky, Dicky & Dawn " where Gallagher's Nicky is asked what superpowers he would want. Nicky responds that he would want to time travel. There are then two more images of Gallagher's Five from "The Umbrella Academy" smiling and running down the street, with the hashtag at the bottom "#goodforhim." Essentially, Nicky got his wish.
This reference comes from "Nicky, Ricky, Dicky & Dawn" Season 3, Episode 8 ("To Be Invited or Not to Be"). In this episode of the Nickelodeon series, a new friend named Simone (Breanna Yde) reveals that she is an amazing inventor. While hanging out and showing off her inventions, Simone asks Nicky about his possible superpowers, resulting in the time-travel reply. 
Although Gallagher hasn't officially addressed this connection between roles, he has voiced his excitement and passion for playing Number Five due to his reading of the comics at a young age (via Collider). "I got turned onto these two graphic novels," Gallagher said, "and it was unlike anything that I had read before, so I was instantly hooked." Notably, because of Gallagher's age (he was 11 years old at the time), it is actually possible that he was even reading these comics while filming "Nicky, Ricky, Dicky, & Dawn."