Miles Teller Has A Vision For The Future Of Top Gun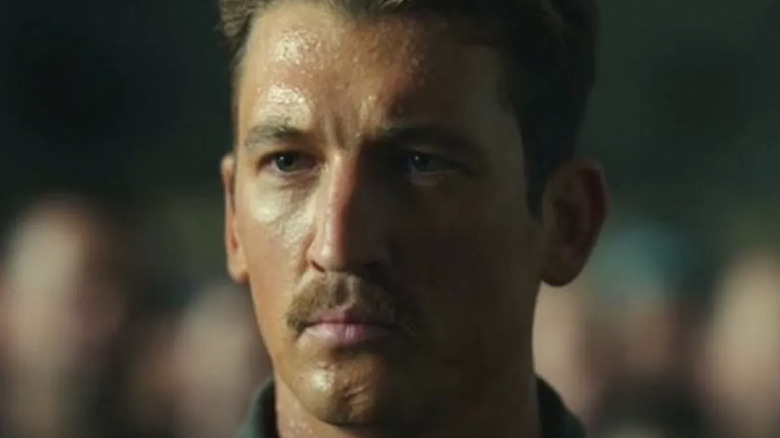 Paramount Pictures
"Top Gun: Maverick" has finally arrived in theaters, and audiences are thrilled to see Tom Cruise reprise his role as Pete "Maverick" Mitchell. The highly anticipated sequel has been over three decades in the making, but it has clearly been worth the wait, as director Joseph Kosinski has wowed critics with this surprising new chapter in Maverick's story. The film sees the legendary pilot return to the Top Gun school after spending years refusing to move up into the chain of command, ensuring that he still gets to fly for a living.
His task is to train a new class of aviators for an impossible mission that will stop an enemy nation from acquiring nuclear weapons. Unfortunately, Maverick also has to deal with a ghost from his past thanks to the arrival of Bradley "Rooster" Bradshaw (Miles Teller), the son of his doomed wingman in the 1986 movie, Nick "Goose" Bradshaw (Anthony Edwards). That's definitely going to open up some old wounds. Thankfully, Maverick finds solace in Penny Benjamin (Jennifer Connelly), the owner of a bar near the Navy base.
Ultimately, the divide between Maverick and Rooster is at the film's core — it just happens to be framed against high-octane aerial stunts and an incredibly tense plot. And Miles Teller recently revealed his vision for the future of "Top Gun."
Miles Teller wants to do another sequel
Although "Top Gun: Maverick" isn't necessarily a legacy sequel because its main focus is still on Maverick, there's definitely an element of passing the baton over to this new squad of expert pilots. Rooster is joined by a number of talented aviators, including Jake "Hangman" Seresin (Glen Powell), Natasha "Phoenix" Trace (Monica Barbaro), and Javy "Coyote" Machado (Greg Tarzan Davis). Although the end of the film wraps up Maverick's story, it's not difficult to imagine that Paramount could make another "Top Gun" sequel with this younger cast. And Miles Teller has an idea of where the studio should go next: "Top Gun: Rooster."
When speaking to Screen Rant about the new film, Teller confessed that he's already pitched the "Rooster" movie to Paramount, although he didn't confirm whether the studio was impressed by the idea. "I'm trying to get a Top Gun: Rooster. I've been pitching it," Teller revealed. "We'll see what happens. I don't know. I think it's interesting. Obviously, everybody was begging Tom to do a sequel right after the first one came out. I think this movie puts a nice bow on it; it really kind of wraps it up, but we'll see. I'm available."
Considering "Top Gun: Maverick" already has a 99% audience rating on Rotten Tomatoes, it's entirely possible that Paramount will consider dipping back into the world of "Top Gun" for a third time. Although the real decision-maker will be how much it makes at the box office. Considering the strong buzz leading up to the release, there's a decent chance that the movie will bring in enough to get Paramount to give Teller what he wants for "Top Gun: Rooster." Only time will tell.