Get Your First Look At Godzilla In Godzilla: King Of The Monsters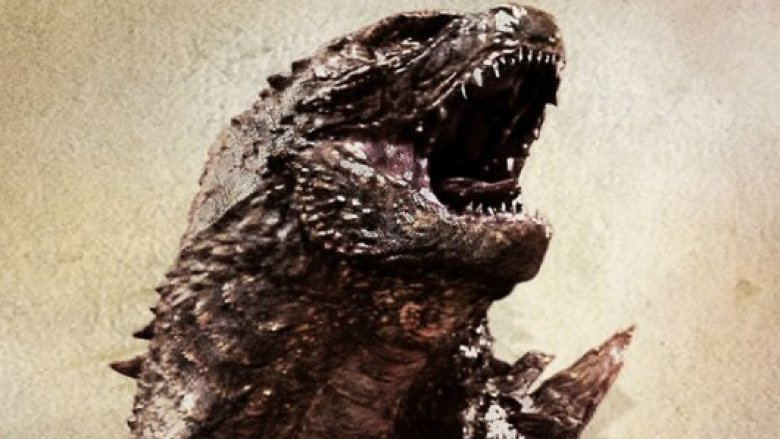 Legacy/Warner Bros.
It's never too early to start teasing a movie. 
Though Godzilla: King of the Monsters, the sequel to 2014's Gareth Edwards-helmed flick Godzilla, is still a year and a half away from its official release, director Michael Dougherty has taken to Twitter to give hopefuls a sneak peek of what Godzilla could look like in the final version of the film. 
In the image, Godzilla's face is projected onto a large screen, which sits just above what appears to be the cockpit of a plane. Dougherty didn't give a very detailed description of the snap, only mentioning that Friday, September 22 was "day 69" of the scheduled shoot. It isn't an elaborate special effects shot showing the mega movie monster in his terrifying glory, and is clearly an early rendering of the impending King of Monsters set up as a reaction shot, but it's exciting nonetheless. 
What we can distinguish in the snap is that this version of Godzilla seems fairly similar to the one seen in the previous film, just with some added muscularity around his neck. This could indicate that the Kaiju has evolved in some way, becoming an even more fearsome monster in the time since his last battle, or perhaps it's simply due to the fact that Godzilla is wearing new armor. It might even be because one of the three legendary creatures he's set to battle has its limbs around his throat. Only time (and more teaser-y photos) will tell. 
Take a look at the photo at the bottom of this article.
Godzilla: King of the Monsters stars stars Kyle Chandler (Bloodline), Vera Farmiga (Bates Motel), Millie Bobby Brown (Stranger Things), O'Shea Jackson Jr. (Straight Outta Compton), Charles Dance (Game of Thrones), Bradley Whitford (Get Out), Thomas Middleditch (Silicon Valley), and Zhang Ziyi (Crouching Tiger, Hidden Dragon). 
Here's the full plot synopsis (via ScreenCrush) for the upcoming film: "The new story follows the heroic efforts of the crypto-zoological agency Monarch as its members face off against a battery of god-sized monsters, including the mighty Godzilla, who collides with Mothra, Rodan, and his ultimate nemesis, the three-headed King Ghidorah. When these ancient super-species — thought to be mere myths — rise again, they all vie for supremacy, leaving humanity's very existence hanging in the balance."
As we wait for Godzilla: King of the Monsters to hit theaters on March 22, 2019, check out the other films that will blow us all away that year. 
Day 69. @GodzillaMovie pic.twitter.com/fy4BvBTeic

— Mike Dougherty (@Mike_Dougherty) September 22, 2017