The Exorcist Season 2 Poster, Photos Revealed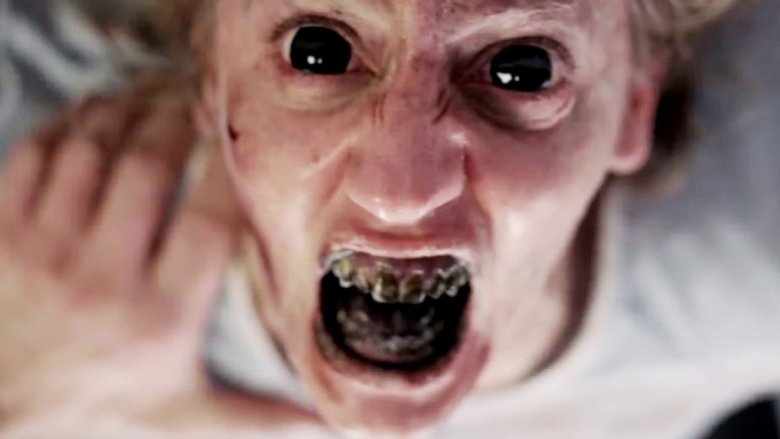 One week before the second season of Fox's hit horror series The Exorcist hits the small screen, the network has unveiled a haunting poster and a pair of spooky images showcasing the new season's Pacific Northwest setting. 
Season two of The Exorcist shifts from the urban landscape of Chicago to the tree-lined coast of Seattle, Washington, and serves as a new entry in the anthology series that uses author William Peter Blatty's series of novels as its source material. Last season's star, Geena Davis as the original Exorcist film's adult Regan, is no longer, and audiences now meet John Cho as Andrew Kim. A former child psychologist who's haunted by what he cannot see, Kim lives on a secluded island along the Seattle coastline, where he takes care of his foster children, including Brianna Hildebrand's Verity who struggles to accept that she'll have to leave the home once she turns 18 years old. 
During San Diego Comic-Con this summer, The Exorcist creator and executive producer Jeremy Slater spoke about the new season. "We're going to see a foster home, a group for troubled kids," he said. "John's character is the patriarch, and Brianna [Hildebrand] is one of the kids in his care."
The new poster depicts Hildebrand's character in profile, screaming out into the void as strands of her hair rise upwards and transform into trees, meant to resemble the ominous woods that speckle the new tableau. 
Two episodic images were also released, and both showcase more explicit horror. One features actress Zibby Allen (who is set to play Cindy) performing the infamous "spiderwalk" made famous in the 1973 Exorcist movie. Fellow actor Alfonso Herrera (who plays Father Tomas Ortega) is beside her, quoting scripture as part of what appears to be an attempted exorcism. The other visceral photo again shows Allen's character Cindy, this time fully possessed by a demon. She bites down hard into the hand of a priest attempting to restrain and calm her. 
Take a look at all three images at the bottom of this article. 
The new season of The Exorcist is set to begin with Herrera's Father Tomas and fellow returning actor Ben Daniel's Marcus Keane traveling out of Chicago to hunt down demons. Overseas, Kurt Egyiawan's Father Bennett is searching for something himself: those in the Vatican who have renounced their faith. When Father Tomas and Marcus cross paths with Cho's Andrew Kim, they discover that one of Andrew's children has gone missing. The target of a supernatural force, Kim's child is a danger not only to themselves but to everyone around them. 
The Exorcist is set to return for season two on Friday, September 29. Until then, find out the untold truth of the original Exorcist movie.