New Mother! Poster Depicting Bloody, Bruised Jennifer Lawrence Causes Outrage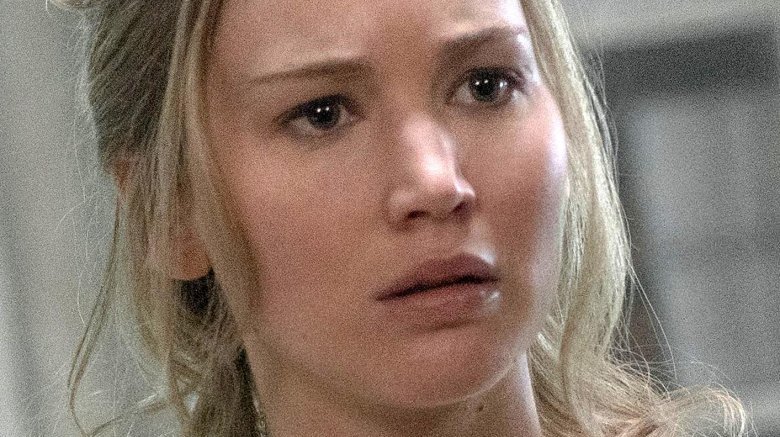 Paramount
Darren Aronofsky's mother! isn't quite done polarizing audiences. 
On Friday, a new poster for the mind-melting psychological thriller flick was released through the official mother! Twitter account. The poster takes a self-aware jab at its own shortcomings, spotlighting the film's negative reviews and taking advantage of the buzz around the dreaded "F" CinemaScore it received during its opening weekend. But it also shows lead actress Jennifer Lawrence, who plays Mother, bloody and bruised on the half of her face over which the harsh responses to the film are displayed. 
Understandably, many were in shock over the new promotional material. Twitter users called the artwork "heinous" and downright gross for using the image of an abused woman to market a movie. Journalist Esther Zuckerman commented that "the fact that a woman gets beat up" in mother! "shouldn't be the selling point," regardless of what anyone thinks about the film. 
"How about don't use the abused face of a woman to advertise your movie? This is gross," ScreenCrush senior editor E. Oliver Whitney said on their Twitter account.
"I'm all for embracing mother!'s divisiveness; I was more objecting to the poster's tawdry display of a young woman's bloody, bruised face," one user tweeted. Another said, "The new mother! poster looks like those ads for domestic abuse charities, so maybe they should, indeed, not!"
PEOPLE news editor Nigel M. Smith shared the poster alongside another one that features Lawrence's X-Men character, Mystique, being choked. The image was used to promote last year's X-Men: Apocalypse. "[This is] how studios choose to market the world's most famous actress. This needs to stop," Smith wrote. 
Thankfully, Fox stepped forward to apologize for the X-Men: Apocalypse poster, stating last summer, "In our enthusiasm to show the villainy of the character Apocalypse [Oscar Isaac], we didn't immediately recognize the upsetting connotation of this image in print form. Once we realized how insensitive it was, we quickly took steps to remove those materials. We apologize for our actions and would never condone violence against women."
But unfortunately, mother! film distributor Paramount Pictures didn't respond to a request for comment from fellow news outlet Entertainment Weekly about the recently unveiled poster. The company even recently defended the highly controversial film. "This movie is very audacious and brave," Paramount worldwide president of marketing and distribution Megan Colligan said in a statement. "You are talking about a director at the top of his game, and an actress at the top of her game. They made a movie that was intended to be bold. Everyone wants original filmmaking, and everyone celebrates Netflix when they tell a story no one else wants to tell. This is our version. We don't want all movies to be safe. And it's okay if some people don't like it." 
You can view the poster below, but be warned that it contains imagery that might be disturbing to some viewers. 
Just as the film was divisive for multiple reasons, there are a ton of factors that explain why mother! flopped at the box office. 
#mothermovie has left audiences thinking. now is your chance to ask @darrenaronofsky your questions on @reddit #AMA https://t.co/XD9k7B7UT8 pic.twitter.com/Amnpfpn9de

— mother! (@MotherMovie) September 22, 2017