Why Fans Are So Worried About Nancy In Stranger Things 4 Volume 1
It would be a bit of an understatement to say that Nancy Wheeler (Natalia Dyer) has changed a bit since the beginning of Netflix's "Stranger Things." All the way back in Season 1, Nancy's only worries in the world were hanging out with her new boyfriend, Steve Harrington (Joe Keery), doing her homework, and spending time with BFF Barb (Shannon Purser). Back then, she seemed more like a character you would find in "Sixteen Candles" than one who would end up playing a key role in a supernatural story with spine-tingling horror elements.
Throughout the series, we've watched as Nancy has changed from a naïve high schooler into one of the bravest and most intelligent characters in the whole series. She's fought interdimensional monsters, exposed government conspiracies, and even traveled to the mysterious world known as the Upside Down. As such, it's no wonder that Nancy has become one of the most popular — and prominent — characters on the Netflix show, and, as such, it's obvious that fans would be devastated if anything happens to her in the newest season.
Indeed, the final trailer for Season 4 of "Stranger Things" seems to imply something sinister ahead for Nancy, which has fans all across Twitter worrying about her future.
Nancy looks all alone in a strange new world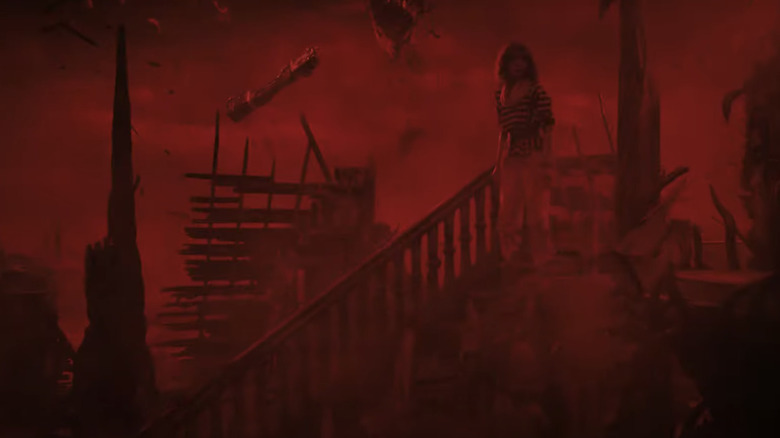 Netflix/YouTube
Though Nancy's already traveled to the dimension known as the Upside Down in past seasons, the final trailer for "Stranger Things 4: Volume 1" gives us a glimpse of the eldest Wheeler sibling traversing a brand new location, complete with hellish red skies and floating, otherworldly ruins. Though it's unclear whether or not this is another area within the Upside Down or a new dimension entirely (perhaps even the dimension of the terrifying creature known as the Vecna), one thing is for certain: Nancy needs to get out of there as soon as possible.
"NANCY, GET OUT OF THERE NOW. I'M SERIOUS," tweeted @wandaslizzie in all caps with a photo of the "Stranger Things 4" character exploring this new location. "Yeah. No. Why is Nancy there," echoed @jonathansbong. Though Nancy's investigations have left her relatively unscathed thus far in the series, seeing her all alone in such a strange location has fans worried that her luck is soon to run out. "Touch Steve or Nancy, and your a** is grass," remarked @caressa_sx, tagging the official "Stranger Things" Twitter account. Finally, Twitter user @StanJoeAlwyn said what many fans were probably thinking when they saw the trailer: "I don't want Nancy or Steve to die."
All told, it's clear that this brief glimpse of Nancy in a freaky new world has left plenty of fans worrying for her safety, and there's no doubt that losing her would be an incredible blow for all fans of "Stranger Things." Fans will find out what awaits Nancy when "Stranger Things 4: Volume 1" debuts on Netflix of Friday, May 27.