Melissa Rauch Endured The Most Hilarious Struggle On The Big Bang Theory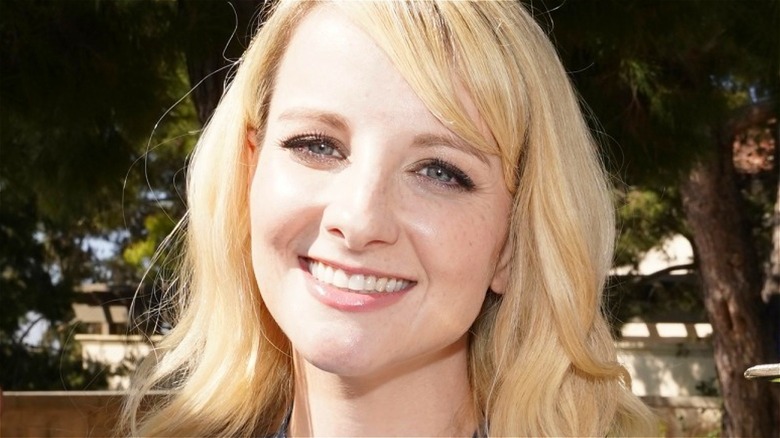 Erik Voake/Getty
Sometimes, it's more interesting to hear about some of the behind-the-scenes secrets of famous, long-running shows than to watch the actual series. And considering how "The Big Bang Theory" ran for 12 seasons, fans have plenty of juicy details to sink their teeth into. 
For starters, it may come as a surprise to some to learn that Jim Parsons, who plays nerdy Sheldon on the series, had never seen an episode of "Star Trek" or "Doctor Who" (via Ranker). And not only did stars Johnny Galecki and Kaley Cuoco, who played Leonard and Penny, date during their tenure on the sitcom, but they kept it a secret from their costars for much of that time. 
Even after the show ended in 2019, new details continued to emerge regarding what went on behind the scenes of the famous show. One of these is an amusing detail of how they had to work around filming Bernadette (Melissa Rauch) in certain scenes due to how short the actress is in real life.
Melissa Rauch had to be propped up with pillows whenever sitting down
Melissa Rauch is relatively short in real life. She reportedly only measures about 4'11" in height, which is in stark contrast to some of her "Big Bang Theory" costars. Jim Parsons reportedly clocks in at roughly 6'1" in height, which normally isn't an issue except when they had to film scenes with the cast all sitting on the couch (and there are a lot of those throughout the series).
The gang frequently sits on couches, particularly in Sheldon's apartment, and Rauch's height was apparently an issue due to how deep the sofa was. During a 2021 interview with the Momtaurage podcast, Rauch spoke at length about her time on "The Big Bang Theory," and she let the following tidbit slip, "I'm about five feet, so every time I'd sit back, my legs would just go up. So they'd always have to, I was like propped up with pillows at all times! And if I wasn't, I would need like a hoist to get me up. So often, if you look closely, you can see just a HUGE amount of pillows that are propping me up" (via Cinema Blend).
With this knowledge, it makes a "Big Bang Theory" rewatch all the more interesting once Bernadette joins the cast. You can pay attention to how she's sitting in all of the couch scenes and take note of how many pillows are used.