Kelly Severide's Worst Storyline On Chicago Fire
"Chicago Fire" has a surprising amount of original cast members still around 10 years after the show premiered in 2012. Some greats have departed along the way, including Matt Casey (Jesse Spencer) and Gabby Dawson (Monica Raymund), but thankfully a pillar is still standing in the form of Kelly Severide (Taylor Kinney). The lieutenant of squad has managed to stay in that position for ten seasons, despite having all the potential and experience to move up the ladder.
Severide is a fan-favorite character on "Chicago Fire" and often has his own storyline in each episode. 10 seasons of being front and center brings on more than a handful of thrilling and engrossing stories, but it also does quite the opposite. Some of the lieutenant's rather dull and repetitive storylines include the old Severide's revolving door of women in earlier seasons, to the Stellaride will they, won't they nonsense of Seasons 9 and 10. One recurring storyline is rather tired and serves as the lieutenant's worst since the show debuted. It's particularly complicated as one aspect of the storyline is very interesting, but its counterpart is exhausting.
Kelly Severide's storyline with Wendy Seager is beyond annoying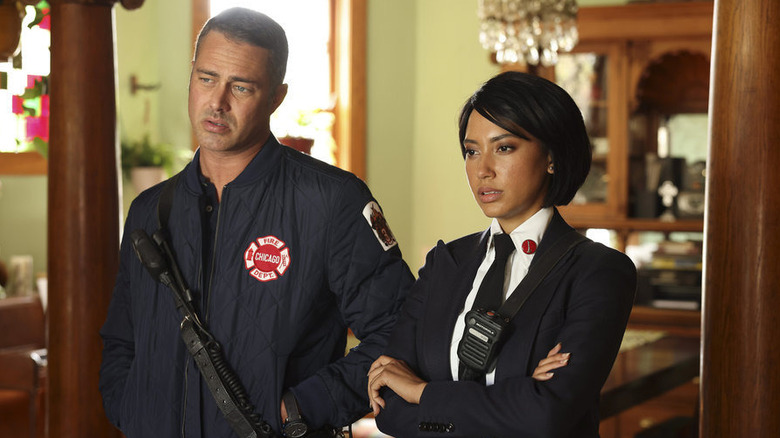 Adrian S. Burrows Sr./NBC
In Season 8, "Chicago Fire" viewers meet Wendy Seager (Andy Allo). Seager is a lieutenant at the Office of Fire Investigation (OFI) who often recruits Severide to work on arson investigations. For a handful of episodes throughout Seasons 8 and 10, we see Severide and Seager work alongside one another to investigate mysterious fires that are almost always intentionally set. It's fascinating to see this other side of the fire department and how Severide has a knack for it, but the constant flirtation from Seager is just too much.
For far too long, Severide has an ongoing storyline with Seager, who seems desperate to have a relationship with her colleague. Severide couldn't be any less interested, as he and Stella Kidd (Miranda Rae Mayo) are a couple throughout all of it. For some reason, Seager continues to turn up the flirt. She knows about Kidd, but it doesn't stop her attempt at swaying Severide to work late or to meet up for dinner or drinks. It seemed like the showrunners needed a reason to stick a thorn in the side of Stellaride, and that was Seager's only real purpose.
In the comments section of a popular poll on the "Chicago Fire" subreddit, fans weighed in on the Severirde-Seager storyline. Many fans admitted they love seeing Severide participate in arson investigations but are irked by how often Seager throws herself at him. Thankfully, Severide finally told Seager to back off — in so many words — in Season 8, Episode 10 ("Hold Our Ground"). However, that didn't stop her, as she appeared in six more episodes with the flirt dialed up. The viewers had enough, and Severide had enough, and thankfully the storyline has since died.