The Underrated K-Drama Starring Blackpink's Jisoo You Should Be Watching On Disney+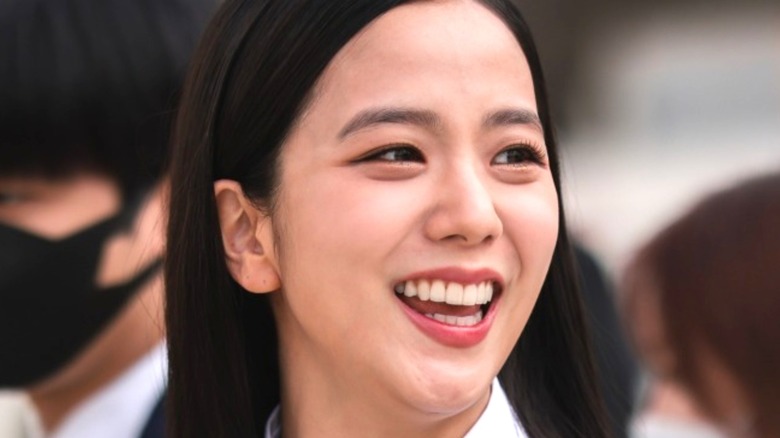 Photo:Jeremy Moeller/Getty
K-pop has become hugely influential in recent years, thanks to a distinctive combination of fluffy yet addictive songs, synchronized dancing, slick production values and attractive South Korean celebrities. In 2020, YG Entertainment's group Blackpink become the biggest pop band in the world, according to Bloomberg, which said, "Blackpink has achieved a level of global popularity unprecedented in the history of music."
Naturally, this has catapulted the four members of Blackpink into the spotlight, including Kim Ji-soo (or just Jisoo), whom Time Magazine called "Blackpink's mood-maker." She's the eldest member of the group, a trilingual star known for a quirky sense of humor and ability to make songs up on the spot about any topic. Though not all fans consider her the breakout favorite of the group, she's still been able to leverage her popularity to further her acting career. She actually started acting before Blackpink was formed in 2016, but her first leading role is in the new 16-episode series available on Disney+, "Snowdrop," which represents the streaming service's attempts to establish itself in the Asian drama space currently dominated by Netflix. 
"Snowdrop" originally aired on the South Korean TV network JTBC starting in December 2021, according to Radio Times, and debuted on Disney+ in February. It's a romantic, thriller-style show that Jisoo fans might just fall in love with.
Snowdrop became controversial even before it debuted
The release of "Snowdrop" in South Korea was marred by controversy. The series, being set in 1987, was criticized for trivializing and distorting history (via Variety), due to its primary plot being the relationship between a Hosu Womans University student, Eun Yeong-ro, and an enigmatic Berlin grad student, Lim Soo-ho (Jung Hae-in) — who turns out to be a North Korean spy. The key element to understand here is that this era in South Korean history saw the country overthrowing the tyranny of a military dictatorship — who did not leave quietly — as students fought for a new, democratic government. With this in mind, it's understandable why the show irked potential fans even before it aired (per The Straits Times). Many South Koreans found the premise of a North Korean spy hiding among college students problematic — especially because in the real world, the violent military crackdown on pro-democracy students was justified by authorities as an attempt to ferret out spies (via Korea JoongAng Daily). This fictional depiction lends weight to those claims.
Eventually, protestors created different petitions to remove the show from television. Main sponsors Teazen and Puradak Chicken even withdrew support, but JTBC doubled down (via India Times). This controversy may have soured expectations for the drama early on. NME's review explained, "It seems a bastardization of the struggle of a nation. It's choppy at best and forgettable at worst." Nonetheless, controversies aside, the series has been earning many fans, and here's why.
Fans like the cinematography, story, and Jisoo's acting
"Snowdrop" is part-political thriller and part-romance, with a few other genre styles thrown in (think fantasy, teen drama, period drama, action, crime) and plenty of subplots. It can be hard to get into. The 90-minute premiere episode is, as Decider notes, "seemingly piecemeal," switching between different scenes that at first seem unrelated. 
But many fans think it's worth getting through, despite the controversy.
On the site Rotten Tomatoes, fans gave the series an Audience Score of 98 percent, while IMDb posts a score of 8.3/10 and Google reviewers have it at 4.9 out of five stars, at this time of writing. Reddit user u/333serendipity is one of the show's ardent fans, saying, "I am in that bittersweet zone where I cannot get over the sadness of the drama but also just so happy that it was such a good drama. I kind of don't want to get over it .... Just want to surround myself with all things Snowdrop." Other viewers have focused on the characters and acting as being highlights of the series, as with one IMDb reviewer who called the leads "luminous," and loved the cinematography (as did @meshariver on Twitter).
Above all else, if you're a fan of Jisoo, this is a must-see. Showbiz Cheat Sheet praised her first leading role, saying, "Her ability to portray raw emotion during intense scenes as a newbie is astounding, to say the least." Meanwhile, co-star Jung Hae-in said (per Soompi), "[She has a] bright and positive energy [...] I was surprised by her speed and skills."
Snowdrop is airing on Disney+.