The Worst Fire In Chicago Fire Season 9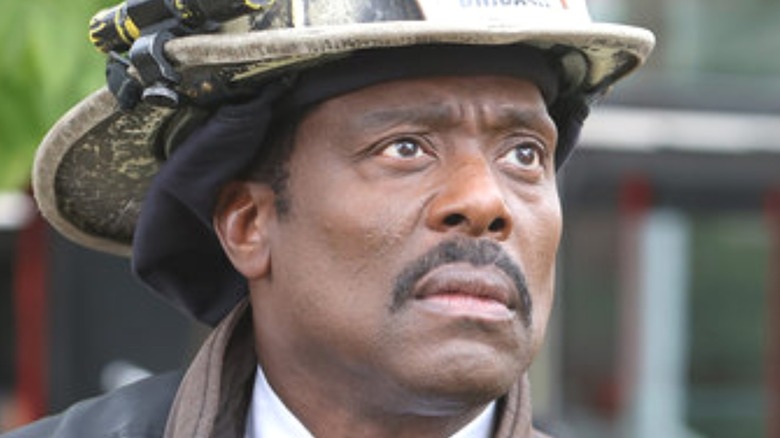 Adrian Burrows Sr/NBC
NBC's "Chicago Fire" spawned Dick Wolf's fictional "One Chicago" universe in 2012 and has been running for 10 seasons and more than 200 episodes. "Chicago P.D." and "Chicago Med" have persisted for nine and seven seasons, respectively, while "Chicago Justice" lasted just one.
All of the shows in the "One Chicago" franchise are at their most impactful when they mirror the real crises happening in our world. Season 9 of "Chicago Fire," which ran from November 2020 through May 2021, was limited to 16 episodes by COVID-19 but incorporated the pandemic heavily into storylines. The season's fictional dramatic turns included an ambulance crash, a broken elevator cable, and spontaneously combusting laundry machines.
There are also episodes with lower stakes, like the bad wifi at Chief Wallace Boden's (Eamonn Walker) house and a baby swaddling contest between Joe Cruz (Joe Minoso) and Christopher Hermann (David Eigenberg). Following the firefighters and paramedics in the Windy City brings plenty of personal drama, of course, but the show saves its most intense moments for the fires themselves. One Season 9 blaze had a particularly devastating impact, as it also highlighted a critical issue facing many of America's cities.
A fire in an urban encampment in Episode 7 proves fatal to a true hero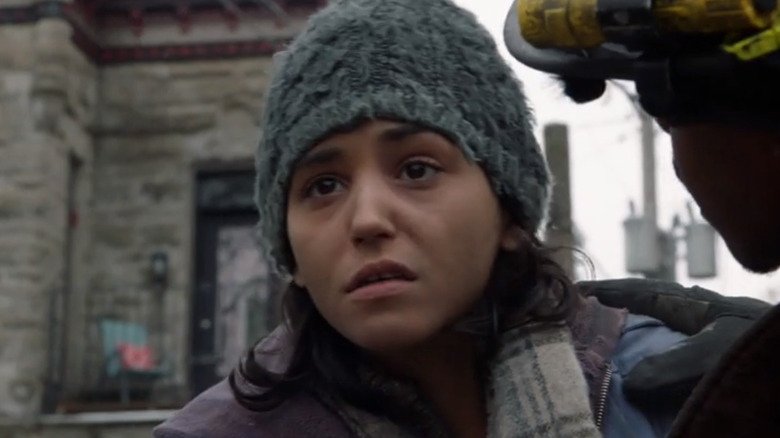 NBC/Peacock
In "Chicago Fire" Season 9, Episode 7, "Dead of Winter," the department is called to a blaze at a sidewalk encampment for people without permanent housing. While the fire rages and spreads from tent to tent, Captain Matthew Casey (Jesse Spencer) and Lieutenant Kelly Severide (Taylor Kinney) run toward the flames to rescue a man named Big Jim Benevides (Joe Coots), who had gone back to retrieve another man's wheelchair. Another resident, Vanessa (Samantha Gonzalez), pleads with firefighter Darren Ritter (Daniel Kyri) to let her retrieve her possessions, saying, "Everything I own is in there."
While one neighborhood Karen complains to firefighters that the camp has always been a danger to the neighborhood, another local, Al Wicker (Cedric Mays), offers to help the rescue effort. The material loss from the fire is heartbreaking, with people with precious few possessions losing everything in a matter of minutes. But the biggest tragedy comes when Big Jim later dies from his injuries and investigators discover that the arsonist is Wicker, who had given every outward sign that he was sympathetic to the residents of the encampment. The episode's most powerful moment comes when Casey and Severide confront Wicker at his home, and Casey talks about Big Jim's full life as a teacher and Iraq war veteran, as well as the family and friends that mourn his loss.
Between Gonzalez's powerful performance, Big Jim's story, and the fact that skyrocketing housing costs have made scenes from this episode very real for many Americans (via The Week), this blaze has an impact unmatched by any other in "Chicago Fire" Season 9.