The Unusual Way Hayden Panettiere Practiced Screaming For Scream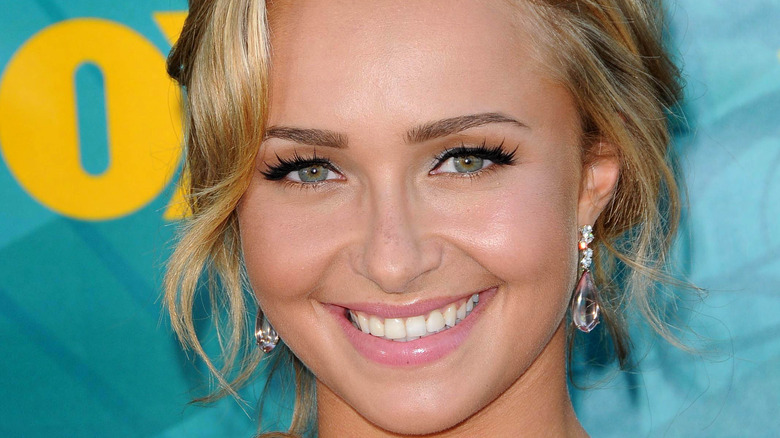 s_bukley/Shutterstock
Just like Ghostface, the "Scream" franchise always finds a way to come back. The horror series, once spearheaded by late "A Nightmare on Elm Street" creator Wes Craven, first hit cinemas in 1996 and immediately became a runaway success. The teen slasher film went on to gross over $170 million at the box office (via Box Office Mojo) and is widely considered one of the best horror movies of all time. A medley of sequels have since been released, including the recent fifth entry, also titled "Scream," which functions as a legacy sequel.
Ghostface's latest outing was met with mostly positive reviews across the board. "It's a film made with love for what came before, but also with a fierce independent spirit, and a sense that the only way to truly honor the previous films is by blazing a new trail," Matthew Jackson wrote in his review for Looper. After the film proved itself at the box office — it grossed over $140 million worldwide (via Box Office Mojo), Paramount Pictures greenlit a sequel, with Variety confirming that the "Scream" newcomers had signed on for a sixth entry.
As exciting as that news was, fans couldn't contain their joy when The Hollywood Reporter announced that Hayden Panettiere, who played Kirby in "Scream 4," would be returning to the franchise. With the character set to return, it's time to look back on how the actress prepared for her "Scream" debut all the way back in 2011.
Hayden Panettiere's dad taught her how to scream when she was in danger
Hayden Panettiere played the spunky and horror-obsessed Kirby in "Scream 4." Not only was she a cinephile but she served as the cautious best friend of Jill (Emma Roberts), the cousin of franchise matriarch Sydney Prescott (Neve Campbell). Naturally, Kirby got embroiled in the Ghostface conspiracy, where she inevitably let out a scream in sheer terror.
A core component of any "Scream" movie is giving the audience a quality shriek when Ghostface approaches. It turns out Panettiere didn't have to do much training to produce a convincing shriek. In an interview with Conan O'Brien in 2011, Panettiere revealed that her dad taught her how to scream efficiently as a child.
"Being from New York, a fireman's daughter ... He used to tell me all the time that when I went to the mall with my friends ... 'What do you do if somebody comes up and grabs you?'" she told an enthralled audience. "And he told me to scream 'You're not my daddy!' So, I had a lot of practice screaming 'You're not my daddy' ... which never really came in handy."
Clearly her father's instinctive training paid off as she delivered a memorable performance in "Scream 4." During their retrospective on the film, Bleeding Cool noted how the "creatives involved realized how much fans would love the character of Kirby Reed." After years of patiently waiting, Kirby is set to return in the untitled sixth "Scream" movie. Hopefully the fan-favorite character makes it past the opening kill!