The Ending Of Ozark Season 1 Explained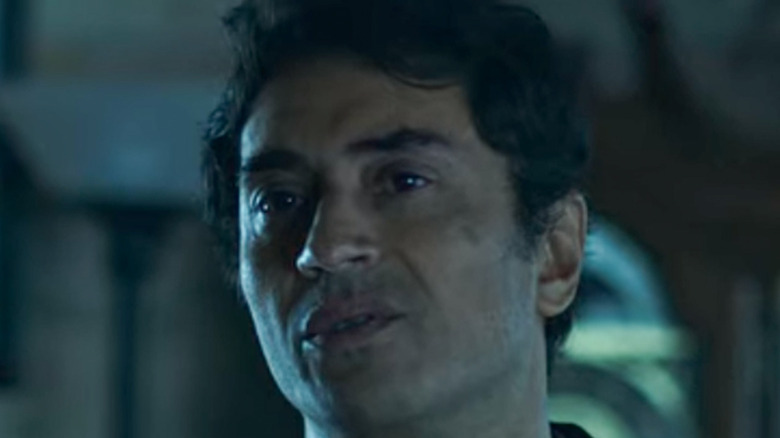 Netflix
Netflix released the final episodes of "Ozark" on April 29, bringing the saga of the Byrde family's exploits in Central Missouri to a close. The world within "Ozark" is like a spider's web, with its characters and factions joined by fibers that over time become damaged by abuse, neglect, and the external forces that swirl around them. The Byrde family sits at the web's center, sending out dangerous ripples in all directions and adjusting as other tremors come their way. 
In a fitting ending to the series, Jonah Byrde (Skylar Gaertner) appears to shoot and kill newly reinstated Chicago police officer Mel Sattem (Adam Rothenberg) after Sattem uncovers evidence linking Wendy Byrde (Laura Linney) to her brother Ben Davis' (Robert Pelphrey) death. The scene bookends perfectly with one from Season 1, Episode 10, "The Toll," where Jonah holds a rifle on Navarro cartel hit man Garcia (Joseph Melendez) and, after a permissive nod from Wendy, pulls the trigger only to discover that Buddy Dieker (Harris Yulin) has taken the bullets from his gun. 
Buddy then steps in with his own shotgun and shoos Wendy, Jonah, and Charlotte (Sofia Hublitz) off to safety before killing Garcia. But with Marty Byrde (Jason Bateman) and his family facing pressure from multiple angles — and the Langmores reeling from the deaths of Russ (Marc Menchaca) and Boyd (Christopher James Baker) — it's the murder of another cartel member later in the episode that brings "Ozark" Season 1 to a head. 
The Byrdes face multiple threats as Ozark Season 1 comes to a conclusion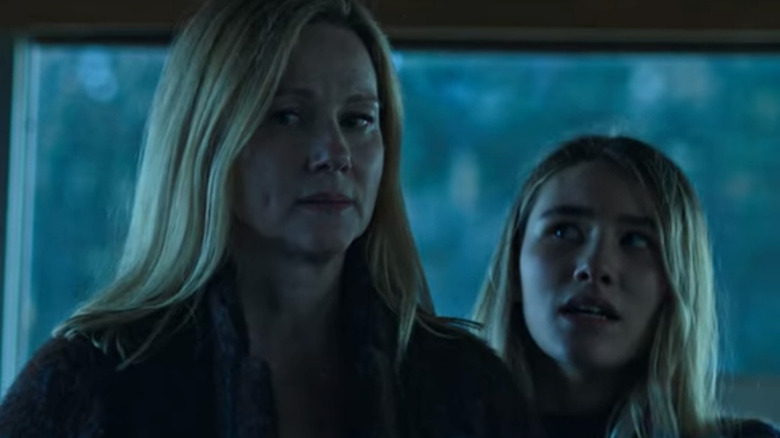 Netflix
The Byrdes are battling threats from all angles as "Ozark" Season 1 winds to a close. FBI agent Roy Petty (Jason Butler Harner) is intent enough on bringing Marty down to sell Russ out, despite the strong romantic connection between him and his informant. The Snells are upset that Marty told pastor Mason Young (Michael Mosley) they had been using his services on the lake as a distribution point for heroin; Jacob evened the score by revealing the Byrdes' criminal enterprises to Mason. Even the usually meek Sam Dermody (Kevin L. Johnson) is pressuring the Byrdes to return the money his mother Eugenia (Sharon Blackwood) invested with them days before she was hit and killed by a garbage truck.
Despite the immediacy and seriousness of each of those pressures, they're all minor annoyances when compared to the Byrdes' biggest threat: the Navarro cartel. Fresh from his all-out scramble to launder the first $8 million he was given, Marty is now tasked with cleaning $50 million more, which his family rallies to wrap and hide in the walls of the office at the Blue Cat. In addition, cartel heavy Camino Del Rio (Esai Morales) suspects — correctly, although he never proves it — that Marty knows what happened to his trusted lieutenant, Garcia. But the Navarro gang is by no means the only party pulling at the threads that connect it to the Byrdes.
The FBI, Rachel, and Mason Young aren't terribly fond of the Byrde family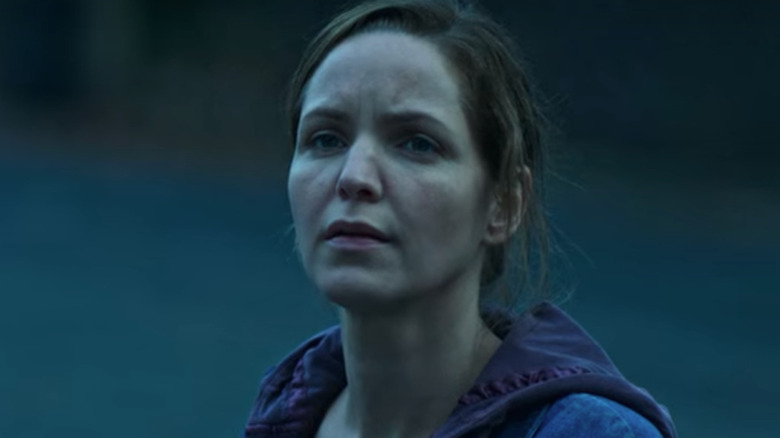 Netflix
Petty confronts Black Cat manager Rachel Garrison (Jordana Spiro) about the deaths of Russ and Boyd, and Rachel chooses to cover for Marty. The steadfast FBI agent sees Del leaving the scene and later convinces his partner Trevor Evans (McKinley Belcher III) that they can entrap Marty by setting up a roadblock outside the Snell farm and arresting Del. When Rachel discovers the stacks of Navarro cash the Byrdes have hidden in the walls of the Blue Cat, she shakes the Byrdes' web by leaping free of it, filling a few bags and hitting the road.
Meanwhile, Mason makes a series of choices that will ultimately cost Grace her life. In his attempt to distance himself from the Byrdes, he burns down the church they are building for him. When Mason refuses to distribute the Snells' heroin during his services on the lake, they have Grace killed, although her baby is spared. Mason later tells Marty he hasn't yet named his son and wonders what kind of future the boy has in a merciless world. Marty tries to pull Mason back from his despair, but the preacher is unmoved, telling Marty "[There's] gotta be a God, because there's a Devil. I think you're the ****ing Devil."
The Langmores and Snells both saw their lives upended when the Byrdes came to town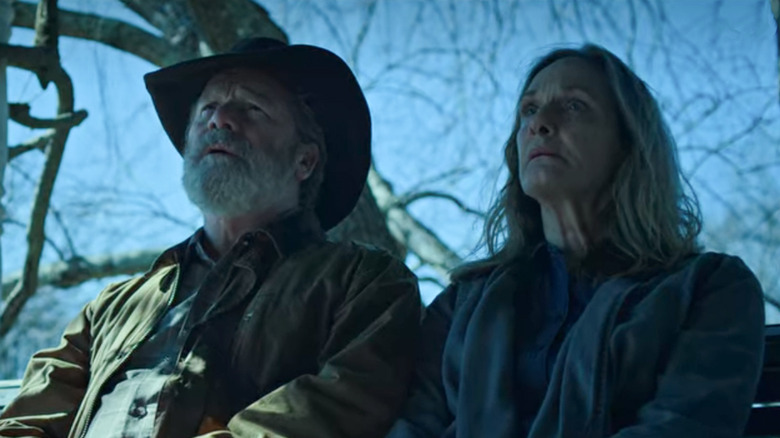 Netflix
Marty may not be the literal Prince of Darkness, but his presence certainly has cast a black shadow over the area and its locals. The Langmores all carry heavy hearts as "Ozark" Season 1 comes to an end, while Ruth (Julia Garner) bears the added burden of hiding her part in Russ and Boyd's deaths from her cousins. Her imprisoned father Cade (Trevor Long) is immediately suspicious of Marty, but like Rachel, Ruth opts to cover for her boss. With Cade still locked up, his brothers dead, and Wyatt meekened in his grief, the Langmores aren't an immediate threat to the Byrdes — but the Navarro cartel, the FBI, and the Snells most definitely are.
Jacob and Darlene are true psychopaths throughout "Ozark" Season 1, killing with ease and detachment, yet they somehow still see themselves the defenders of central Missouri's ethical high ground. While blindingly quick to do violence to others, the Snells somehow continue to avoid suffering any loss themselves — at least until Season 3 and beyond. "Words have meaning and actions have consequences," Jacob preaches to Marty. "Grace is past saving, Mr. Byrde. It's your own family on the line now." 
It's only fitting that Ozark Season 1 climaxes with a murder at the Snell farm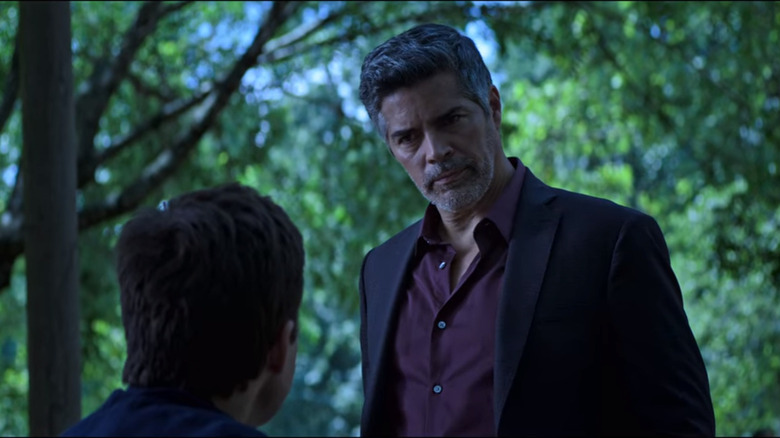 Netflix
Ever the negotiator, Marty brings Del to Heron Mills to introduce him to the Snells and propose a riverboat casino as a solution to both parties' robust money laundering needs. Marty somehow works around Jacob and Darlene's xenophobia and Del's snobbery and brokers a deal between the Snells and the cartel, but an offhand remark by Del about doing business with rednecks sets off Darlene's hair-trigger temper and she takes off the top of Del's head with a single shotgun blast — with Marty standing just a couple of feet away. Still in shock from what he just witnessed, Marty drives off in Del's SUV and hits the FBI's roadblock, but worms his way free with a characteristic barrage of denials and lies. 
We then see — in slow motion — Petty trashing his hotel room in frustration, and as that scene fades to black, the first soft strains of Beethoven's "Piano Concerto No. 2" are heard. The music plays gently while Mason tells Marty he thinks he is the devil; Marty then makes an emotional phone call to Wendy and they have what they believe will be their final conversation. Charlotte and Jonah beg her to take them back home to their father, and Jonah resists adopting the fake identity that has been created for him. He tells Wendy, "The second I become Mike Fleming, that means Jonah Byrde is dead. I don't want him to be dead."
Mason walks a tightrope before choosing hope for himself and his baby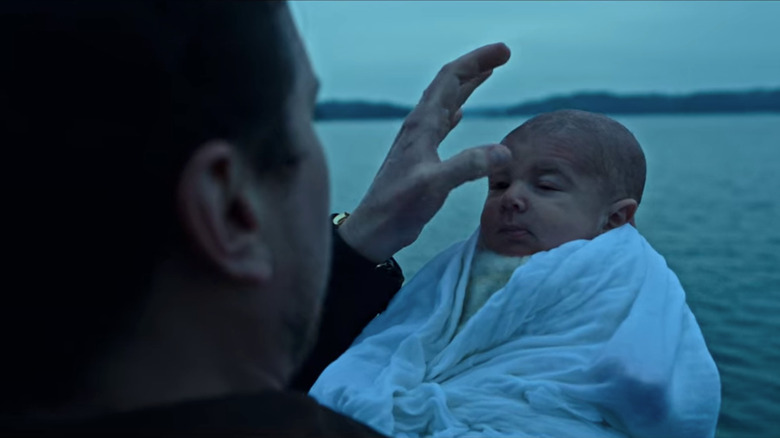 Netflix
As the music swells, Mason parks his car and walks to the lake carrying his newborn child. He wades into the water and holds the baby underwater for close to 30 seconds, then turns what appears to be a drowning into a baptism. Michael Mosley told Thrillist that he internally defied director Jason Bateman's instructions on how to play that pivotal moment. "His pitch was that as I'm walking through the woods and onto the embankment, the whole time my intention is that I'm gonna baptize this child," Mosley said. "But I thought in my head that I should make that decision in the moment, so that way, while I'm walking out there, it's scary. Part of Mason wants to kill the baby, part of him wants to kill himself. As the baby is underwater, he changes."
In the episode's final minutes, after Mason chooses life for himself and his child, Petty glues the shattered hotel fixtures back together while likely, in his head, also piecing together his resolve and his case against the Byrdes. Wyatt, Ruth, and Three Langmore (Carson Holmes) head for Russ and Boyd's funeral, while Wendy chooses to bring the kids back home. The Byrdes' web is still intact but shaking mightily, and now that Marty and Wendy have brought Jonah and Charlotte to the center with them, the family is united to face whatever is coming as "Ozark" Season 1 ends.