The MCU Star You Likely Didn't Realize Was In Downton Abbey: A New Era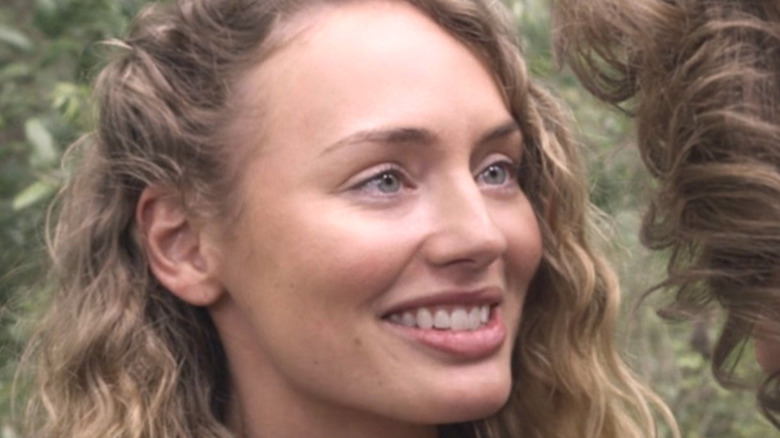 Walt Disney Studios Motion Pictures
Marvel Cinematic Universe fans may be surprised when they see "Downton Abbey: A New Era" and notice a familiar face among the film's cast of characters. The movie is a sequel to 2019's "Downton Abbey," which itself was a continuation of the popular TV series of the same name. As a result, many veteran "Downton Abbey" cast members are set to appear in "A New Era," including Michelle Dockery, Hugh Bonneville, Jim Carter, Maggie Smith, Elizabeth McGovern, and others. That said, there are a few new performers who join the "Downton Abbey" franchise in "A New Era."
The film, which was directed by Simon Curtis and written by "Downton Abbey" creator Julian Fellowes, follows the residents of the movie's titular estate as they are forced to deal with a pair of unexpected developments. The first of these developments involves the gifting of a French villa to Smith's Violet, while the second sees the cast and crew of a movie come to Downton to shoot at the estate.
That latter storyline is what leads to the involvement of many of the film's "Downton Abbey" rookies, including Hugh Dancy, Dominic West, and Nathalie Baye. Laura Haddock also stars in "A New Era" as a well-known silent film actor, but MCU fans will know her best as Meredith Quill.
Laura Haddock plays Myrna Dalgleish in Downton Abbey: A New Era
In "Downton Abbey: A New Era," Laura Haddock plays Myrna Dalgleish, a popular actor who comes to the movie's eponymous state to appear in the film that Hugh Dancy's Jack Barber intends to shoot there. Her appearance in "A New Era" marks her "Downton Abbey" debut, but Haddock isn't by any means a stranger to working within beloved and well-known franchises.
In 2014, Haddock played Meredith Quill, the mother of Peter Quill AKA Star-Lord (Chris Pratt), in "Guardians of the Galaxy." Haddock went on to reprise the role in 2017's "Guardians of the Galaxy Vol. 2," but she has not been seen in an MCU project since then (via IMDb). However, despite her relatively small presence in the MCU, Haddock's Meredith is still one of the most influential and important figures in her son's life. In fact, her death plays a huge role in Peter's journey throughout the first "Guardians of the Galaxy," and his love for her proves to be similarly important in that film's 2017 sequel.
As of now, it remains to be seen whether or not Meredith will appear again in "Guardians of the Galaxy Vol. 3" or any of Marvel's other upcoming projects. Fortunately, Haddock has managed to successfully transition from the MCU into the world of "Downton Abbey." In an interview about "A New Era" with Radio Times, Haddock even spoke about how enjoyable it was to shoot the "Downton Abbey" sequel, saying, "These guys are just honestly – without sounding too mushy – they are the best. They love each other [and] they have such a great chemistry on set on and off-set."
In other words, it sounds like moving from Marvel to "Downton Abbey" was a jump that Haddock was happy to make.