The Devastating Death Of Oscar-Winning Composer Vangelis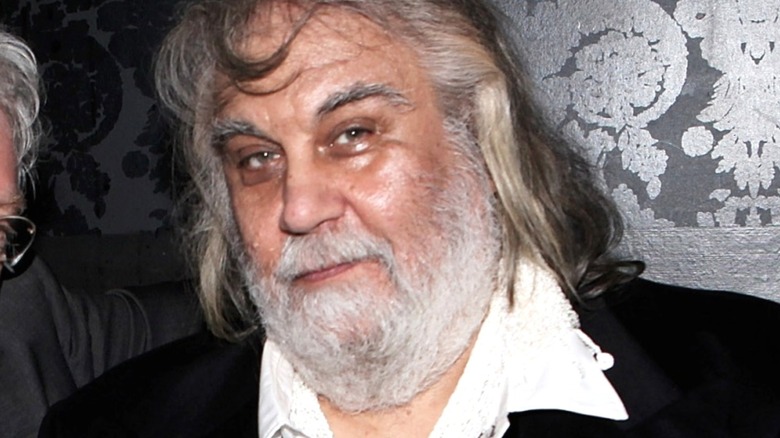 Dave M. Bennet/Getty
Oscar-winning Greek composer Vangelis has died at the age of 79. In a post titled "The Saddest News," Dennis Lodewijks of the Vangelis fansite Elsewhere relayed a message from the composer's private office that read, "We regret to announce that the world renowned composer Vangelis has passed away on Tuesday, May 17th, late at night." 
Born Evángelos Odysséas Papathanassíou, Vangelis won an Academy Award in 1982 for his work on "Chariots of Fire." He also scored the original "Blade Runner" film (via The Guardian). He died Wednesday in a Paris hospital while being treated for what Greek newspaper OT said was COVID-19.
Greek Prime Minister Kyriakos Mitsotakis was among the nation's top officials to comment on Vangelis' death, and Sia Anagnostopoulou, a spokesperson for the SYRIZA-Progressive Alliance, said he was "innovative [and] radical ... [his work] travelled to space and at the same time allowed millions of people everywhere on the planet to accompany him (via Athens News Agency)." "Battlestar Galactica" and "The Walking Dead" composer Bear McCreary tweeted, "'Chariots of Fire' and 'Blade Runner' were among the most innovative and influential scores in the history of the medium ... A true musical pioneer. Thank you, #Vangelis. #RIP."
Vangelis' long and fruitful career took him across Europe and North America as well as across genres.
Vangelis also composed music for NASA and played in two successful prog-rock bands
According to The Guardian, Vangelis was born near Volos on Greece's Pagasetic Gulf in 1943. Per Athens News Agency, he began composing when he was just four years old. He went on to form two progressive rock groups, Forminx in the early 1960s and Aphrodite's Child in 1968. The latter's "Rain and Tears" was a No. 1 hit in three European countries, but Vangelis felt the world of pop music was tedious and went back to working on television and movie music. Although he had been scoring films since his teens, "Chariots of Fire" was a huge breakthrough for Vangelis. His work on the film came around the same time as his synth-pop collaborations with Yes frontman Jon Anderson, and he also composed pieces to be played during NASA missions and the ESA's outer space memorial for Stephen Hawking (via Cambridge News).
The usually private Vangelis said in a 1985 interview with Spin that "When I'm successful in one field, I don't stay with that, because I don't want to become a prisoner of any label, any image." He generally shunned attention and over-analysis of his work, and told the magazine that, in his words, "When you compose music, that's one thing. But when you have to explain it, that's much more difficult. It's very easy to go out of balance and to become a product. But music is so much more than entertainment, believe me. It's an important human possession."
His stellar success even led to Harvard astronomers naming a micro-planet after him (via Harvard University), entirely appropriate for a man who generated such otherworldly soundscapes and sensations.