Stephen Hawking's Simpsons Appearance Came With One Catch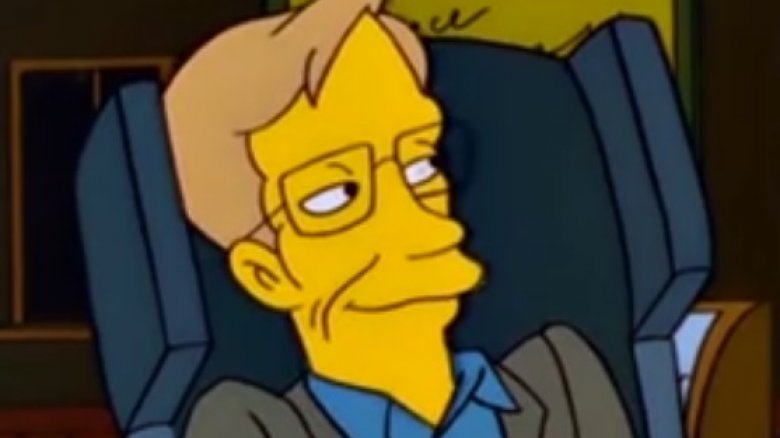 Renowned physicist Stephen Hawking has died at the age of 76, but his contributions to the culture will live on forever — including what is arguably his life's most important work, his appearance on The Simpsons.
News of the late scientist's passing inspired a number of tributes in the entertainment world, which Hawking had an outsized influence on. As a public figure, the author never restricted himself to purely academic appearances, lending his likeness or voice to a number of high-profile pop culture projects. 
Outside of academia, Hawking appeared as himself on an episode of Star Trek: The Next Generation, as well as multiple episodes of The Simpsons, Futurama, and The Big Bang Theory. He also lent his voice, a synthesized program, to the Pink Floyd albums The Division Bell and The Endless River.
After Hawking's death, Simpsons showrunner Al Jean spoke to The Hollywood Reporter about the experience of arranging the professor's hilarious first appearance on the series in the 1999 season 10 episode "They Saved Lisa's Brain".
"What we would do is send him the script and then he would record it through his machine," Jean said, explaining the process of working with the physicist. "So it was his voice, his special audio program. He did come to studio when he was in America, but he didn't ever go to the record."
Over the course of his three appearances on the show, Hawking was willing to go along with just about everything the writers wanted him to say — except one thing in his first episode that rubbed him the wrong way.
"He did say at one point that he did not want to be drunk onscreen," Jean said. "That was the only note we got from him. He didn't mind having a beer with Homer at Moe's, but not more."
Hawking's first appearance, in which Homer Simpson famously mistook him for the Hustler magnate Larry Flynt, came about thanks to personal connection and mutual admiration.
"My daughter, Lucy, knew one of the scriptwriters for The Simpsons," Hawking said. "He said he would like to write an episode involving me. I accepted immediately because it would be fun, and because The Simpsons is the best thing on American television."
Aside from the drinking scene, Hawking had no problems with the way the long-running cartoon series depicted him. 
"My treatment in The Simpsons was always good-humored," Hawking said. "I was depicted as a somewhat surreal character with enormous powers."
"Everyone wanted to get their picture taken with him," Jean recalled, remembering the late academic. "It was an honor to be able to briefly interact with the Albert Einstein of our time. I still can't get over it."