Here's Where You Can Stream The Good Doctor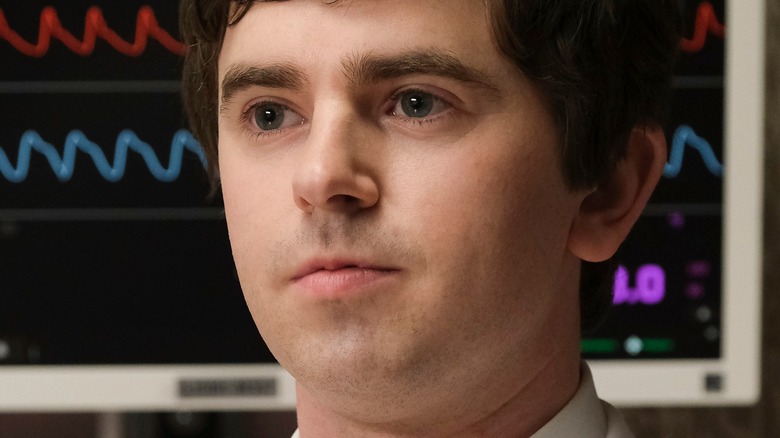 ABC/Jeff Weddell
We may receive a commission on purchases made from links.
In the ever-expanding landscape of network medical dramas and procedurals, one entry has continued to bring in new devotees. "The Good Doctor," starring Freddie Highmore in the title role, follows Dr. Shaun Murphy, a talented, autistic savant surgeon who navigates his personal and professional life. Though the young doctor's appointment to the renowned San Jose St. Bonaventure Hospital is met with skepticism, Murphy proves himself as an asset in the operating room and opens up to his colleagues.
The series has found its fair share of fans, which isn't surprising considering "The Good Doctor" is spearheaded by "House" scribe David Shore. Despite having an acclaimed showrunner at the helm, the series somewhat struggled to make a memorable connection with critics, with the first season landing only a 63% positive aggregate score on Rotten Tomatoes. Nevertheless, the series was renewed for Season 6 in 2022, proving that audiences just can't get enough of Murphy and the rest of the staff at St. Bonaventure.
Those looking for a new show to binge, or existing fans looking for new ways to watch, will be excited to know "The Good Doctor" is available to stream on a variety of platforms.
The Good Doctor can be streamed on multiple services
Those who want to soak in every heartbreaking moment of "The Good Doctor" can watch every season on Hulu, with new episodes arriving on the service a day after they premiere on ABC. An ad-free subscription costs $12.99 a month, but the streamer also offers a one-month free trial, so if you think you can watch over 90 "Good Doctor" episodes in 30 days, have at it!
Don't have Hulu? Can't watch the episodes as they first air on ABC? Every episode of "The Good Doctor" is streamable on ABC.com if you have a cable subscription. Simply log in with your cable provider's information, and you'll be watching Dr. Shaun Murphy save the day in no time.
If you have an existing DirecTV subscription, Seasons 1 and 5 are available to stream. Otherwise, a subscription to the premium service will run you $69.99. Want to watch only Season 5? FuboTV has it, along with a free trial. The price to stream FuboTV's content is $69.99 afterwards.
Individual "The Good Doctor" episodes can also be purchased in HD on Amazon Prime Video for $2.99. Season 1 can be purchased in its entirety for $4.99, whereas Season 2-3 will cost $9.99. Season 4 and 5 can be bought for $14.99 and $29.99, respectively. The same pricing structure can be found on Vudu. Each individual season can be purchased for $29.99 on iTunes, Google Play Store, and the Microsoft Store.