The Saddest Death In The Good Doctor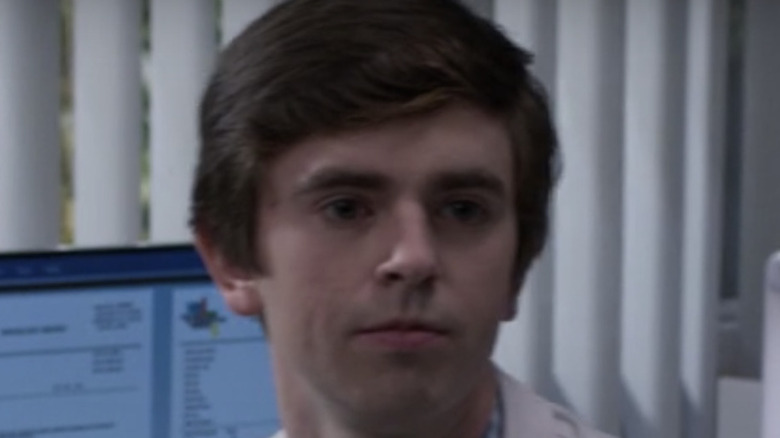 ABC
On nearly every episode of ABC's hit medical drama "The Good Doctor," the surgeons of San Jose St. Bonaventure Hospital are tasked with saving patients who are on the brink of death in any way they can. For 87 episodes spanning five seasons, they've performed medical miracles that have changed the lives of all involved. However, despite their talent and knowledge — especially that of series lead Dr. Shaun Murphy (Freddie Highmore), whose savant syndrome allows him to see solutions that others can't — the harsh reality is that not all of their patients make it.
One such devastating loss came in Season 4, Episode 5 when the first patient of surgical resident Dr. Asher Wolke (Noah Galvin) died due to a misdiagnosis. Though Murphy is supposed to be overseeing the new residents, Dr. Audrey Lim (Christina Chang) urges him to stop micromanaging. Therefore, when Wolke asks Murphy if he'd like to double-check his diagnosis of a spinal condition, he reluctantly refuses. It turns out that the patient, Carlo Porter (Carlos Lacamara), is actually suffering from an aneurysm and dies on the operating table. Naturally, Wolke is distraught.
Another emotional death in the series is the Season 4 loss of nurse Deena Petringa (Karin Konoval), who succumbs to COVID-19 at the very beginning of the pandemic. As a staple of St. Bonaventure for four decades, her passing was quite the emotional gut-punch that left her friends and co-workers understandably shaken. Nevertheless, they pressed on, navigating an increasingly tense profession with an enduring desire to help anyone and everyone they could.
Though viewers surely shed a few tears while watching these tragic scenes unfold, fans are still mourning the loss of one particular character two years after his emotional exit from the show. Here's why this example hit so hard.
The death of Dr. Neil Melendez is heartbreaking
To close out the third season of "The Good Doctor," viewers witnessed a tragedy-riddled two-part finale. The penultimate episode, "Hurt," featured Dr. Neil Melendez (Nicholas Gonzalez) and Dr. Claire Browne (Antonia Thomas) on a trip to San Jose, California. One of Melendez's previous patients, Marta Cruz (Lesley Boone), has invited them to a charity fundraiser, which goes from a fun social gathering to a nightmare in no time. A massive earthquake rocks the area, and with chaos unfolding around him, Melendez ends up seriously injured due to falling debris and requires immediate medical attention.
Following up on this plot point, the next episode, "I Love You," sadly had little to offer fans in terms of good news. As a result of his complex internal injuries, Melendez soon dies at St. Bonaventure, buying his colleagues just enough time to give their unexpected goodbyes. To make matters worse, he and Browne had just begun to form a romantic connection, and her bond with Neil had gone a long way in helping her come to terms with the death of her mother, who died in a drunk driving accident. No matter how you slice it, this loss is incredibly heartbreaking and certainly stands out from the rest.
Melendez's demise made viewers and actors alike emotional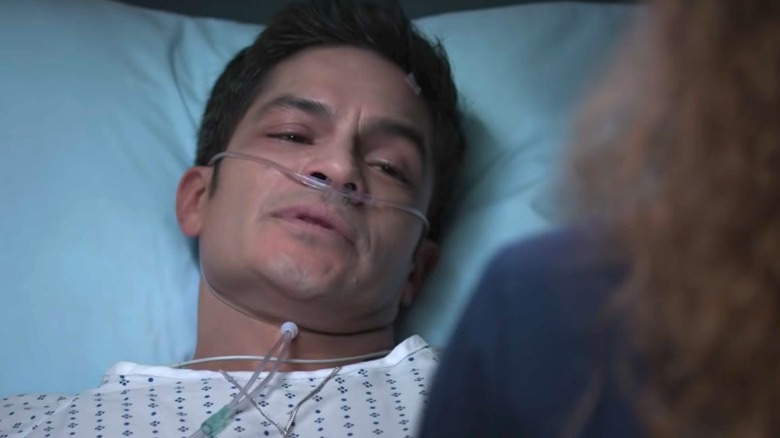 ABC
The death of Neil Melendez proved undeniably sad for multiple reasons, so it should come as no surprise that "Good Doctor" viewers had a lot to say about it. On Reddit, u/ManMythLegend777 described Neil's death as "one of the biggest mistakes in TV history" and an "epic fail." u/A1i80 said, "My biggest problem was that they built up the entire relationship with Claire, just to kill him off. It just felt like such a waste of time." u/Why_existwe went as far as to say, "Killing Melendez, killed the show for me."
As it turns out, Melendez's demise didn't impact audiences alone. It was also difficult for Nicholas Gonzalez himself, specifically during the final scene he shot with Antonia Thomas. "It was tough because there were obviously a lot of real emotions," he told TVLine in March of 2020. "Like Dr. Melendez, I was saying goodbye to [someone who had been] in my life for three years..." Nevertheless, Gonzalez added that he felt he left the show "at a really great place."
The untimely passing of Dr. Neil Melendez came as a shock to all who caught the tail end of "The Good Doctor" Season 4. Especially considering his budding romance with Dr. Claire Brown, the decision to kill him off definitely came out of left field. Regardless, there's no denying that it happened, and so Melendez's time on the program is over, leaving fans with arguably the saddest death the show has to offer up to this point.