Maya Hawke Teased Stranger Things 4 Details In A Very Unusual Way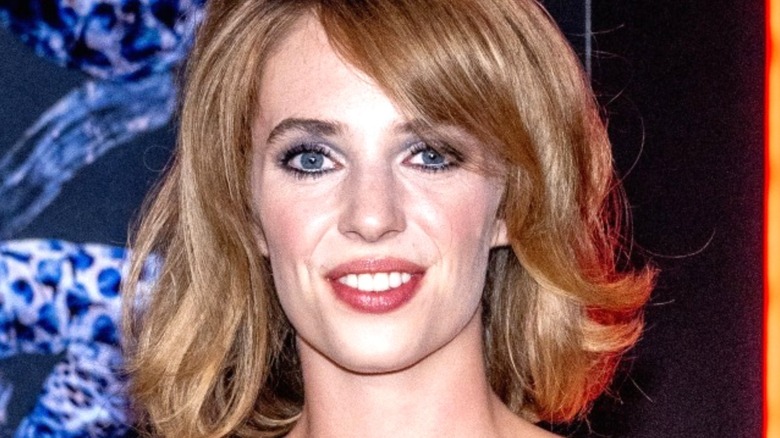 Roy Rochlin/Getty
It's been a long wait for "Stranger Things 4" to arrive on Netflix, but the next chapter of the highly anticipated series is almost here — and the Hawkins A.V. Club is going to have an even bigger battle on their hands this time around. The third season ends on the huge cliffhanger that Chief Hopper (David Harbour) has wound up in a Russian gulag after the battle at Starcourt Mall, and the main gang is now spread out between California and Hawkins.
Now, it seems that after fighting Demogorgons and the Mind-Flayer in the previous seasons, Eleven (Millie Bobby Brown), Mike (Finn Wolfhard), and the rest of the team are set to go up against a terrifying new creature in Season 4 – the Vecna. It's a gross humanoid creature from the Upside-Down with claws and tentacles, although for the moment it's not quite clear what it actually wants with Hawkins. When speaking to IGN, "Stranger Things" creators the Duffer brothers explained that they took a different approach when creating the Vecna.
"Something else we really wanted to do was to go back to Season 1 and actually do a monster that we could do mostly practically. What you're seeing here is 90% practical [effects]. And Vecna, throughout the season, is 90% practical." They added "We wanted a presence on the set that our actors could react to, whereas in Season 3, they were reacting to a beach ball. We wanted something there that we could actually film, and I just think that, that makes this villain scarier and more real and tangible and we're just really excited for people to see him this season."
Surprisingly, Maya Hawke — who plays Robin in the series — recently teased details about the "Stranger Things 4" villain in a very unusual way.
Maya Hawke's dress has Stranger Things details in it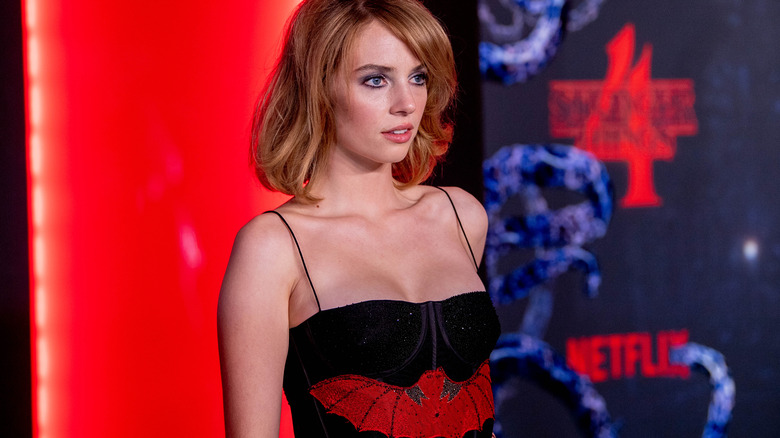 Roy Rochlin/Getty Images
When Maya Hawke attended the "Stranger Things 4" premiere, she wore a stunning Dior dress to walk the (blood) red carpet with the rest of her castmates. But the outfit actually features a few details about the upcoming season in the design — which Hawke explained in a recent interview with Elle.
"They're opening the lore of what all of this is about and there is a dark menacing force named Vecna who is like the devil. The dress has 'diablo' on it, and I feel like it has the spirit of Vecna as well as the ancillary monsters throughout. There is a lot of symbolism through the dress that relates to the show." Hawke went on to say "I really love the show. After working on it for almost three years, I wanted to show that through my look. Dior was so supportive in helping remake a dress from a past season for this. I wanted to go all out with black and red nails."
Hawke's dress also features a giant red bat on the front, which is a nod to some other new monsters: the Demobats. The Duffer brothers recently explained the beasts when they broke down the "Stranger Things 4" trailer for IGN, saying "We always love our monsters, and we wanted a new different type of monster. And so we've introduced Demo Bats... we've got our Demogorgon, we've got our Demo Dogs, and so this is the flying version of that. Maybe alone one of them is not too dangerous, but when there's a bunch of them it can get very, very scary, very, very quickly."
Audiences will finally meet the Vecna and the Demobats when "Stranger Things 4 Volume 1" arrives on May 27, 2022.