What Is The Song In The The Umbrella Academy Season 3 Trailer?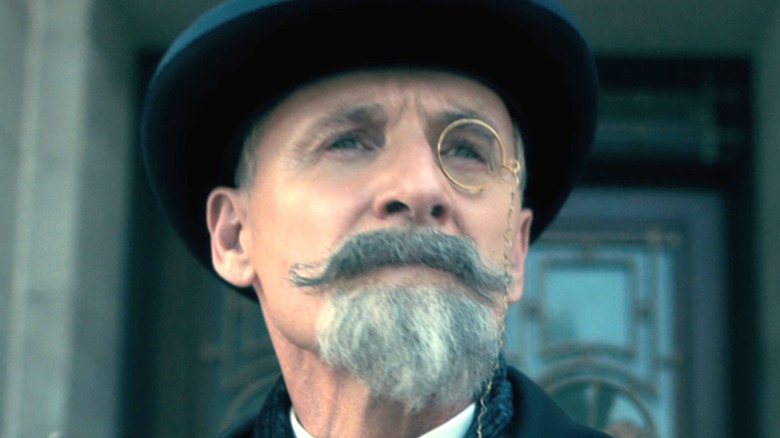 Netflix
"The Umbrella Academy" is back, and it seems that things are getting more bonkers than ever. On May 19, Netflix dropped the first official trailer for the show's third season, showing off some of the events that follow Season 2's mind-bending cliffhanger. Now that the Hargreeves children are back from their eventful stay in the 1960s, they have returned to a future where things have played out a little bit differently. It seems that when the kids told Reginald (Colm Feore) about his future, their good-old dad decided to avoid doing what he originally did. Now, instead of an Umbrella Academy, there is a Sparrow Academy populated by different superpowered kids. Oh, and all of their time-hopping shenanigans have created a paradox, meaning that the world is probably going to end... again.
As this next apocalypse, "The Kugelblitz," moves to wipe out existence as we know it, it's up to the Umbrella (and possibly the Sparrow) Academy to right their wrongs and avert this latest apocalypse. But while the trailer sets the stage for the events of Season 3, scheduled to premiere on June 22, it does so to the tune of some upbeat rock song. The track is explosive, with some high-pitched vocal wails giving a manic edge to the steady, fast-paced instrumentals. It's a total earworm, and if you know anything about 1970s glam rock you can probably recognize it in a flash. Those who don't know already, however, are more than likely asking what that song is.
The tune is a cover of a classic song by Sweet
Alright, no beating around the bush — the song is titled "Ballroom Blitz," and it is an absolute essential in the discography of the British rock band, Sweet. Coming from the band's third album, "Desolation Boulevard," the song has already been featured in popular media, most notably in the first "Wayne's World" movie. However, the original version by Sweet is not the same version of the song that Netflix has used for this latest trailer. Instead, the company chose a cover of the song performed by the modern British rock band, The Struts.
Interestingly, The Struts actually recorded this cover for use in another movie, a coming-of-age drama entitled "The Edge of Seventeen" starring Woody Harrelson and Hailee Steinfeld. As far as covers go, however, The Struts' take on the song is pretty straightforward. They aren't doing too much to break the mold that Sweet established in 1974. This makes one wonder why Netflix didn't go with the original, even if the cover has the same basic effect. Either way, it's an iconic song that fits the trailer well, and hopefully gives an accurate sense of the excitement fans will feel watching Season 3 of "The Umbrella Academy."