The Chicago P.D. Character Who Needs To Go In The Season 9 Finale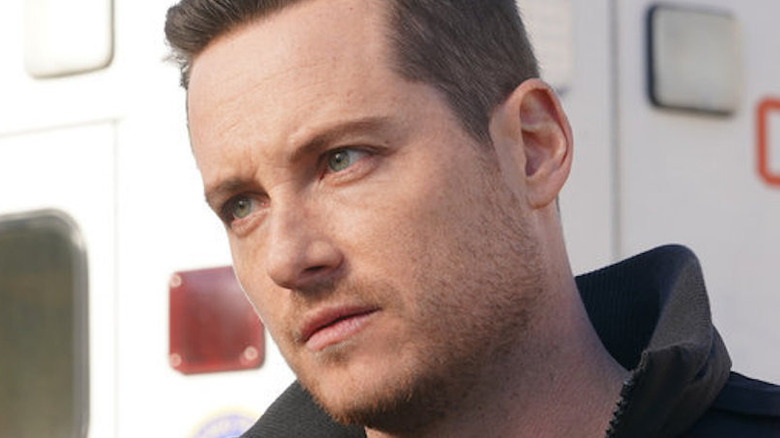 Lori Allen/NBC
Nine seasons of "Chicago P.D." have seen several CPD officers come and go, but it's been a while since someone major departed the show. Over the years, we lost Erin Lindsay (Sophia Bush), Alvin Olinsky (Elias Koteas), Antonio Dawson (Jon Seda), and Sean Roman (Brian Geraghty) for different reasons. Lindsay and Roman transferred to other law enforcement agencies in other states, while Antonio took off for Puerto Rico to join his sister Gabby (Monica Raymund) to fight his drug addiction issues. Olinsky is the only major "Chicago P.D." character to lose their life, which is rather shocking given the show's impressive nine-season stretch. In 10 seasons, we've lost three firefighters on "Chicago Fire." The dangers the characters of both series face are pretty equal, which makes it somewhat surprising the showrunners haven't put another "Chicago P.D." character in the dirt.
It's time. It's time for an Intelligence Unit member to meet their end — and not by retiring, transferring, or moving for family reasons. It's time a "Chicago P.D." character dies, and the perfect moment is in the upcoming Season 9 finale. When it comes down to it, there's really only one person it should be — Hank Voight (Jason Beghe).
Hank Voight's time is up on Chicago P.D.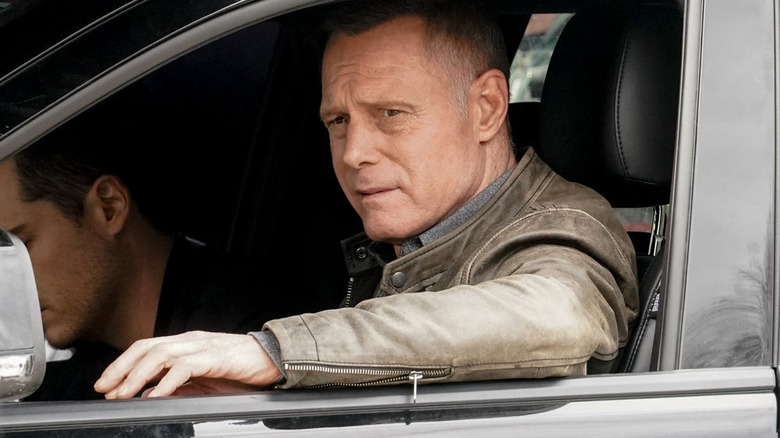 Lori Allen/NBC
Hank Voight debuted in the "One Chicago" franchise on "Chicago Fire" in Season 1, Episode 3 ("Professional Courtesy"). His initial introduction to viewers was not a pleasant one, as Voight is revealed to be a dirty cop who threatens the lives of Matt Casey (Jesse Spencer) and his fiancée Hallie Thomas (Teri Reeves). Voight's son, Justin Voight (Josh Segarra), gets into a car accident while drunk, which paralyzes a child. Voight tries to get Casey to file an incorrect report to keep his son out of trouble, and when the latter refuses, a long line of threats begins.
Voight is later arrested but released from prison and given command of the Intelligence Unit of the CPD — totally normal and fair. This kicks off Voight's controversial and tumultuous run as the boss on "Chicago P.D." Somehow, the showrunners convince viewers that Voight is actually a good guy with bad methods which always seem to get the job done.
It's been nine long seasons of watching Voight commit illegal acts all in the name of the law, and it's about time his nonsense catches up with him. His Season 8 antics with Roy Walton (Michael Maize) forced Hailey Upton (Tracy Spiridakos) to kill the criminal to protect her and Voight's lives. Somehow, Voight ends up looking like the hero by covering up the murder and blackmailing an FBI agent to save Hailey, despite the whole situation being his fault in the first place. Voight has broken the rules for way too long, and while it's understandable most of the time, it's not realistic to have it not catch up with him.
The Intelligence Unit detectives and officers are already in the driver's seat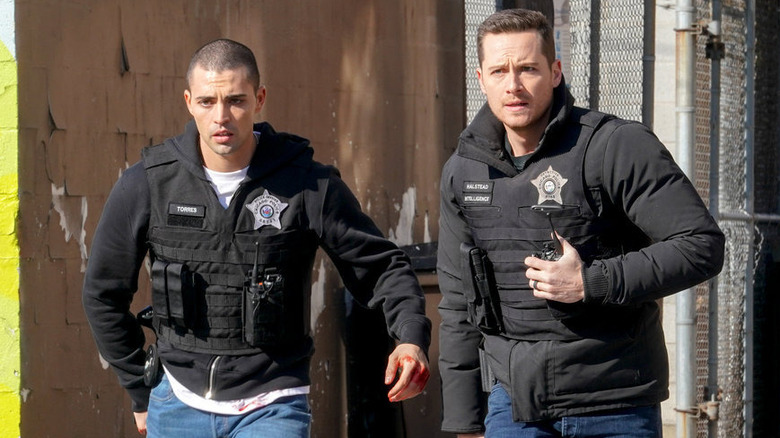 Lori Allen/NBC
How much is Voight actually leading his team these days anyway? Throughout Season 9, it seems the Intelligence Unit is always one step ahead of his orders and can do their jobs without his crackerjack leadership. In almost every episode, Voight recaps a crime and then tells the team to "dig a little deeper," with one responding, "already did, Sarge." We're seeing a lot more finger-pointing from Voight this season, which to his credit, might be because he's shaped the team into the top form they're in today.
Jay Halstead (Jesse Lee Soffer) seems primed to take over the leadership position in the Intelligence Unit, with the latter half of Season 9 proving he's got what it takes. He trains a recruit, is one step ahead of Voight's instructions and is the longest-tenured detective on the team. "Chicago P.D." fans have debated who would be the best successor to Voight, but the show seems to be priming Halstead for the role. Voight's reign is coming to an end.
But why does Voight need to die?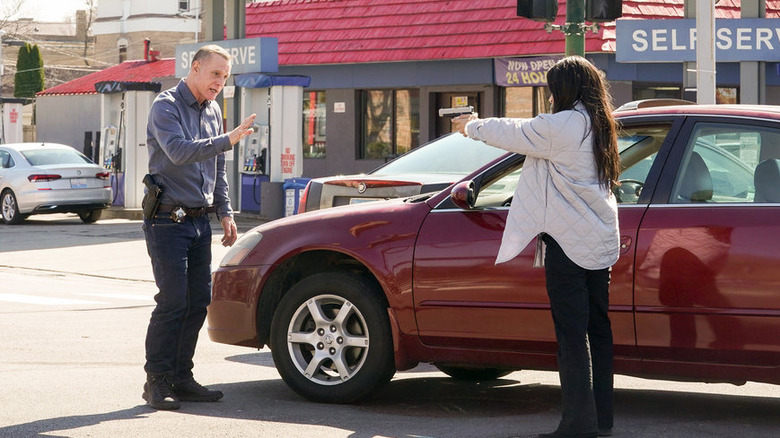 Lori Allen/NBC
As we mentioned earlier, it's been far too long since Olinsky's Season 5 death, and it's time we tragically lose another Intelligence Unit member. The show needs to hurt the viewers, and hard. But not too hard, by killing off someone like Adam Ruzek (Patrick Flueger) or Kevin Atwater (LaRoyce Hawkins). They need to give fans a death they can live with, and that's Voight. He's done about all he can do for his team at this point.
Voight is very much a lone wolf. He lives on his own after the murder of his wife and son (which happened in different incidents) and doesn't have a life outside of the force. There isn't much left for his story, as it's been very one-note for some time now. Season 9 sprouted a bond between Voight and his CI Anna Avalos (Carmela Zumbado), with the two having somewhat of a father-daughter bond. Anna is in constant danger working for Javier Escano (Jose Zuniga) thanks to Voight, and it looks like things will come to a head in the Season 9 finale. 
The best way to send out Voight would be to have him sacrifice himself to save Anna during the finale. It would be the perfect way to say goodbye to the character, redeeming many of the dirty deeds he has committed throughout his time on the show. The retirement or murder of Voight doesn't have the same weight as a sacrifice, which would perfectly round out his arc in the series. Sending him out as a hero is the best way to go and would vindicate many of his wrongdoings. It's time to say goodbye to Hank Voight.