Underrated Mystery Shows You Need To Watch
There is no shortage of mystery shows on television. From the various "Law & Order" and "NCIS" spinoffs to cozy mysteries like "Midsomer Murders" and "Murder, She Wrote," the hook of cracking a complex puzzle and making sure crimes are punished has proven popular for decades. In fact, certain shows have been around so long and made such an impact that it can be easy to overlook other programs that are equally worthy of praise and attention.
That is why we will take a look at some shows you might not have yet considered adding to your to-be-watched queue. There are bound to be a few titles on here that you've heard of among some that you may have even seen, but none of these programs ever quite reached the ubiquitous status of other all-time classics. Since the genre can encompass all kinds of tones ranging from the deadly serious to the hilariously funny, we've tried to include a variety of selections to fit any particular mood you find yourself in when considering your next mystery binge experience.
Fortitude
An isolated environment is perfect for all kinds of murder. Even when you live in a small community of less than a thousand people that is purported to be the safest town in the world, like the fictional town of Fortitude in the series of the same name, secrets lurk and danger hides in every shadow. Almost like a frozen Twin Peaks located in Noway, "Fortitude" explores the darkest recesses of mankind's existence and its capacity for great evil.
With a stellar international cast including Richard Dormer, Stanley Tucci, Michael Gambon, and Sofie Gråbøl, "Fortitude" tells the story of the downfall of what is called the safest town in the world. However, these events aren't the rampage of a homicidal maniac. They may have much older and deeper roots than that, and the residents of Fortitude may have to dig up the past to protect the town's future.
Search Party
Despite running for five seasons and maintaining a loyal fanbase, "Search Party" never broke through to the mainstream, even though the first season sticks fairly close to your standard mystery structure. Alia Shawkat, of "Arrested Development" fame, plays Dory Sief, a young woman who lives in New York City with her sweet, if dull, boyfriend Drew. She spends her time with her vapid friends Elliott and Portia, wondering when she will find her path in life.
That all changes when she happens across a missing person poster highlighting the disappearance of a woman she went to college with named Chantal. Seeing this as an opportunity to introduce purpose to her mundane existence, Dory sets off on a strange quest to find out what happened to this person she barely knows. It's a funny, suspenseful, and sometimes very twisted series that reinvents itself with every season and goes places you would never expect.
Kolchak: The Night Stalker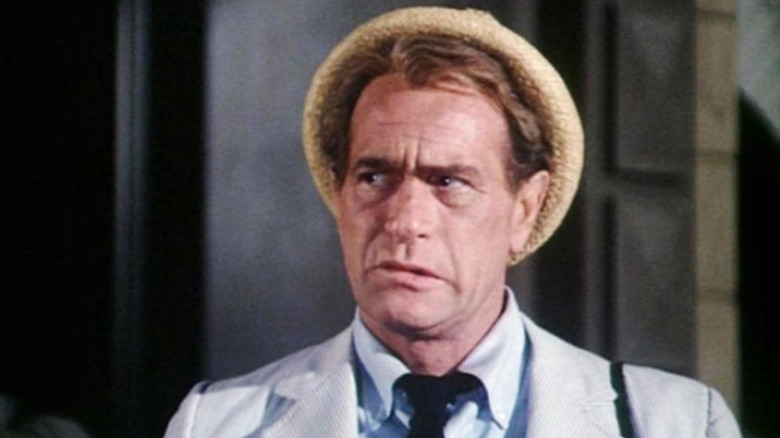 Universal Television
In 1972, horror legend Richard Matheson adapted a novel called "The Kolchak Papers" by Jeffrey Grant Rice into a television movie called "The Night Stalker." The film saw local reporter Carl Kolchak investigating a series of murders that turned out to have been perpetrated by an actual vampire. A sequel called "The Night Strangler" was released one year later, followed by a single season of a television series called "Kolchak: The Night Stalker."
Darren McGavin  plays the fast-talking, sly, and stubborn Carl Kolchak to perfection in this precursor to shows like "The X-Files" and "Supernatural." Each week, Kolchak would investigate a new mystery that usually had some kind of supernatural element to it. From an immortal Jack the Ripper, a motorcycle-riding Headless Horseman, and werewolves to aliens and even the devil himself, Kolchak faced off with the best of them when nobody else had the guts.
Nero Wolfe
In the pantheon of great fictional detectives like Sherlock Holmes and Hercule Poirot, Nero Wolfe is a vastly underrated character. Like Holmes, he has a brilliant mind that contains a staggering array of facts, and similar to Poirot, he has an obsessive appreciation for what he considers to be the finer things in life. Unlike them, however, his sidekick Archie Goodwin is the one driving the story, as Nero isn't a fan of leaving his luxurious home. He'd much rather stay home with excellent food and beer.
Having two lead characters with different skill sets working in tandem is what gives the world created by author Rex Stout its appeal. On the one hand, you've got the classic gentleman detective in Nero. On the other is a pulpish and noir figure in Archie. While the character has seen a fair share of adaptations over the years, he isn't the household name he deserves to be. The short-lived series starring Maury Chaykin and Timothy Hutton, simply titled "Nero Wolfe," makes the list because of its excellent art deco design, convincing atmosphere, and unique reparatory cast who appeared in non-recurring roles across multiple episodes.
Broadchurch
"Broadchurch" is an example of a television series that was widely recognized for its quality by the awards community but never achieved truly widespread recognition. The Guardian even notes that there was even a failed attempt at remaking the series in the United States, once again starring David Tennant. So, clearly, the series is well-respected and proved to be popular enough to try at least and bring it overseas. Regardless, the fact that the original didn't get picked up by and distributed all over by a massive network like HBO so it could win another slew of awards is enough justification to view the series as underrated, as its quality far outweighs the reception it has received from the public.
Set in the fictional town of Broadchurch, the series begins with the eponymous town being shaken to its core by the mysterious death of a young boy. Tennant plays a haggard detective inspector, Alec Hardy, who does his best to solve this troubling case without cracking under the pressure, with assistance from Sergeant Ellie Miller (Olivia Colman). With a subject matter that hits you right in the gut and a plot that twists to its very breaking point, the series is shocking, suspenseful, and absolutely heartbreaking.
The Bay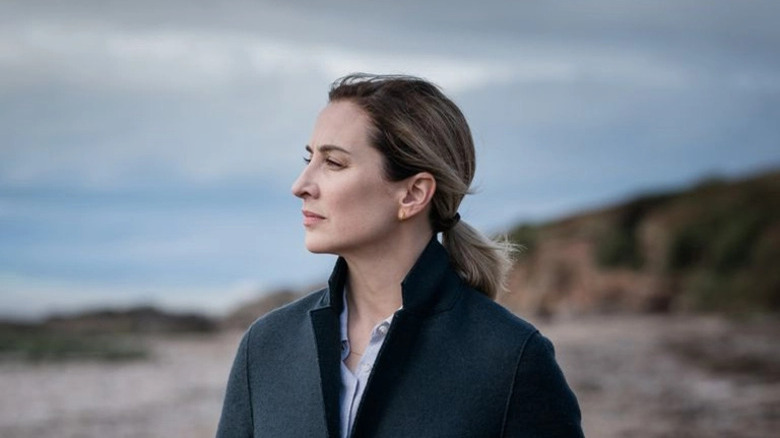 ITV
Like "Broadchurch," "The Bay" begins with a murder that shocks a small community in the UK (this time, it's Morecambe in Lancashire). Where it diverges, however, is in the protagonist of the first two seasons, Detective Lisa Armstrong (Morven Christie). Lisa is a single mother whose job is to be a liaison to family members involved in a police investigation. Things get complicated when she realizes that her current case involves a married man she recently slept with.
The second season continues to complicate things with the return of her ex-husband, and Season 3 brings in a new protagonist, Detective Jenn Townsend (Marsha Thomason). It is a somber and fascinating series that requires you to sit down and watch the entire thing in one go because you have to figure out who is behind the murders and exactly how the main characters are going to survive their personal struggles as well.
Agatha Raisin
"Agatha Raisin" is based on a series of novels by M. C. Beaton and it has all the elements of a classic cozy mystery with a bit of cheeky edge. It sees PR mastermind Agatha Raisin (Ashley Jensen) leaving the world of big-time media spin behind to settle down in a quiet county village in the Cotswolds. Like many English mysteries set in idyllic places, the village is full of colorful and quirky characters with dark secrets, but none of them are as colorful or quirky as Agatha herself.
From the very start, she stands apart from the people around her with her flashy wardrobe and selfish persona. She isn't the most pleasant person to be around, and the villagers aren't very happy with her presence. Agatha earns her place amongst their ranks, however, by solving murders. It is a legitimately hilarious series with genuine mysteries that keep you guessing.
Rosemary & Thyme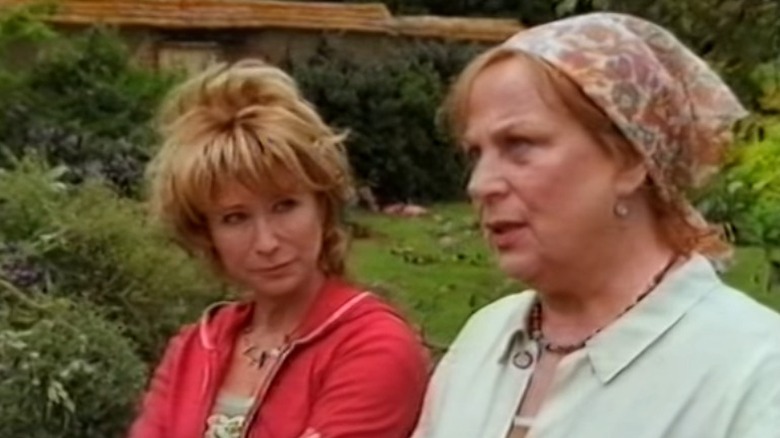 ITV
A common trope in the cozy mystery subgenre is to give your amateur sleuth an interesting hobby or profession. In "Murder, She Wrote," Jessica Fletcher writes mystery novels. In "Murder, She Baked," Hannah Swensen is — you guessed it — a baker. For the ITV series "Rosemary & Thyme," the main characters are both professional gardeners. Their proximity to powerful people while working in their gardens gives them an excellent chance to observe their personal lives should something like a murder occur.
The characters meet each other at the worst moments of their lives. For Laura Thyme (Pam Ferris), a former police officer, it's her divorce from her husband who has decided to leave her for a younger woman. Rosemary Boxer (Felicity Kendal), on the other hand, suddenly lost her job as a lecturer. They decide to go into business together, given their shared love for gardening, and just so happen to stumble upon several mysteries while at work.
Pushing Daisies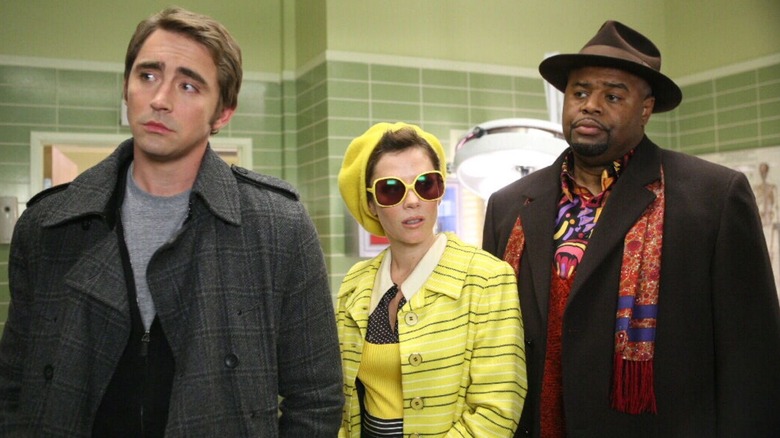 Warner Bros.Television
It's easy to forget that the prematurely canceled series "Pushing Daisies" is a mystery series. With all of its whimsy, stylized set design, and charmingly goofy characters, you might just remember it as a sweet little show about a pie maker who can never touch the love of his life again — or else she'll die. However, Ned's ability to bring the dead back to life is an important tool in Emerson's (Chi McBride) murder investigations. Also, a lot of the plots have just as many unexpected twists as any other great mystery.
The heart of the series really is lost love, however. When Charlotte (Anna Friel) dies, Ned (Lee Pace) brings her back to life. He wants to have a romantic relationship with her, but if he touches someone he just brought back from the dead, they will die permanently. This means that they must spend most of their time apart. There is also Olive (Kristin Chenoweth), who works in Ned's shop while carrying a torch for him, and some of the mysteries feature characters who struggle to connect with others. It is a sweet and delightful series that should be revisited every few years.
The Afterparty
Like "Search Party," "The Afterparty" is about a group of young people trying to make sense of the world they find themselves in. Also like "Search Party," the desire to find something more in life results in the group getting mixed up in a murder investigation. Even more like "Search Party," "The Afterparty" is very funny without sacrificing the suspense and tension that comes with the central mystery.
In the show, Dave Franco plays a superstar named Xavier who falls to his death during a high school reunion afterparty. Tiffany Haddish plays a detective who is terrible at escape rooms but very good at studying social dynamics. She assumes control of the investigation against the orders of her superior. Taking a little from Akira Kurosawa's classic "Rashomon," the series explores a series of events through the eyes of multiple characters, each of them having a different take on what happened.
Shetland
Another cold and melancholy mystery offering out of the UK, "Shetland" shares many of the strengths of previous entries on this list. However, the series stands apart thanks to its incredible setting in Scotland and the performance of Douglas Henshall as Detective Inspector Jimmy Pérez. Henshall brings a stoic presence to the character that viewers can't help but be drawn to, as his eyes betray little in regards to the machinations of his mind.
Inspired by the novels of Ann Cleeves, the partially serialized series "Shetland" begins with Jimmy trying to solve an elderly woman's murder before the looming fire festival starts. He continues to investigate a decades-old murder, the mysterious circumstances surrounding the death of a scientist, drug-related deaths, and plenty of other intriguing cases. The mood is what draws you in as the deceptively serene landscape distracts you from the horrors that lurk under the surface.
Collateral
After making a simple pizza delivery to a single mother with a screaming baby, a driver is gunned down in the street. The mystery of "Collateral" isn't exactly whodunnit, as the killer is revealed relatively early. Instead, the question that "Collateral" wants to investigate is why did they do it? Who wanted to make this happen? How many people does this affect? Everyone onscreen, with the exception of Detective Inspector Kip Glaspie (Carey Mulligan), could have been involved, and untangling the web of lies surrounding the entire cast of characters is a difficult task.
While composed of only four episodes, "Collateral" packs in enough intrigue, social commentary, and good old-fashioned mystery to fill a series twice its length. Everyone feels like the main character, and a complicated history informs the complex decisions that they make. It is an excellent example of just how messy murder can be when the ripples that result from a violent incident stretch further than even the murderer could have realized.