Tom Cruise Just Received A Surprising Honor At The Cannes Film Festival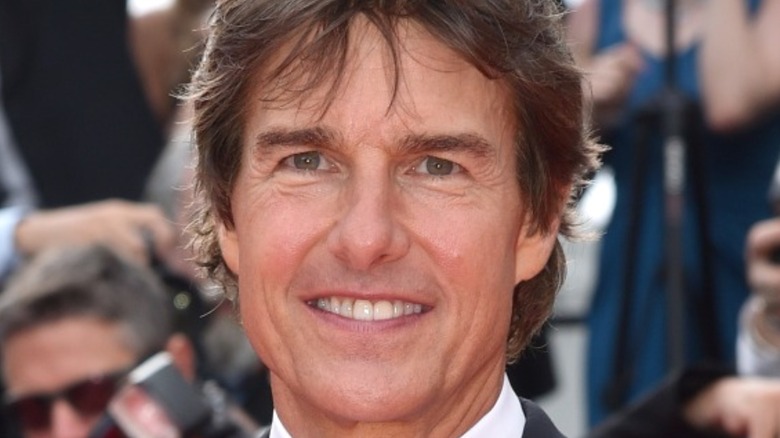 Lionel Hahn/Getty
Tom Cruise and his intense love for cinema are back in the news thanks to the long-awaited "Top Gun: Maverick." The highly-anticipated sequel to the 1986 cultural phenomenon is finally on track to hit cinemas on May 27 and those who have already seen the film have been singing its praises. We called it the ideal model for the legacy sequel in our mostly positive review.
The lead-up to "Top Gun: Maverick" hasn't just highlighted Cruise as an actor, but also as an important contributor to the world of cinema. The star recently made headlines when he revealed that he refused to let the second entry in the franchise head to streaming services in a bid to protect the cinematic experience (via IGN). Cruise has been an asset to the film industry ever since his debut, with Ed Mintz — the founder of the theatrical research firm CinemaScore — labeling the star as a profitable box office draw (via Las Vegas Review Journal). Audiences, of course, have long adored Cruise's willingness to take on death-defying stunts in the name of entertainment.
Cruise has clearly cemented his mark on cinema and with "Top Gun: Maverick" debuting in Europe at the prestigious Cannes Film Festival, the jury decided to surprise the star with a special honor on Wednesday night.
Tom Cruise was awarded an Honorary Palme d'Or at Cannes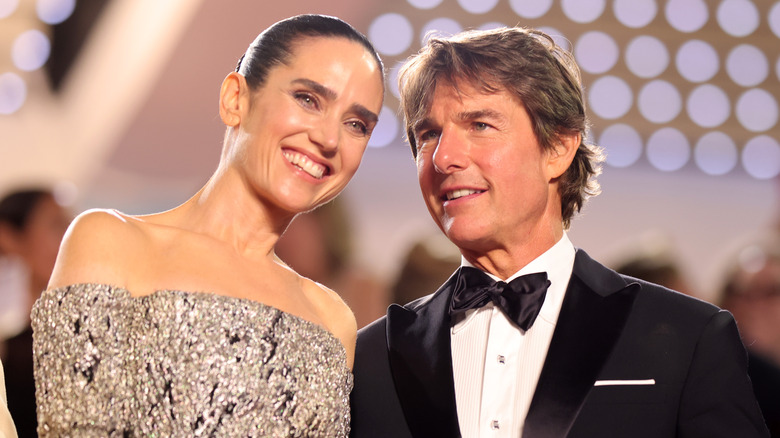 Andreas Rentz/Getty Images
Variety reports that Tom Cruise received an Honorary Palme d'Or at the European premiere of "Top Gun: Maverick" at the Cannes Film Festival. Cruise, who has spearheaded franchises like "Mission: Impossible," received an ovation twice, first while he was given the surprise award and second, during his thankful remarks.
"We talked about it when filming. I just want to see everyone's faces. There's no masks and we're in a movie theater. I'm going to take this all in and I feel very grateful," Cruise told the international audience. "I make all these movies for all of you and I'm very blessed to do what I do ... You all have made my life."
The Cannes Film Festival introduced the non-competitive Honorary Palmes d'Or in 2002 as a way to celebrate creatives who have crafted an immeasurable body of work. Notable awardees have included hotshot Disney producer Jeffrey Katzenberg and "Panic Room" star Jodie Foster. Cruise's Honorary Palme d'Or at the "Top Gun: Maverick" premiere was preceded by a celebration focused on his breadth of work as a thespian and producer. 
The premiere wasn't shy of spectacle, either. Before audience members from across the world were able to watch Maverick take to the skies again, fighter jets spewing red, white, and blue smoke raced above. "Top Gun: Maverick", which will hit cinemas on May 27, received a five-minute standing ovation, proving Cruise has still got it.