Tom Felton Wants To Work With Daniel Radcliffe Again Under One Condition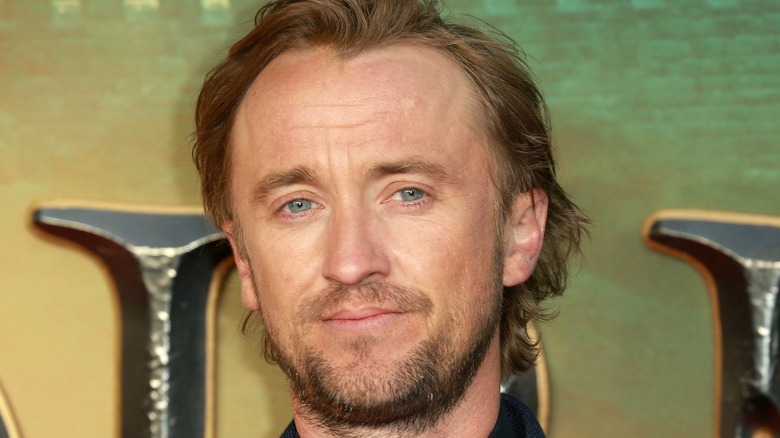 Cubankite/Shutterstock
The magical phenomenon of "Harry Potter" launched the acting careers of an entire generation of British actors into the global consciousness. One such star is Tom Felton, who portrayed Draco Malfoy, a student of Hogwarts with an irritating penchant for flaunting his wealth and perceived status in the face of anyone with ears, dead or alive (that's not a threat; Hogwarts just has a lot of ghosts too). Across the seven novels and eight films, Draco Malfoy served as a minor antagonist for the titular Boy Who Lived (Daniel Radcliffe), oftentimes consuming the protagonist's thoughts more wholly than Voldemort (Ralph Fiennes) ever could. It's a teenager thing.
With how flagrantly the two characters stood in opposition to each other, it's something of a relief to know that the actors behind them never seemed to let it affect their working relationship. In fact, Felton has been notably outspoken about his opinions regarding his co-star, which are both shockingly numerous and unequivocally positive. In an interview with Digital Spy, Felton mused about how he and Radcliffe joke about working together in the future. In that interview, he spoke of a singular condition that he would wish to be met for their potential collaboration.
Tom Felton will work with Daniel Radcliffe again if they can switch hero and villain roles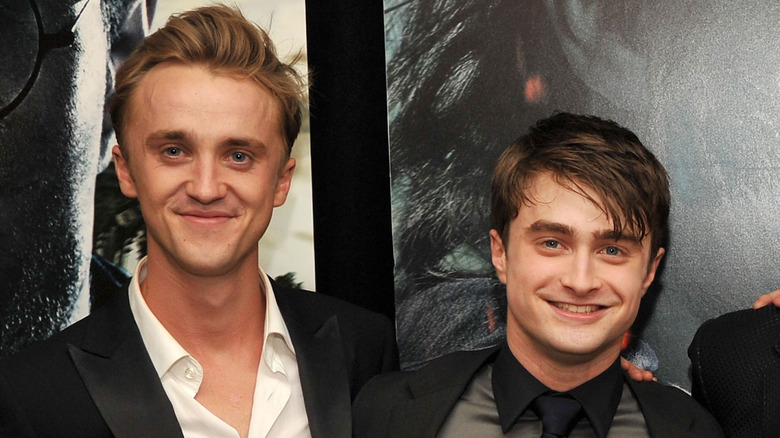 Stephen Lovekin/Getty Images
"We all talk about doing something again in all different ways," said Tom Felton. "Daniel [Radcliffe] and I have often joked about the idea of when we do work together again, he'll be the villain and I'll be the hero." Even if the line is only in jest, it's easy to understand how Felton might wish for a little variety. After all, filming the eight "Harry Potter" films took up an entire decade of his life, so it's understandable that he might be exhausted with portraying a villain character.
Regardless of the public's willingness to see him play the hero, Felton adamantly insists that he shares little to nothing in common with Draco Malfoy. In an interview with the Amarillo Globe-News, Felton said, "I think we're polar opposites. I like to think of myself as a fairly un-Draco-esque character," which is a notion oft repeated by his co-star Jason Isaacs, who wrote in a 2020 tweet wishing Felton a happy birthday that he considers him "a ray of light."
They're already halfway there, sort of
Cubankite/Shutterstock
In his defense, Tom Felton has appeared in heroic roles in his post-"Potter" days. In the CW's superhero series "The Flash," he portrayed Julian Albert, a brief member of the titular character's team. Still, as drawn to heroism as Felton seems to be, it pales in comparison to the lengths to which Daniel Radcliffe has gone to distance himself from the very same concept. Radcliffe's own post-"Potter" career has been remarkably unique, to put it lightly, and precious few of his roles could be considered heroic.
In films such as "Now You See Me 2" and "The Lost City," he portrays antagonists with big dreams and an even bigger budget. In "Guns Akimbo," he's still technically the protagonist, but it would be a hard sell to convince viewers that his role is particularly heroic. Intentionally pitiful, more like. Otherwise, he's shown up in bizarre projects like "Swiss Army Man," in which he plays a literal dead body for over an hour and a half.
So yes, the two young stars have gravitated to the opposite end of the spectrum from their respective "Harry Potter" roles, so all it should take is a single, lucky project to get them together again.