Why The Love Scene In Top Gun: Maverick Is So Important According To Jennifer Connelly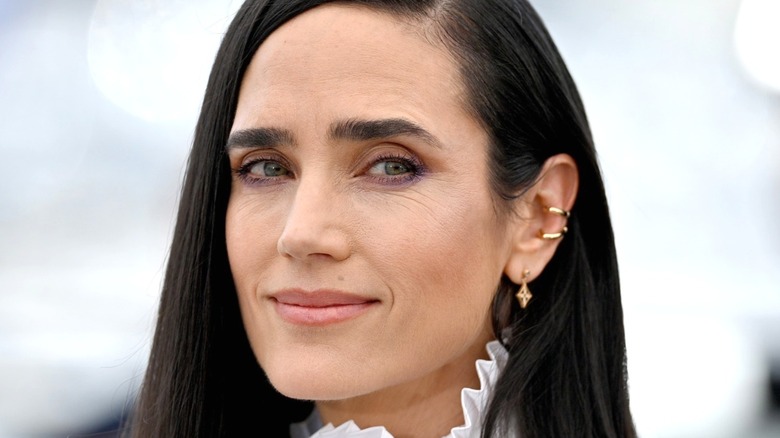 Lionel Hahn/Getty
It's been a long time coming to the big screen, but it appears "Top Gun: Maverick" is finally ready to stick the landing. 
After numerous delays from the COVID-19 pandemic, the long-awaited sequel will make its way to theaters on May 27. While there are entirely new cadets this time around, there will also be some familiar faces, particularly when it comes to Tom Cruise's character of Captain Pete "Maverick" Mitchell. He has a new love interest this time around, seeing how Charlotte Blackwood (Kelly McGillis) is out of the picture. Instead, he's getting together with Penny Benjamin (Jennifer Connelly), the daughter of a former admiral. 
Connelly may not have appeared in the original film, but she's also an icon of the 1980s, so she should fit right at home next to Cruise. And apparently, the two share a rather steamy scene together that will likely live up to expectations set by the original movie. Connelly spoke about that precise scene to Variety and how important it was in the overall landscape of the plot. 
Jennifer Connelly says her character has a 'tender relationship' with Maverick
Variety brings up how audiences don't see a ton of romantic, sexy scenes with Tom Cruise at this stage in his career. "Top Gun: Maverick" is an exception as he shares a steamy moment with Jennifer Connelly in his latest flick, and she spoke at length about what that scene means in the grander scheme of the film's plot. It serves a purpose, and as the actress goes on to say, "We focused on the intimacy of how they fit into each other's lives. I think those characters have a really tender relationship, the way she understands him."
She then turns her attention to what transpires after the steaminess, namely how the two characters have a moment where they stay in bed talking to one another. "Clearly, they have some unresolved business between them, and she navigates that with humor and playfulness," she explains. "I feel like she's someone who is positive and is moving toward happiness."
"Top Gun: Maverick" signals the first time the two icons have shared the screen together. It was a long time coming, but it sounds as if they instantly had the chemistry to make their connection click. Audiences will be able to see it for themselves when the movie debuts in theaters on May 27.