Bill Skarsgård Is Unbelievably Ripped In First Look At Dystopian Thriller Boy Kills World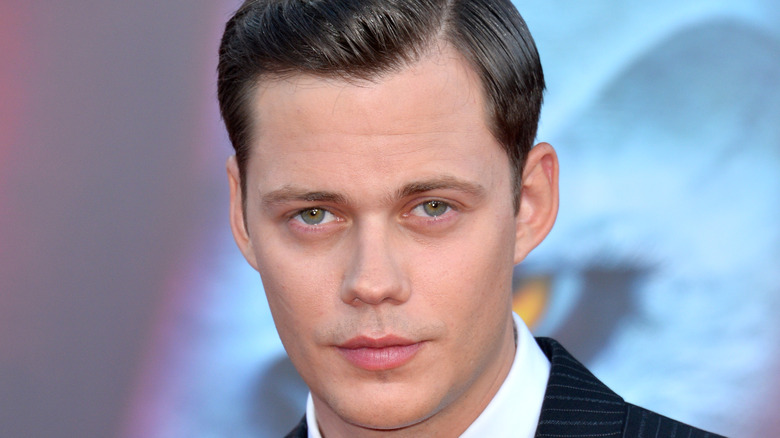 Featureflash Photo Agency/Shutterstock
Sweden has its very own A-list acting family in the Skarsgards, whose members have been busy as of late. Family patriarch Stellan Skarsgard most recently appeared in Denis Villenueve's "Dune: Part One" as oily, floating villain Baron Vladimir Harkonnen and expects to return for the sequel, which expects to release in October 2023. Meanwhile, Skarsgard's son Alexander worked with another auteur director, Robert Eggers, for the epic Viking revenge drama "The Northman," gaining between 20 and 30 pounds to play the hulking Prince Amleth (via Entertainment Weekly). 
It turns out Alexander wasn't the only Skarsgard son weight training recently, though: Entertainment Weekly also obtained the first image from Bill Skarsgard's new action movie "Boy Kills World," showing that the younger Skarsgard brother put in quite a bit of work at the gym for his most recent role. 
Bill already proved his acting chops and talent for scary faces to audiences as Pennywise the Dancing Clown in the Stephen King adaptations "It" (2017) and "It: Chapter 2" (2019). He also has some experience with action films with roles in "The Divergent Series: Allegiant" and 2017's "Atomic Blonde" alongside Charlize Theron and James McAvoy. Skarsgard's new role seems different than anything he's taken on so far, however.
Bill Skarsgard gets his own revenge movie in Boy Kills World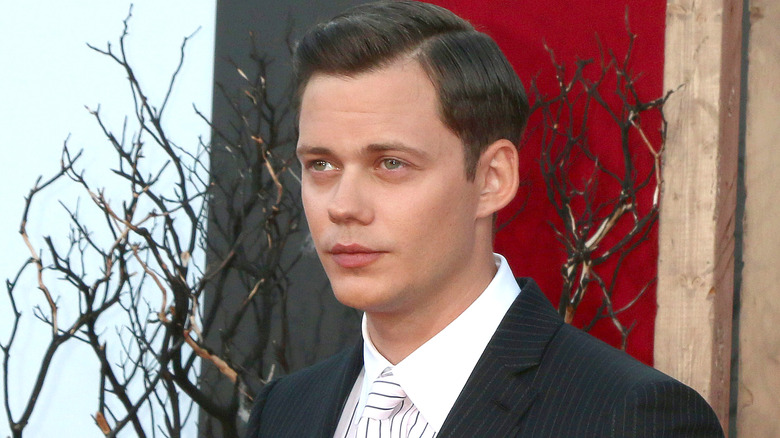 Kathy Hutchins/Shutterstock
The first image released from "Boy Kills World" shows a shirtless Skarsgard striking a fighting pose. According to Entertainment Weekly, Skarsgard's Boy is a deaf and mute man with an active imagination whose family is murdered. Boy reportedly undergoes training by a mysterious mentor character to repress that imagination and fight as an instrument of death instead. Skarsgard told EW that he underwent two months of martial arts training with action coordinator Dawe Szatarski to prepare for the role. The film's representatives told EW that they developed a unique style of movement for Skarsgard, reportedly unlike anything commonly seen in Hollywood action movies.
"This was an incredible journey into something completely new for me," Skarsgard told EW.
"Boy Kills World" pitches itself as a dystopian fever dream. In October 2021, Nthibah Pictures CEO Simon Swart said the dystopian movie aims to combine real-world themes with a distinct visual style that is inspired by artwork from graphic novels (via Deadline).
"With a script that combines wild innovative action sequences, a sense of humor and a lot of crazy, this film has the potential to be a worldwide hit and potential franchise property," Swart said in a statement.
"Doctor Strange in the Multiverse of Madness" director Sam Raimi serves as a producer on this movie, as well as Vertigo Entertainment's Roy Lee (via EW). According to Deadline, the film is German director Moritz Mohr's feature debut. Jessica Rothe, Brett Gelman, Michelle Dockery, Isaiah Mustafa, and martial artist Yayan Ruhian co-star with Skarsgard. According to The Hollywood Reporter, Rothe replaced Samara Weaving on the project after Weaving dropped out due to scheduling issues.