The Top Gun: Maverick Scene That Jennifer Connelly Practiced On Her Living Room Coffee Table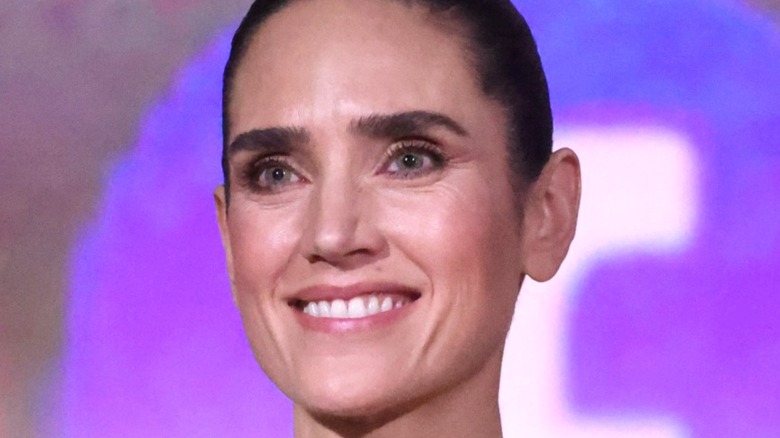 Hector Vivas/Getty
It's been over three decades since "Top Gun," one of Tom Cruise's most iconic films, came out and, finally, its sequel is nearing its release date — "Top Gun: Maverick" will hit theaters on May 27, 2022. Directed by Joseph Kosinski, "Top Gun: Maverick" follows Pete "Maverick" Mitchell (Cruise), who is put in charge of training a group of recent graduates for a mission. Amongst the new graduates is Lieutenant Bradley "Rooster" Bradshaw (Miles Teller), the son of Maverick's late best friend, Nick "Goose" Bradshaw (played by Anthony Edwards in the original film). Additionally, Val Kilmer reprises his role as Maverick's former rival, Admiral Tom "Iceman" Kazansky, who is now also an instructor.
Aside from Cruise and Kilmer, the cast of the new film mostly features a slew of fresh faces to the world of "Top Gun," including actors such as Jon Hamm, Ed Harris, Glen Powell, Lewis Pullman, and Teller. Another vital addition to the cast is Jennifer Connelly, who plays Penny Benjamin, Maverick's new love interest. Penny is a single mother and a bar owner, as well as one of the few characters who isn't in the military — although she is the daughter of a former admiral.
In a recent interview, Connelly opened up about her time filming "Top Gun: Maverick," including a reveal that there was one scene of hers for which she ended up employing a unique rehearsal practice to make sure she got it right.
Connelly practiced a sailing scene on her coffee table
During an interview with Variety, writer Matt Donnelly asked Jennifer Connelly if she appeared in any of the action scenes in "Top Gun: Maverick" given that her character is not in the military. Connelly revealed that she actually has a sailing scene in the film, which proved to be more difficult than expected.
Connelly explained that she was nervous about shooting a scene on a fast-moving boat in windy, rough conditions because she was afraid she wouldn't be able to nail her dialogue and blocking amidst all the chaos. Wanting to get it right, Connelly found a clever way to practice at home with the help of her kids. She explained, "I found myself standing on the coffee table in my living room, practicing with my kids spraying water at me and blowing on me while I ran my lines. I have video of it."
Speaking of action scenes, even though Connelly's character isn't in the airforce, the actor did still get her first experience in a P-51 plane while filming the movie — and, more nerve-wracking for her, with aerobatic flying. While on the Graham Norton Show, Connelly detailed the experience, saying, "The P-51 is, like, tiny. The top of the cockpit is right here. My knees are up against his back ... [Cruise says], 'Ever done aerobatic flying before?' I was like, 'Umm,' starting to get nervous, 'No. Why? Will I be doing some?' He's like, 'It's going to be very graceful, very elegant, just some very elegant rolls, you know. It's going to be nice and easy.'"