Josh Gad Has A Hilarious Admission About Frozen Hit Let It Go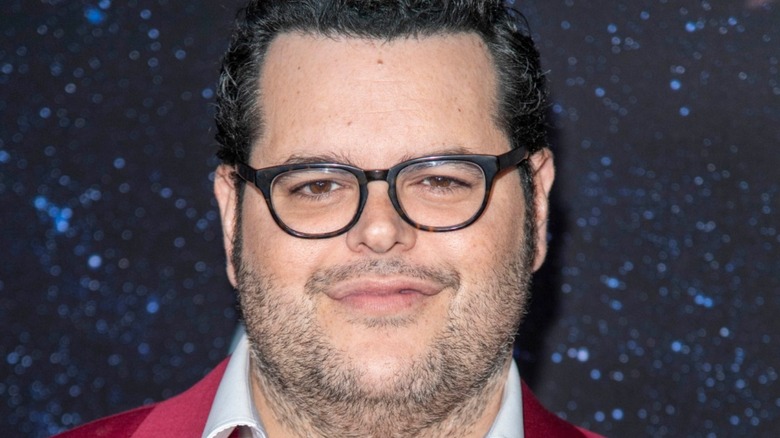 Eugene Powers/Shutterstock
While Disney's 2013 animated feature "Frozen" was a big hit with both critics and audiences, you could make the case that the signature song from the film, "Let It Go," has almost surpassed the movie itself in terms of popularity. Iconically performed by Idina Menzel, who voices Elsa, "Let It Go" immediately touched audiences with its inspirational lyrics. Around the time of the film's initial release, The New York Post reported, "At a recent screening, the audience quite literally gasped. In just those few notes, you get the feeling you're witnessing a classic in the making, something Disney hasn't had in years." It's no surprise that the song won both an Oscar and a Grammy.
"Let It Go," written by Kristen Anderson-Lopez and Robert Lopez, even reached as high as No. 5 on the Billboard charts, and wasn't surpassed by another song from a Disney film until "We Don't Talk About Bruno" from "Encanto" hit No. 4 in 2022 (per People). But despite the song's wild popularity, one of the franchise's biggest stars — Josh Gad, who plays the lovable Olaf the snowman — appears to be less familiar with "Let It Go" than most "Frozen" fans.
Despite starring in both Frozen movies, Josh Gad still does not know the lyrics to Let It Go
In an appearance on Good Morning America, Josh Gad told hosts Robin Roberts, George Stephanopoulos, and  T.J. Holmes that he doesn't know the lyrics to "Let It Go" and recently flubbed a live performance of the iconic "Frozen" song. To add two further insults to his injury, the performance was at famed Carnegie Hall and was in honor of Kristen Anderson-Lopez and Robert Lopez, who wrote the beloved lyrics that Gad messed up. 
Gad was joined onstage by "Frozen" co-stars Kristen Bell and Santino Fontana, who apparently crowded the stage enough that Gad couldn't see the teleprompter. He said he ended up "just making up lyrics. Not a single word was correct. It was a disaster. And of course ... I had the only working mic on the stage ... Kids were like, 'Did they rewrite this?'" The three hosts burst out laughing, and Holmes closed the interview by asking Gad if he would ever make the effort to learn the lyrics to "Let It Go." 
Gad responded, fittingly, "No! Here's the thing: it's not my song ... Idina, you've got that, and that's all America needs."