Chicago Fire Fans Have Some Ideas On Who The New Lieutenant Will Be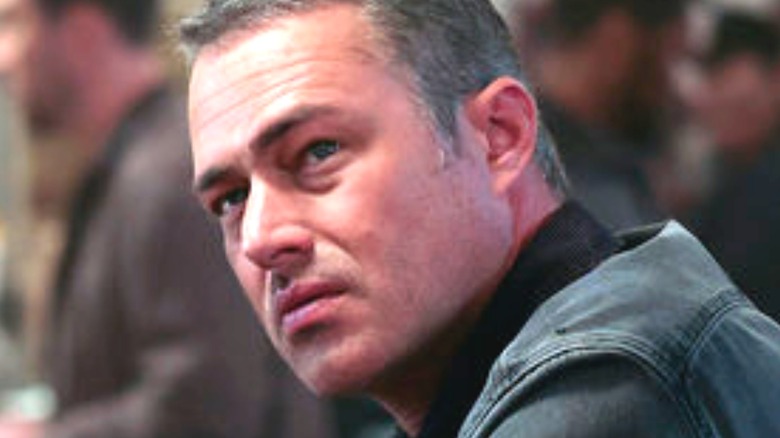 Adrian S. Burrows Sr./NBC
There have been quite a few shake-ups around Firehouse 51 as of late. From the very beginning, Lieutenant Matthew Casey (Jesse Spencer) was there as a brave voice of reason on "Chicago Fire." He was the second-in-command at the company, and everyone looked up to him as a beacon of how firefighters were to act. Then, in Season 10, he decided to take a different route. In the episode "Two Hundred," he moved to Oregon so that he could care for Andrew Darden's sons, all the while maintaining a long-distance relationship with Sylvie Brett (Kara Killmer).
The company has forged forward throughout the remainder of Season 10 without him, but there's obviously a lieutenant position available that everyone else should be gunning for. There's been a lot of talk online about who could fill the massive shoes left behind by Casey, and these are just a couple of the options fans have theorized about.
Fans have rooted for Mouch and Kidd
The Season 10 finale of "Chicago Fire" is set to air on May 25, so there's not that much time left to speculate as to who could become the new lieutenant. One option a fan posited was Randall "Mouch" McHolland (Christian Stolte). The cast came together for a special Chi-Hard fan event, which was published on YouTube, where everyone's favorite fictional firefighters discuss everything and anything related to the show. 
This involved some of the cast reading fan theories, including one where a commenter suggests Mouch could be the new lieutenant. However, the actor was quick to shoot it down: "No, Mouch is not going to be the lieutenant of anything." He goes on to elaborate, "I think the plan for the character from the very beginning was to have one guy who's served 30-something years in the C.F.D as a ground-level, blue-collar grunt type who started that way and retired that way. That's what they want from me; I don't think they ever want Mouch to be a lieutenant."
A different cast member had a much different reaction to getting fan support to become lieutenant. Miranda Rae Mayo, who plays Stella Kidd, also read a fan theory hoping that her character could get a promotion in the near future, and her response was, "That's what's up. Me too." It would create quite the power couple, seeing how she's dating Lieutenant Kelly Severide (Taylor Kinney), but only time will tell who gets the job.