The Black Widow Similarity Stranger Things' David Harbour Swears Is Accidental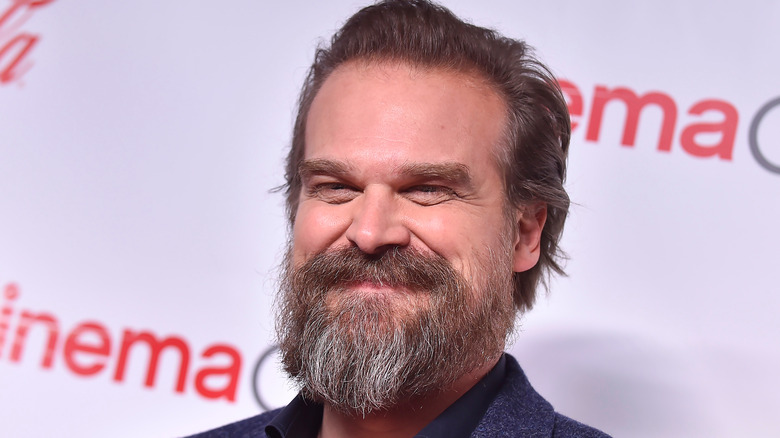 DFree/Shutterstock
Most actors try to select roles that are different from the ones they've already played before, so that they can keep surprising the audience. Sometimes, coincidences are unavoidable.
Actor David Harbour plays Sheriff Jim Hopper on "Stranger Things," the protective adopted guardian of Eleven (Millie Bobby Brown). The last installment of "Stranger Things," Season 3, premiered in 2019, and since that time Harbour has appeared in multiple movies and TV shows. One of those was the 2021 Marvel flick "Black Widow."
In "Black Widow," Harbour plays Alexei Shostakov, a former Soviet super soldier and Black Widow's (Scarlett Johanssen) father figure who's imprisoned in a Russian penitentiary after criticizing the government.
That has one major similarity with what happens to Sheriff Harbour in "Stranger Things" Season 4. The Season 4 teaser-trailer revealed that Hopper gets sent to a Russian prison (via YouTube). So, that's two stories about Russian prisons within a year of each other. At the "Stranger Things" Season 4 premiere, Harbour talked about the two roles.
David Harbour promises it's just a coincidence
Harbour appeared at the "Stranger Things" Season 4 premiere event in Brooklyn, wearing a suit decorated with designs from the show. Harbour said the coincidence was "was not planned, but the internet will not let me live it down." Harbour noted that despite the similarity in the stories, the characters have nothing to do with each other. Shostakov is a Soviet super soldier, born and raised in Russian. Hopper, meanwhile, is literally referred to by the other Russian characters as "the American." The Russians see him as an almost archetypal American male hero. "I apologize for those casting directors' horrible choices," Harbour joked (via The Hollywood Reporter).
This isn't the first time Harbour addressed the issue. Harbour was already cast in "Black Widow" when he read the scripts for "Stranger Things" Season 4, so everyone was aware of the similarity. While "Black Widow" was in production, Harbour relayed details to the Duffer Brothers so they could avoid duplicating "Black Widow's" prison sequence. Harbour specifically shaved his head and lost weight for "Stranger Things" Season 4 so that he wouldn't resemble his larger, bearded character in "Black Widow" (via NME).
Hopefully fans won't mind seeing Harbour explore familiar territory. We'll find out when "Stranger Things" Season 4 returns on May 27, 2022.