Why Better Call Saul Fans Might Need To Worry About The Midseason Finale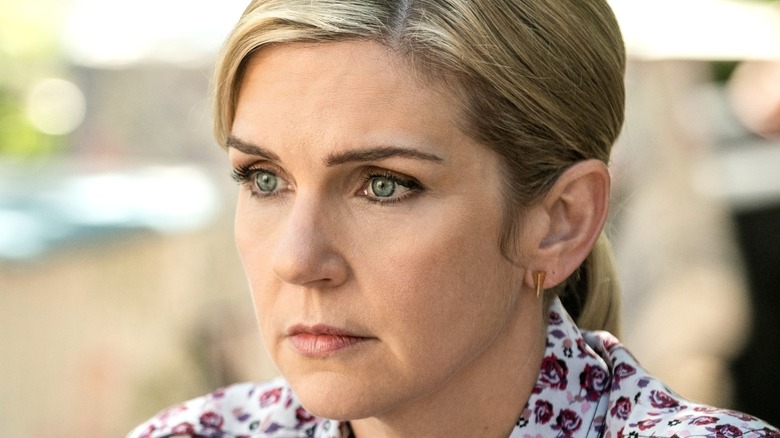 Greg Lewis/AMC/Sony Pictures Television
Over the course of its six seasons, "Better Call Saul" has told the story of how upstart attorney Jimmy McGill (Bob Odenkirk) transformed into the dastardly criminal lawyer Saul Goodman, who fans know from "Breaking Bad." The series is currently in the midst of its final, two-part season, and will be airing its midseason finale on May 26 — it promises to be a doozy. 
Because so many characters from "Better Call Saul" appeared first on "Breaking Bad," their fates are often predetermined. Thanks to some clever flash-forwards, fans know that Saul will end up on the run from the law, managing a Cinnabon and looking over his shoulder for danger. They also know how Mike Ehrmantraut (Jonathan Banks) and Gustavo Fring (Giancarlo Esposito) will meet their ends. A lesser show would be hampered by that inevitability, but "Better Call Saul" smartly uses the predestined fates of its characters to enhance the drama. And then there's the question of the fate of Jimmy's literal partner-in-crime, Kim Wexler (Rhea Seehorn), who is notably absent from the series that started it all. The fun is in watching things play out, and in seeing how the chess pieces of "Breaking Bad" moved into position.
Heading into the midseason finale, fans are wondering how everything will unfold as the stakes mount for Jimmy, Kim, Gus, and Mike. And thanks to a heads-up from executive producer Peter Gould, we now know things are about to get rough.
The Better Call Saul midseason finale will end with a harrowing cliffhanger
AMC/Sony Pictures Television
The midseason finale of "Better Call Saul" will end on an edge-of-your-seat cliffhanger, according to executive producer Peter Gould (via TVLine). Gould is quoted as saying, "[T]his is a big one. I think this is going to be a painful few weeks for people to find out what happens."
There's a lot going on in this season, so that ending could involve any number of characters or plot points. On the Jimmy and Kim front, the couple has kept themselves busy waging a clandestine libel campaign against their former employer, Howard Hamlin (Patrick Fabian). They've convinced his associate, Cliff Main (Ed Begley Jr.), that Howard has a drug addiction. Having caught onto their scheme, Howard sent a private investigator after Jimmy.
Meanwhile, Mike has some of Gus's men following Kim and Jimmy in case the cartel boss Lalo Salamanca (Tony Dalton) comes back to town. Having survived the attack on his compound at the end of Season 5, Lalo is out for blood. We last saw him doing a bit of detective work in Germany, hoping to uncover the plans for Gus' underground laboratory.
"Better Call Saul" seems to be following the same strategy as its predecessor, "Breaking Bad," when it comes to capping off the series. The final season of "Breaking Bad" was also split into two parts. But whereas "Breaking Bad" fans had to wait nearly a year for the second half of that season, fans of "Better Call Saul" only need to hang on until July for the second half of Season 6.
So, just how upsetting could the midseason finale be? Upsetting enough for Gould to say, "Hopefully, people will enjoy the pain and not come after us with torches."