The Major Mistake Hayden Panettiere Fans Hope The Scream Sequel Avoids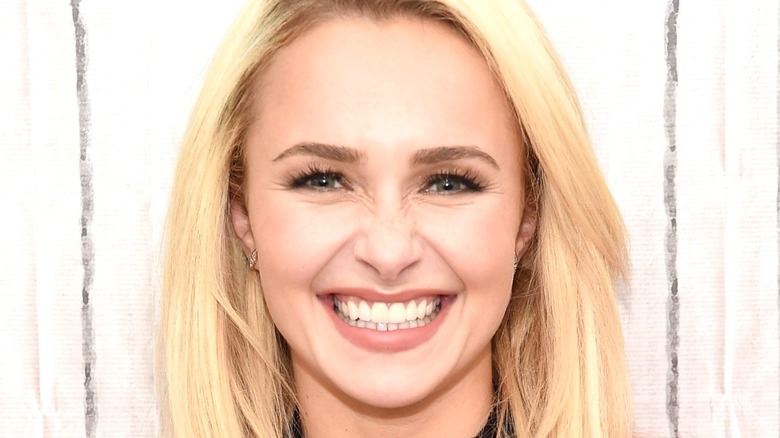 Jamie Mccarthy/Getty
"Scream" has been a staple of the horror genre since first thrilling audiences with its slasher gore and metatextual humor in 1996. The series has seen many of Hollywood's most promising new talents be stalked by Ghostface.
Actor Hayden Panettiere first appeared in the horror franchise in 2011's "Scream 4" as Kirby, the sharp, snarky, and meta-aware friend of Emma Robert's Jill (via IMDb). While she is seriously injured by the killer in that film, her death is never confirmed. In the franchise's 2022 reboot, which was titled "Scream" rather than a more appropriate "Scream 5," a few small Easter eggs confirm Kirby's survival. Her name is seen listed in Dewey Riley's (David Arquette) missed calls list, and a briefly seen YouTube video is titled "Interview with Woodsboro Survivor Kirby Reed." 
Now, the franchise is bringing back Panettiere's character in a major way, having just announced her as part of the principal cast of "Scream 6." While plot details remain hidden, Variety reported that the film will follow the survivors of the fifth film as they leave the town of Woodsboro to start a new life. Courteney Cox is returning to her Gale Weathers character and teased a "really good" new script (via Entertainment Tonight).
While the production gets closer to shooting, fans are celebrating the return of Panettiere's Kirby, but are also nervous about what her reappearance could mean.
Fans don't want Panettiere to die in the sequel
Besides gory kills and meta humor, the "Scream" franchise is known for its no-holds-barred approach to characters' fates. An actor surviving their first encounter with Ghostface in no way guarantees a second survival. This is what many fans are afraid of for Hayden Panettiere's character Kirby Reed. 
On the horror subreddit, u/eddieswiss discussed a misstep they felt "Scream 6" could make. "I hope they're not killing [Kirby] off, or making her the next killer. I always thought she had the potential to carry the franchise beyond the main three characters," they wrote. Over 200 other fans have upvoted the comment. 
Many viewers found Kirby to be one of the best characters in "Scream 4," as fans on Twitter have pointed out. Yet, the franchise's history of killing off beloved characters remains strong, with the most recent entry bringing about the death of legacy character Dewey Riley (David Arquette). 
On the "Scream" subreddit, fans speculated about the recent casting announcements, pointing out that Kirby's similarities with other characters might mean the franchise sees her as a disposable duplicate. One user proclaimed a 30% chance of Kirby making it out of the film alive. Redditor u/JadenRuffle debated this, citing how much the writers wanted Panettiere to return, so her death would not make much sense.
This seems a firm declaration by fans that "Scream 6" should steer clear of Kirby's death.