How Accurate Is Hulu's Candy?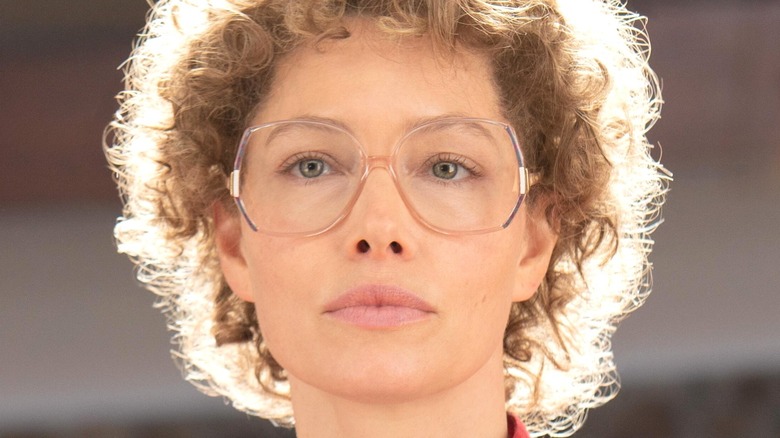 Tina Rowden/Hulu
It is a true-crime summer with many new limited series hitting the small screen. Hulu in particular has been shelling out the goods with stories ripped from the headlines such as "The Girl From Plainville," but that isn't the only true crime endeavor that the streamer has on the docket. Delving into the '80s for a gruesome tale is the five-part series "Candy." Starring Jessica Biel fresh off her success of producing "Cruel Summer," the series explores the real-life events of Candy Montgomery's murder of Betty Gore (Melanie Lynskey).
The brutal details of the case would go on to shock the small church-going town of Wylie, Texas. How could a suburban mother go from a beloved figure in the community to killing a fellow church member with an ax? Hulu's "Candy" plays cleverly with this mystery by purposefully not showing Candy murder Betty in the first episode. Instead, the series slowly reveals the details as the show progresses. This stylized drama has an intriguing premise, but as with all stories based in reality, many may be wondering just how true to life "Candy" is. 
Candy adds strange details from the original case
With one look at the promotional image for Hulu's "Candy," it's clear that the limited series focuses on specific details. Jessica Biel has a distinctive curly hairstyle, making her strikingly similar to her real-life counterpart (via the New York Post). It is in these specifics where "Candy" shines. The devotion to adding true elements from the case makes the series feel rooted in reality.
For those watching the show without any knowledge of the case, some additions may seem odd. Texas Monthly covered the real-life events extensively at the time of the case and many of these facts were added to the show. Episode 1 shows the aftermath of the murder, with a close-up shot of Candy's bleeding toe – a specific element taken from the case (via Texas Monthly). Another inclusion that may seem strange is Candy's decision to calculatingly cheat on her husband. Her affair is not spontaneous, but rather a premeditated decision. Candy actually did decide to pick out a new lover and connected with Allan Gore (Pablo Schreiber) at volleyball practice.
We also get to see the misconception that Betty had originally been shot, despite having been found with an ax. This is highlighted when Allan calls Candy and tells her the manner in which Betty died. Biel perfectly encapsulates Candy's surprise at the news as she knew how Betty was killed. Though the show has beautiful visuals, the true facts of the bizarre case reels viewers in even further.