The Transformation Of Tom Felton From Harry Potter To Now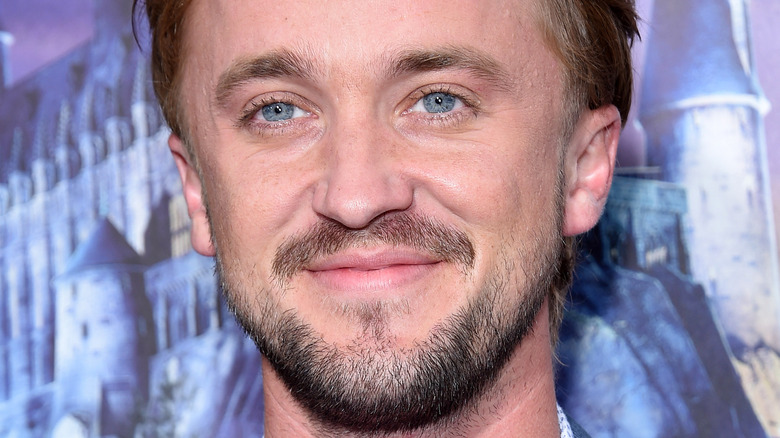 DFree/Shutterstock
British actor Tom Felton remains synonymous with Draco Malfoy, the sneering nemesis of Daniel Radcliffe's Harry Potter. As Malfoy, Felton perfected casual cruelty, delivering a series of performances that oozed with disdain. But he began developing his acting chops before he was cast in 2001's "Harry Potter and the Sorcerer's Stone." In fact, he was just six when he got his start in the industry.
"That first job was for a Commercial Union advert filmed over two weeks across America," he told The Guardian. "Mum just changed everything in her life to make sure I could do it." He made his film debut as Peagreen Clock in 1997's "The Borrowers," appearing alongside future Hogwarts professor Jim Broadbent (Horace Slughorn). He then snagged the role of Louis T. Leonowens in 1999's "Anna and the King," an adaptation of the Margaret Landon novel "Anna and the King of Siam" starring Jodie Foster and Chow Yun-Fat. He was 12 when auditions for "Harry Potter" began.
Felton had to change the color of his hair for the role, and when he stopped playing Malfoy, he wasn't as recognizable as his former co-stars. This allowed Felton to shed the skin of the snotty Slytherin pretty quickly. Although he will be forever linked with his "Harry Potter" character, he's been through quite the transformation in the years since, playing a variety of different parts along the way.
Draco was too one-dimensional to begin with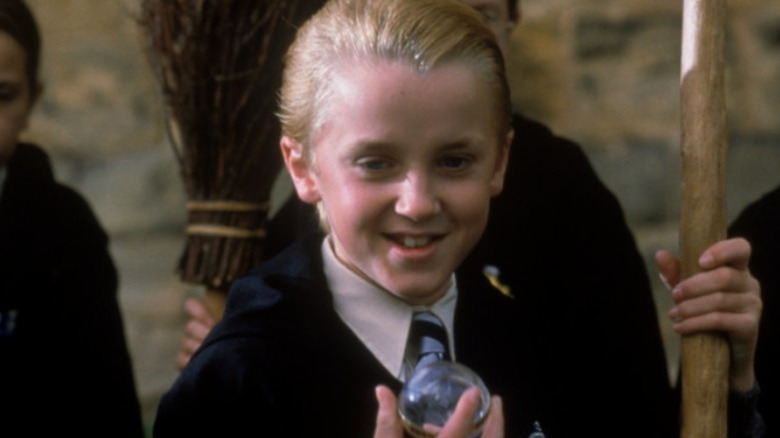 Warner Bros.
Tom Felton turned in a respectable performance as Draco Malfoy in the first "Harry Potter" film, leaning on his past experience in the film industry. His talent began to show in "Harry Potter and the Chamber of Secrets," in which the heir of Slytherin opens the titular chamber and releases the Basilisk, hoping to purge Hogwarts of Muggle-born students. As the son of prominent Death Eater Lucius Malfoy (he set the plan to open the chamber in motion), Draco believes that pureblood wizards are superior, and he doesn't keep his opinions to himself. He calls the Muggle-born witch Hermione Granger a "filthy little mudblood" in one particularly nasty moment, making Malfoy that much easier to hate.
Felton convincingly showed Malfoy's growing evil and made him interesting to watch. The actor would continue to improve over the next few installments, despite a lack of character development. "For the first five films, Draco was a one-dimensional bully, the kind you get in private schools," Felton told NJ.com in 2011. "But I think that's been changing over the years, gradually. You've seen him start to doubt his dad, see his father as not quite the great influence he once was." Some family drama was just what Felton needed to start flexing his acting muscles.
Felton made Draco Malfoy sympathetic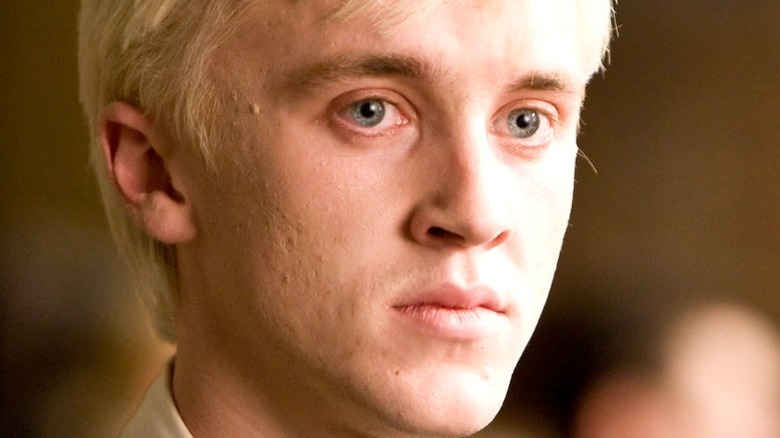 Warner Bros.
Tom Felton turned in his most nuanced performance as Draco Malfoy in 2009's "Harry Potter and the Half-Blood Prince," in which Lord Voldemort (Ralph Fiennes) gives him the unenviable task of killing Hogwarts headmaster Albus Dumbledore (Michael Gambon). For the first time, viewers were able to feel a bit of sympathy for Felton's character. Malfoy transforms into a hollowed and scared shell of a human, and Felton subtly portrays his insecurities and depression: Throughout the film, Malfoy looks haunted by his task.
Felton's growth spurt after "Harry Potter and the Order of the Phoenix" allowed him to lend his rangy body to his tortured performance — we could see Malfoy as a boy on the cusp of manhood, trying to figure out who he really wanted to be. "Harry Potter and the Half-Blood Prince" isn't without flaws, but Felton's layered, authentic performance stands out as a highlight. It took six "Harry Potter" films to get there, but Felton makes us wonder if perhaps Draco Malfoy can be redeemed after all, which is quite the achievement from an acting standpoint.
A redemption arc in the Deathly Hallows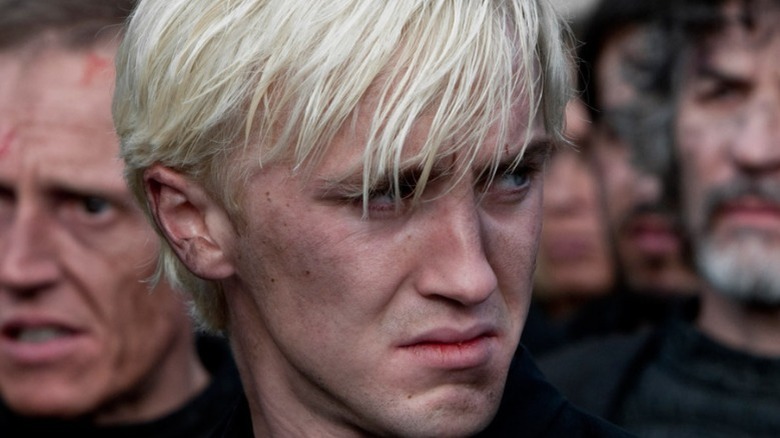 Warner Bros.
With the same subtlety he showed in "Harry Potter and the Half-Blood Prince," Tom Felton proved there was still hope for Draco Malfoy with his performance in the two-part "Harry Potter" finale. In "Harry Potter and the Deathly Hallows – Part 1," Harry ends up in the hands of Malfoy's Death Eater family. When Draco is asked to identify him (Hermione cleverly used a stinging jinx to swell his face up, making him barely recognizable), he plays dumb about the prisoner's identity, despite knowing full well that it's Harry. Felton uses his eyes and body language to breathe life into Malfoy's struggles — we can see the conflict brewing beneath the surface.
Felton's final moments as Draco Malfoy came in the epilogue of "Harry Potter and the Deathly Hallows – Part 2." It's set 19 years after the Battle of Hogwarts, and both Draco and Harry appear to have matured significantly in that time. As Draco escorts his son to the Hogwarts Express, he turns and sees Harry — they nod at one another in a moment of acknowledgement. "It's a very real moment, and very touching," Felton told The Wall Street Journal in 2009.
The truth about his relationship with Emma Watson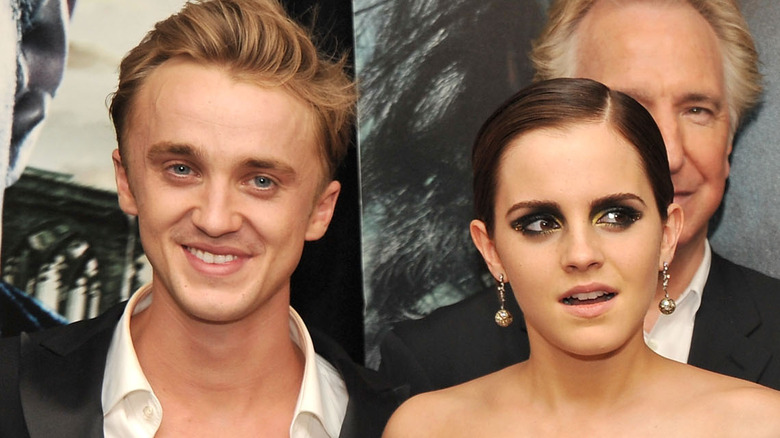 Stephen Lovekin/Getty Images
Long after saying goodbye to Draco Malfoy and Hermione Granger, Tom Felton and his former co-star Emma Watson still share a deep friendship. Watson famously revealed that she once had a thing for Felton during a 2018 interview with Seventeen, telling the mag: "For the first two movies, I had a huge crush on Tom Felton. He was my first crush. He totally knows. We talked about it — we still laugh about it. We are really good friends now, and that's cool."
When Felton sat down with Us Weekly that same year, he revealed that he and Watson actually hang out quite regularly. "We just don't always post pictures about it," the actor said. "Everyone loves the reunion of it. We're reuniting all the time we just don't always post it on Instagram." Watson did share a snap from one of their reunions in 2019 (the pair went skateboarding together), which quickly got over six million likes.
The subject came up again during "The Harry Potter 20th Anniversary: Return to Hogwarts" special. Watson revealed that she "fell in love" with Felton after seeing something he had drawn. "I think the truth of it was Tom was the one that I could often be more vulnerable with," she said (via Us Weekly). On Felton's end, Watson (who is a few years younger) was always more of a little sister, and he still cares about her in that way. "Emma and I have always loved each other, really," he said during the special.
He dropped some sick Feltbeats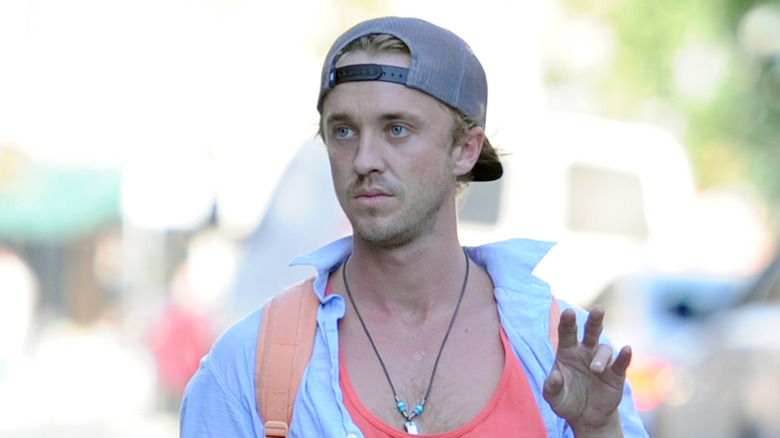 PBMW/Shutterstock
Many people may not know that Tom Felton isn't just a talented actor — he's a singer-songwriter, too. Felton developed a love for singing at an early age, and was even offered a spot in the Guildford Cathedral Choir. He wanted to be a violinist before he became an actor, and he would often play guitar between takes on the "Harry Potter" set. In 2008, he formed a record label called Six String Productions, which aimed to "promote creative independence and ownership of artists' material," according to its Facebook page.
While it's no longer active, Felton was able to use the company to lay down some of his own tracks. He also started a YouTube channel called Feltbeats where he released videos of himself performing, though that hasn't been updated in quite some time (his last upload, a lyric video for his song "Hawaii," was made over a decade ago). He's never given up music, however. The Brit made headlines in 2017 when he went busking on the streets of Prague — and was recognized by nobody. He was in town filming the movie "Ophelia" when he decided to break out his guitar, getting a real kick out of the fact that nobody knew who he was.
He got serious with Rise of the Planet of the Apes
After he wrapped filming on "Harry Potter and the Deathly Hallows – Part 2," Tom Felton didn't waste much time landing another blockbuster film project. In 2011, he appeared in "Rise of the Planet of the Apes," a critical and commercial hit. He was acting on advice he got from his on-screen father: Speaking to The Guardian, Felton revealed that it was Jason Isaacs (Lucius Malfoy) who convinced him to get serious about his career. "Jason was a driving force in getting rid of my impostor syndrome," Felton said. "He told me to get into shape, learn to do an American accent and to get a good US agent."
As Dodge Landon, Felton harnessed the cruelty of Draco Malfoy and unleashed it on innocent primates. Landon tortures Caesar, the film's ape protagonist, and lives to regret it. It was another villain role for Felton, but the actor approached it in a different way. While Malfoy is a manipulated and conflicted character, Landon is simply cruel for the sake of being cruel, and that comes across during his scenes. Felton proved that even if he found himself typecast throughout his career, he would find new and interesting ways to express villainy.
He dated a stuntwoman for almost a decade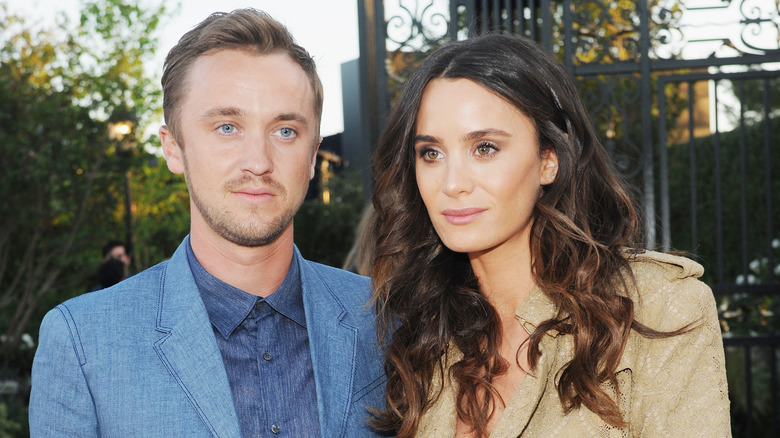 Stefanie Keenan/Getty Images
Tom Felton has never conducted his romantic life in the limelight, but his longest relationship — eight years with Jade Gordon — is well-documented. Felton and Gordon met on the set of "Harry Potter and the Order of the Phoenix," which she worked on as a stunt coordinator's assistant. They began dating in 2008 and were reportedly an item until 2016. She had a wealth of movie experience having worked on the stunt teams of films like "The Da Vinci Code," "Fred Claus," and "Elizabeth: The Golden Age," but she had never appeared on screen as an actor prior to "Harry Potter and the Deathly Hallows – Part 2."
Although Gordon doesn't have any lines in the movie, she appears in the epilogue as Draco Malfoy's wife Astoria. "It was a lot of fun to play on-screen hubby and wife for a bit and have a kid for three days," Felton said at the time (via People). Since the break-up, Felton has kept his dating life under the radar. Gordon went to work on another big movie franchise, becoming the assistant to Elizabeth Olsen on 2018's "Avengers: Infinity War" and 2019's "Avengers: Endgame."
He played an arrogant tech billionaire
Tom Felton was declared "all grown up" by Paste magazine after he turned in a mature performance in the TNT crime drama "Murder in the First." Felton plays Erich Blunt, a tech genius with an explosive temper. The series, from showrunner Steven Bochco, followed a similar arc to Bochco's short-lived crime drama "Murder One," which aired from 1995 until 1997. Both shows fleshed out one crime investigation per season, and allowed compelling, multi-layered characters to blossom through season-long development. In 2014, Felton talked to Paste about his time on "Murder in the First," which was received positively by critics.
The actor told the magazine that the cast received scripts one at a time, so he had no idea how the plot would evolve. Felton said he didn't know whether his character was guilty or not, and that helped him play his scenes more organically. He surprised everyone with a convincing American accent, and he embodied the creative energy of successful tech gurus. While Blunt was yet another villainous role for Felton, it allowed the actor to explore deeper character motivations. He kept audiences riveted with his character, who swung between calculated murderer and wrongly-accused eccentric genius.
He went looking for the Philosopher's Stone
In 2016, Tom Felton joined the third season of The CW's "The Flash" as Dr. Julian Albert Desmond, a grieving scientist with a secret. Initially, Desmond appears as an ally of Barry Allen, but his real motivation is to find the Philosopher's Stone — an ancient artifact containing a mystical resurrection power — to revive his dead sister. Of course, as fans of the "Harry Potter" franchise know, the original title of the first book is "Harry Potter and the Philosopher's Stone." It was released as "Harry Potter and the Sorcerer's Stone" in the States because Rowling's American publisher wanted something that sounded a little more magical.
In "The Flash," Felton ends up going full supervillain. The doctor makes some questionable decisions as he tries to save his sister and ultimately allows a god to possess him, transforming into the villainous Alchemy, a super creepy dude who dons a 19th century plague mask. Again, Felton finds a way to approach villainy from a new angle. Dr. Desmond isn't evil — he's just unable to cope with loss. Ultimately, The Flash and his friends save his life, and he's given a shot at redemption. Felton only played the role for one season, but he left his character with closure and a new chance at life.
He explored science fiction on YouTube
YouTube Originals already seem like a thing of the past, but some of the shows produced by the streaming platform had dedicated fanbases. Tom Felton gave us the gift of Logan Maine on the show "Origin," which was sadly canceled after one season. The sci-fi fantasy lasted just ten episodes, despite starring a stellar cast of British actors, including Natalia Tena. Tena previously co-starred with a young Felton when she played Nymphadora Tonks in the "Harry Potter" films. She also starred as Osha on "Game of Thrones."
Felton got to play against type in "Origin," which was the best thing about this show. Maine seems like a terrible human initially, but as the series evolves, we see that he's just a misunderstood outcast. Underneath his acerbic exterior, a good and sensitive heart beats. Felton inhabits Maine with a sweet vulnerability, and it's hard not to root for the guy. "Origin" explored some interesting storylines and showcased a plethora of fantastic actors, but, unlike "Cobra Kai," it never got picked up after YouTube said goodbye.
He scared kids as the Boogeyman
The film "A Babysitter's Guide to Monster Hunting" debuted on Netflix in 2020 with Tom Felton starring in the role of Grand Guignol, aka the Boogeyman. A shaggy-haired Felton is unrecognizable in his role as the monstrous antagonist who kidnaps children from their babysitters. This family-friendly spooky tale centers on Kelly Ferguson (Tamara Smart), a babysitter-turned-monster hunter. Kelly is a teenage social outcast who, as a child, was visited by Felton's Guignol. She shared her nightmarish tale with her classmates, who then called her "Monster Girl."
When her charge, Jacob (Ian Ho), goes missing on Halloween, Ferguson discovers her childhood monster is behind his abduction. Ferguson becomes entangled with a secret society of babysitting monster-hunters and a legion of ghouls, and sets out to kill Felton's Boogeyman. "A Babysitter's Guide to Monster Hunting" sets itself up as a possible first film in a franchise, but we'll have to wait and see. The film only got lukewarm reviews, but Felton exudes fun in his ghoulish role. His Grand Guignol isn't horrifying, but the actor portrays him with a solid level of creep. Unfortunately, franchise or not, Felton's character won't appear again, because (spoiler alert) he dies at the end of the film.
He collapsed at the Ryder Cup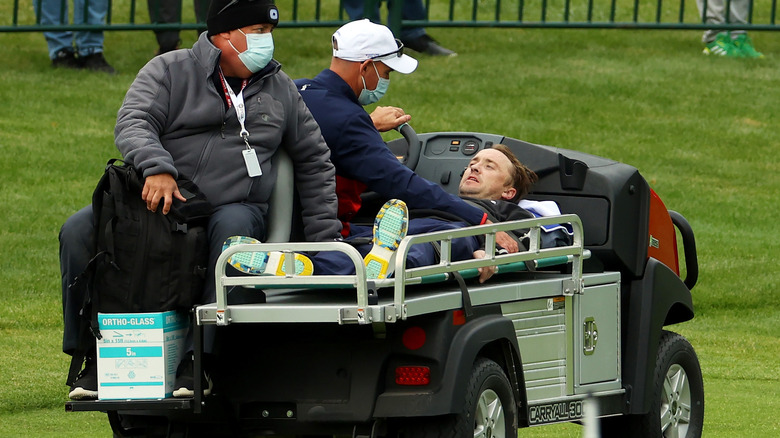 Andrew Redington/Getty Images
In September 2021, Tom Felton fans received quite a scare when he collapsed at the Ryder Cup celebrity showcase in Wisconsin. Felton had just hit the 18th hole in a practice match with his celebrity teammates when he collapsed. He hadn't shown any signs of distress prior to the incident, and was carted off the green to receive medical attention. Felton had just celebrated his 34th birthday, and appeared to be in excellent physical health in the days leading up to his medical emergency.
Thankfully, Felton was fine in no time. He said he had flown to Wisconsin and went straight to the tournament after his flight. He chalked his collapse up to jet lag and a lack of sleep, and said he felt fine in the hours following his collapse. Felton expressed his disappointment in not being able to compete in the Ryder Cup — he's an avid golfer who appeared with Taraji P. Henson in the Catana Starks biopic "From the Rough." The actor called his collapse "a bit of a scary episode" in an Instagram video. "But people have been taking really good care of me," he added. "I am on the mend, officially."
He's still acting on the stage and screen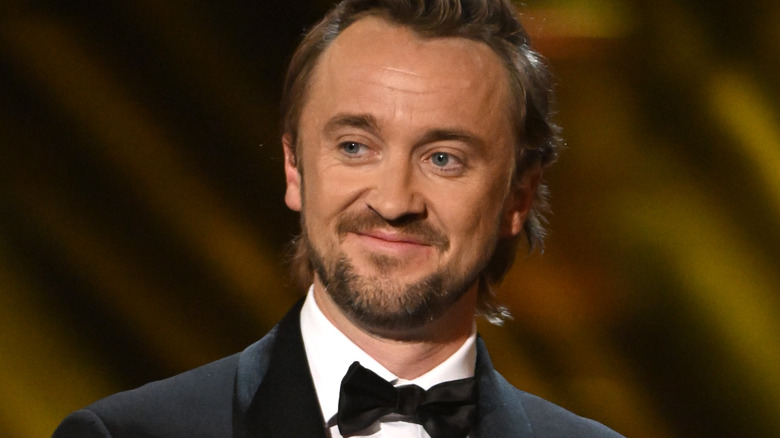 Jeff Spicer/Getty Images
In a departure from his villainous roles, Felton played the kind postman (later turned mayor) Richard Goodridge in 2022's "Save the Cinema." The British film is based on the true story of Liz Evans (Samantha Morton), a hairdresser and children's theater leader in the village of Carmarthen. Evans becomes an activist when closure looms over her movie theater and she sets out to (you guessed it) save the cinema. Felton's Goodridge joins Evans in her fight, and the citizens of Carmarthen rally around them. Felton also made his West End debut in 2022, appearing in "2:22 – A Ghost Story."
Tom Felton has come a long way from his first snarling days as Draco Malfoy. We've watched the boy become a man as Felton continues to carve out a solid acting career for himself. As he's developed as an actor, Felton has continued to provide authentic layers to his characters — whether they're antagonists or good guys. His transformation from his "Harry Potter" days has been something to behold, and we can't wait to see what he does in the coming years.