Hollywood Mourns The Death Of Harry Dean Stanton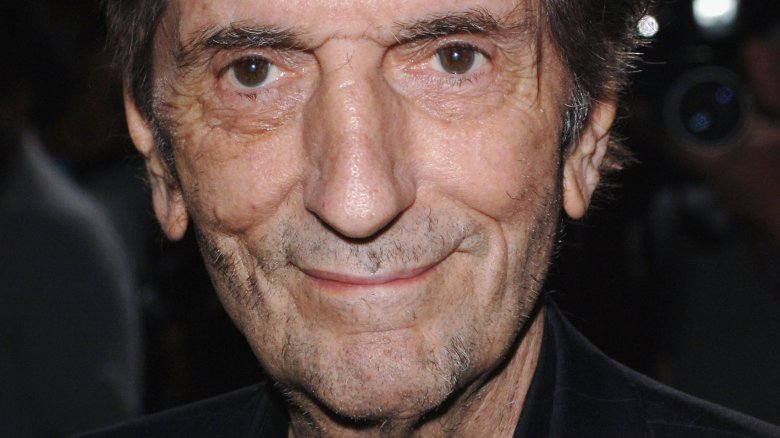 Getty Images
A quintessential American actor who carved out a stunning career often playing stoic and hardened characters, Harry Dean Stanton died at the age of 91 on Friday, September 15. Expectedly, Hollywood was quick to mourn Stanton's passing and honor his legacy. Many remembered him as a brilliant character actor; others recalled how warm, humorous, and welcoming he was. All honored his legacy and his demeanor that made him seem bursting with life. 
Jon Cryer, whom Stanton starred alongside in the 1986 classic Pretty in Pink, shared a snap of the two on set. "Was an honor, man. #RIPHarryDeanStanton," Cryer captioned the photo. 
Shawn Doyle, Stanton's Big Love co-star, took to Twitter to post a tribute of his own. "You could watch him on set say a line as simple as 'hello,' and be mystified why it was so friggin' compelling," he wrote. 
Olivia Wilde recounted her time working with Stanton on the 2006 film Alpha Dog. "Harry Dean Stanton was the definition of cool. On Alpha Dog, he wouldn't leave a room without saying, 'Love ya. Mean it.' Such a great guy. RIP," she shared on Twitter. 
Mark Ruffalo tweeted a video of a deleted Avengers scene that featured him and Stanton talking about the Hulk's powers and how he could contribute good to the world. "So long Harry Dean," said Ruffalo. "Thank you for the gift of your films, your music, and your being. God broke the mold on you. Rest in Peace. Poet."
Baby Driver director Edgar Wright tweeted a still of Stanton from Repo Man, captioning it, "RIP to the legendary Harry Dean Stanton. Impossible to cover his legacy in brief but here's a few favs: Alien, Paris, Texas, Repo Man."
Prolific movie helmer John Carpenter, who directed Stanton in Escape from New York, posted on Twitter, "Harry Dean Stanton was a wonderful man, kind, and full of humor. He was also a great actor. Goodbye, Harry Dean. Rest in peace."
Stephen King remembered one of Stanton's greatest moments from the 1983 Carpenter-directed film Christine: "Harry Dean Stanton had the best line in Christine: 'I'm selling this s***hole and buyin' a condo.' Rest in peace, HD. You were great."
David Lynch, a longtime Stanton collaborator, released a sentimental statement remembering the actor's legacy. "There went a great one. There's nobody like Harry Dean. Everyone loved him. And with good reason. He was a great actor (actually beyond great)—and a great human being—so great to be around him!" You are really going to be missed Harry Dean! Loads of love to you wherever you are now!" The two most recently worked together on the Twin Peaks revival, and previously teamed up for Wild at Heart, Twin Peaks: Fire Walk With Me, the 1993 miniseries Hotel Room, The Straight Story, and Inland Empire. 
Director Monte Hellman, who made 1996's Ride in the Whirlwind, 1971's Two-Lane Blacktop, and 1974's Cockfighter with Stanton, spoke with Variety, revealing that he and Stanton met through actor Jack Nicholson "when they were roommates." Hellman stated that Stanton "had the same quality as all great actors," and shared an anecdote about Stanton's drive as an actor: "I think Harry summed it up best himself when he told me some advice Jack had given him. It was 'Let the wardrobe do the acting.' He was one of a kind and he didn't have a bad angle. You could him up, down, left, right and he always looked great. He did have an actor's ego and did want to garner more lead roles. I remember on Two-Lane Blacktop, he thought he should have been cast in the Warren Oates part. He was also very upset when he discovered, on location in Oklahoma, that the character was a gay hitchhiker. This was 1970 and he was a little bit old-fashioned in his thinking then. Actually, he was so pissed off, he almost quit. But then he delivered what I believe is one of the most moving performances of his life."
These are just a handful of the many tributes to Stanton posted on social media. Take a look at more below.
According to Stanton's agent, the late actor "is survived by family and friends who loved him."
Remember having a smoke with him outside the Mint on Pico when I first moved to LA. What a cool guy RIP https://t.co/4Vd2klFl71

— Ike Barinholtz (@ikebarinholtz) September 15, 2017
Found this. #RIPHarryDeanStanton pic.twitter.com/88jWk9ayJk

— Jon Donahue (@JonDonahue) September 15, 2017
Harry Dean Stanton was brilliant and cooler than anyone. RIP pic.twitter.com/Lti2w6FI1F

— Brian Lynch (@BrianLynch) September 15, 2017
Oh Man! Another legend gone. Harry Dean Stanton. Coolest of the cool. Kelly's Heroes coolest war movie ever! Among many others.

— Stevie Van Zandt (@StevieVanZandt) September 15, 2017
Oh man. RIP Harry Dean Stanton. What a legend. One of the very best. https://t.co/bPQal7euPZ

— John Gallagher, Jr. (@JohnGallagherJr) September 15, 2017