How The Boys Let Erin Moriarity Showcase Her Hidden Talent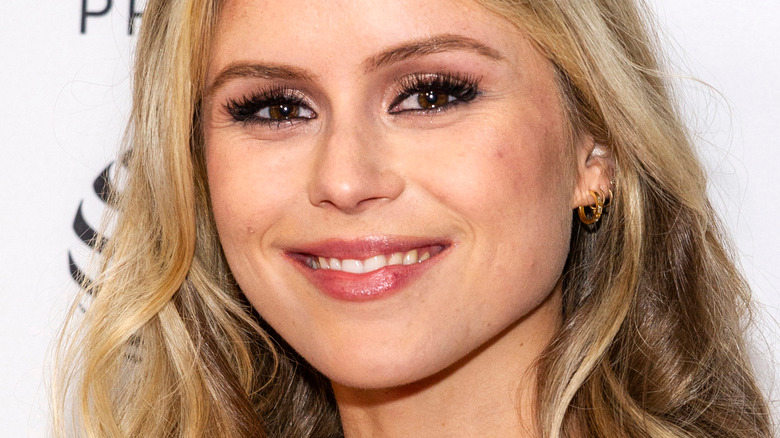 Ovidiu Hrubaru/Shutterstock
Season 2 of Amazon's "The Boys" proved to be just as satisfyingly diabolical as the first, delighting both fans and critics. Adapted from Garth Ennis' graphic novels, the show follows the rag-tag group of Billy Butcher (Karl Urban), Mother's Milk (Laz Alonso), Hughie Campbell (Jack Quaid), Frenchie (Tomer Capone), and Kimiko Miyashiro (Karen Fukuhara) as they do everything in their power to take down The Seven, America's corrupt superhero team run by the Vought company. Each member of The Boys has their own vendetta against The Seven, all ultimately agreeing that the "supes" should pay for what they've done — specifically Homelander (Antony Starr). Fortunately for The Boys, they've had one member of The Seven on their side for a long time now — Starlight (Erin Moriarty).
Starlight aka Annie January appears right away in Season 1. She progresses to learn that not only are The Seven not who she thought they were, but that she was given enhanced abilities as an infant due to a deal her mother (Ann Cusack) made with Vought. She also develops a crush on Hughie, and helps The Boys on multiple occasions, including throughout most of Season 2. The finale sees Starlight escape captivity and attend a press conference with Queen Maeve (Dominique McElligott), where Homelander is forced to issue a public apology to her.
Of all the important Starlight moments throughout "The Boys," there was one during Season 2 that even let Moriarty showcase a hidden talent. 
Erin Moriarty showcased her singing voice in Season 2 of The Boys
Speaking with Entertainment Tonight in 2020, Erin Moriarty explained how a little known talent came in handy during one of Starlight's more prominent moments on "The Boys." In Season 2, Episode 1, deceased member of The Seven, Translucent (Alex Hassell), is given a memorial service. Starlight must sing in honor of her fallen comrade, belting out a song called "Never Truly Vanish," created by the show's composer, Christopher Lennertz (via Insider).
Moriarty confirmed to ET that it's really her voice, adding, "My introduction into the world of performing was singing but that was when I was much younger and that was what I initially wanted to do. ... then it turned into acting." Moriarty also recalled "The Boys" showrunner, Eric Kripke, coming to her about the idea. "We want it to be as Celine Dion-esque as possible. We're going to lean into the cheese factor," Kripke reportedly told her, to which she enthusiastically replied, "I am in."
Insider further detailed the journey of Starlight's ballad, which was recorded prior to shooting the memorial scene. However, despite Moriarty's youthful singing aspirations, she had never been recorded. Fortunately, it didn't matter, because, as Lennertz told the outlet, within minutes, "She just jumped right in and nailed it." The recording helped quell Moriarty's initial anxiety over performing live. As she put it to ET, "Singing gives me stage fright more than anything else, but ... on the day it was more like lip-syncing."