Why Tom Hopper Had To Eat 23 Steaks In One Day For The Umbrella Academy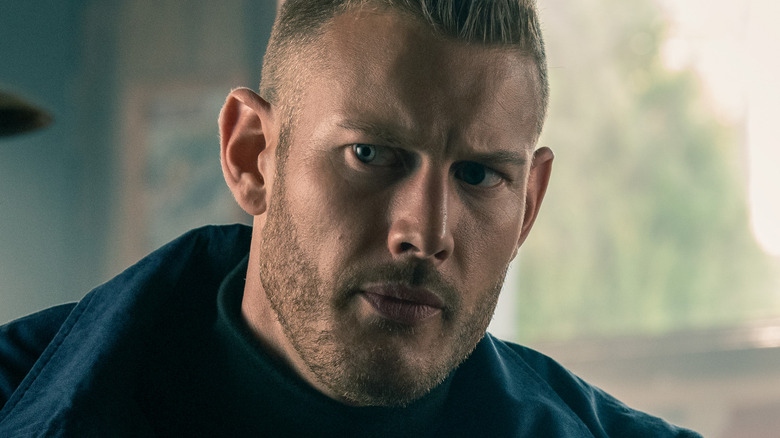 Netflix
When describing "The Umbrella Academy" team member Luther Hargreeves, penning him as "a tremendously big dude" would be a safe bet. Such is the kind of description you're going to get after you carry the exact physiology of an oversized gorilla, making you look somewhere between The Incredible Hulk and Mr. Hyde from "The League of Extraordinary Gentlemen." It's a frame that Tom Hopper has carried effortlessly after playing the character since 2019 and nailing the tortured soul of the man trapped inside a monster.
His dedication hasn't stopped at capturing this gentle giant's emotional struggles on the popular Netflix show, either. Wielding the strength of ten men also means he'd be likely to eat for the same amount (saving the world can build up an appetite, after all). As a result, one scene specifically led the star to chow down on an incredible 23 steaks. It was an undeniably valiant effort to get through a mountain of meat and one that even Professor Hargreeves himself may have been impressed with.
Tom Hopper got through 23 steaks during filming and took the rest home to snack on
Netflix
According to the show's creator Steve Blackman via a Reddit AMA, Tom Hopper ate up a scene that was cooked to perfection thanks to a mountain of steaks that the actor had no choice but to get through. In the third episode of Season 2, Jack Ruby (Holland Hayes) barges in on Luther's meal, wanting to know the whereabouts of Allison's (Emmy Raver-Lampman) home. The selected dish of the day was steak, which, while perfectly simple, needed to be tended to in between takes to ensure what was being done remained consistent. As a result, it set Hopper on a one-way course for the meat sweats.
Blackman confirmed that when it comes to Hopper, "he is a machine. But he is very particular about his food. So it always has to be protein based and healthy." With that in mind, it seems that when it comes to steak, it's a dish that fills Hopper's checklist and then some. "This season, he had a scene with Jack Ruby in which he had to eat steak. For continuity, we need to provide him with a fresh steak for each take. Tom gobbled down 23 steaks that day and took the rest home for a next-day snack." It's an undoubtedly impressive feat from Hopper, who clearly loves a good serving of medium-rare goodness when it's in front of him. What a hero.