How Jason Alexander Had A Hand In The Casting Of This Sopranos Character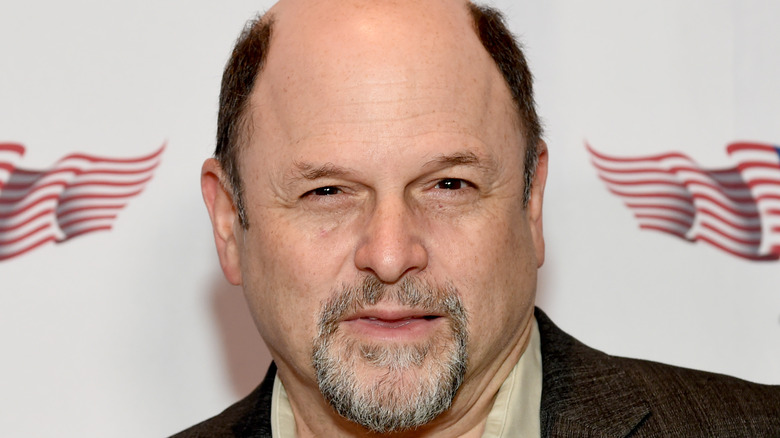 Michael Kovac/Getty Images
During its 1990s primetime heyday, few sitcoms were quite as universally revered as "Seinfeld." Posited as a "show about nothing," the beloved series used that formula to wow viewers for nine full seasons of seemingly innocuous tales of life in New York City that fronted a singular, and side-splittingly funny mix of high-brow and low-brow humor. More than 20 years after its finale aired, "Seinfeld" is still splitting sides, and still earning raves as a legit trailblazer in the modern television landscape. 
Though they've all gone on to other things, the all-star cast of "Seinfeld" is still perhaps best recognized for their work on the show. That's particularly true of Jason Alexander, who portrayed the feverishly neurotic George Costanza in all but one episode of the series but has yet to find the same sort of success in his post-"Seinfeld" career. Alexander's fans likely know the actor spent a fair bit of his career after "Seinfeld" trying to make a proper director of himself. But you may not realize that in doing so, the man behind one of the '90s' most quotable sitcom characters inadvertently played a hand in casting a key role on HBO's legendary mob drama "The Sopranos." Here's how Jason Alexander factored into the casting decision.
A crafty casting director on Alexander's film found a perfect The Sopranos role for Al Sapienza
"The Sopranos" role Jason Alexander played a role in getting cast was indeed that of Mikey Palmice, who was portrayed by actor Al Sapienza in 10 episodes of the show between its 1st and 4th seasons. Most of those appearances, of course, came in Season 1, which the fiery, fiercely loyal triggerman to Junior Soprano (Dominic Chianese) failed to emerge from alive. Deceased status aside, Mikey Palmice was one of the standout characters from the show's 1st season. Likewise, "The Sopranos" proved a legit turning point in Sapienza's now decades-long career.
According to Sapienza's comments on a 2021 episode of the "Talking Sopranos" podcast, he likely wouldn't even have read for the part had it not been for Jason Alexander. As Sapienza tells the story goes, he and Alexander became friends while working on separate plays in Los Angeles. And when the former was casting for his first post-"Seinfeld" directorial gig (the 1999 indie film "Just Looking"), he called his old pal in to read for a role. Oddly enough, Sapienza did not get the part in Alexander's movie. He did, however, meet the film's casting director, Georgianne Walken, who was then also deep in casting on "The Sopranos." Walken was impressed enough with Sapienza that she helped fast-track his casting on the iconic series. Per Sapienza, barely a week after the fateful meeting, he was shooting scenes on "The Sopranos." And the rest, as they say, is history.