Futurama Cast Reunites In All-New Podcast Episode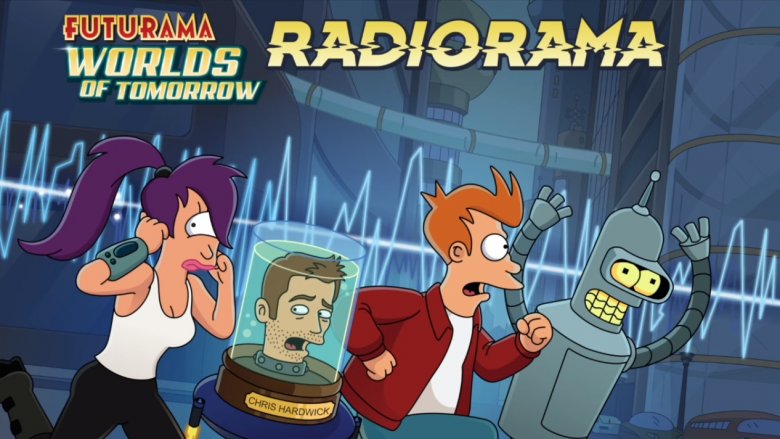 Futurama
Futurama lives again—again!
The spacefaring animated series, which ran on Fox from 1999 to 2003 before a four-film revival in 2007, followed by the full resurrection of the series for two new seasons starting in 2010, has returned with its full voice cast intact for an audio-only podcast adventure on the Nerdist network. 
The 42-minute podcast, called "Radiorama", follows a routine Futurama story, with the Planet Express crew on a journey to the planet Junkleon 7, where they encounter a monster (voiced by The Nerdist's Chris Hardwick) who is made entirely of sound waves from discarded 21st-century podcasts. It's meta! And high-concept!
This is no tossed-off product for nostalgia vultures, by the way. The episode was written by Matt Groening, co-creator David X. Cohen, and the writers room of Futurama, and for all intents and purposes is like watching an episode of the show with your eyes closed. Even Scruffy makes an appearance! That's how you know it's legit.
"Last year I cornered two fine gentlemen—Matt Groening and David X. Cohen—and pitched the idea of doing a new Futurama episode as a podcast/radio play because it's one of my favorite things and I need more of it," Hardwick said. "Today I am drooling with unfiltered joy to say that A) it's actually happening, B) I got to voice the villain (Klaxxon) and C) I'm a freaking head in a jar in Futurama: Worlds of Tomorrow, a game I've been feverishly playing since it came out. Galaxies of thanks to Matt, David and TinyCo for acquiescing to the maniacal ravings of a well-meaning fanboy."
The episode was inspired by a recent cast reunion which saw the series' voice talent come together for the launch of the Futurama mobile game Futurama: Worlds of Tomorrow, which was released in June. 
You can listen to the new episode below. For the full skinny on the life, deaths, and many resurrections of the unlikely sci-fi comedy, check out our feature on the untold truth of Futurama.