The Punisher Won't Have Many Ties To The Defenders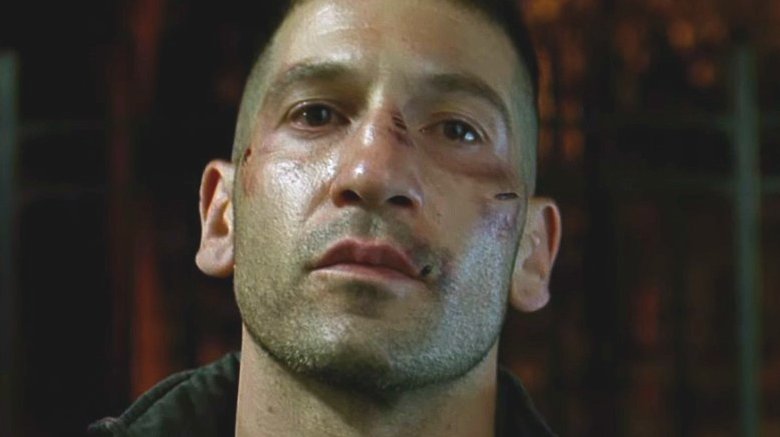 Netflix
Don't expect to see any superheroes or mystic ninjas in the first season of Marvel's The Punisher.
Jon Bernthal, who plays Frank Castle (aka the Punisher), recently told Entertainment Weekly that the Netflix series won't have much in common with the the Defenders.
"We are stripping down every supernatural element," Bernthal said. "This show is different. It looks different. Frank is a character rooted in the most basic human emotions... He's a comic-book character, but he doesn't fly, he doesn't have X-ray vision. He's an unbelievably skilled soldier who's been very, very angry and very, very hurt."
This matches up with comments that co-star Ben Barnes previously made. Barnes plays Jigsaw on the show, and although the character is a villain, he doesn't have any super powers. "I was really pleased at the grounded, tough approach to the material," Barnes said. "Our show is about men suffering tragedy and trauma; it's about a very real topic set in a world of superheroes—but no character in our show has superpowers and that makes it feel unique in this universe."
If you're new to the Punisher, he's a war veteran and former sniper for the Marines, a master of martial arts, and an expert with weapons and stealth tactics. When his family is murdered, he goes after vengeance.
Although Bernthal first appeared as the character in the second season of Daredevil, he didn't show up in the ensemble series The Defenders. Marvel TV head Jeph Loeb also said there's little chance that the character will join the Defenders anytime soon. "I think one of the things that is unique to the Punisher, and particularly to Jon Bernthal's performance, is that the character can stand alone. I think even in the comic books, Frank Castle's Punisher is a character that sort of does well by himself. I think that when you start mixing it in, it feels a little off."
The Punisher is expected to premiere at some point this year. Until then, check out some facts about the character you may not know.