How Many Characters Does Mike Myers Actually Play In Netflix's The Pentaverate?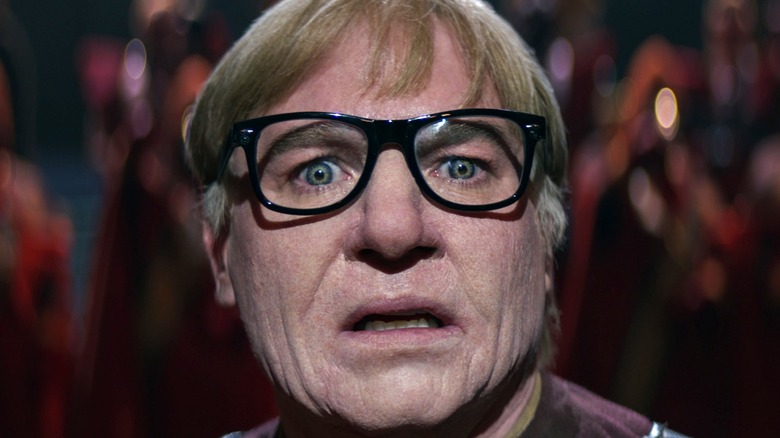 Netflix
Multi-hyphenate Mike Myers is nothing if not a chameleon. Having brought Wayne Campbell, Dr. Evil, Austin Powers, and even Guru Pitka to credible life over his career, he's known for being able to shed accents and don heavy prosthetics to make his audience believe in the fictional world he's trying to craft. From the "Austin Powers" series to "Wayne's World" to "So I Married an Axe Murderer" extending all the way to his voice acting in "Shrek," the actor's known flexibility as a performer has become a hallmark of his career. Although rumors of difficult behavior have arisen, Myers has always been able to overcome those whispers and deliver performances that audiences (mostly) care about. That's a victory in itself, even though his career has seen its share of stumbles.
In "The Pentaverate," the actor once again becomes a self-contained cast, playing multiple roles in his first Netflix series. In fact, he plays so many parts that fans of the actor might be curious to know how many people Myers actually ends up pretending to be over the course of the show's six episodes. Fear not — we (and Netflix) have gone ahead and done the math for you.
The actor appears in eight different roles
Per Tudum, Mike Myers plays eight different parts in "The Pentaverate": Canadian journalist Ken Scarborough, the film's protagonist; Lord Lordington, the British member of the Pentaverate; Mishu Ivanov, an ex-Russian oligarch; a highly fictionalized version of real-life talent manager (and subject, according to Entertainment Weekly, of a documentary by Myers) Shep Gordon; Bruce Baldwin, an Australian media magnate; Jason Eccleston, whose death leaves a gap in the ranks of the titular Pentaverate; Anthony Lansdowne, a conspiracy theorist; and conservative radio talk show host Rex Smith.
Myers also voices, though doesn't physically portray, Shrek in a cameo. That's a whole lot of Myers to go around, doubling the four roles the actor played in 1999's "Austin Powers: The Spy Who Shagged Me" (Austin Powers, Dr. Evil, Fat Bastard, and an astronaut) and 2002's "Austin Powers in Goldmember" (Austin Powers, Dr. Evil, Fat Bastard, and Goldmember).