The Office's Rainn Wilson Has A Wild Walking Dead Crossover Idea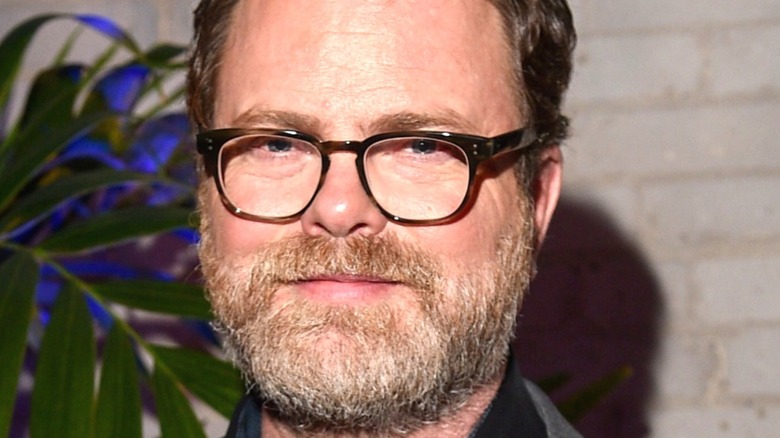 Ernesto Distefano/Getty
Rainn Wilson has racked up a plethora of acting credits over the years, including a recurring arc on HBO's "Six Feet Under" and his breakout role as Dwight Schrute on the now-iconic NBC sitcom "The Office." If you are somehow unfamiliar with the premise of "The Office," the mockumentary-style series follows the professional and personal lives of the employees of the fictional paper company Dunder Mifflin. For nine seasons, Wilson plays Dwight, the socially inept, intensely quirky, devoted paper salesman, beet farmer, and assistant (to the) regional manager, Michael Scott (Steve Carell). The series sees Dwight form a rivalry with fellow salesman Jim Halpert (John Krasinski), who often pulls pranks on him, and pursue an on-again, off-again relationship with accountant Angela Martin (Angela Kinsey).
Since the end of "The Office" in 2013, Wilson has moved on in his career to other television endeavors. According to his IMDb profile, those endeavors include projects such as "Utopia," "Mom," and "Dark Winds." He has also appeared in films such as 2017's "Permanent," 2019's "Blackbird," and 2020's "Don't Tell a Soul."
Still, fans may be curious to know if Wilson will ever return to the beloved character of Dwight Schrute. Well, as it turns out, he may have a bonkers crossover idea involving "The Walking Dead," AMC's zombie apocalypse drama.
Wilson thinks Dwight should fight zombies
While speaking with PopCulture, Rainn Wilson addressed a question a lot of "The Office" fans have: Will there ever be some sort of reboot or revival? The veteran actor began by largely shutting down the idea, explaining that it's not worth messing with a good thing. He said, "I just keep thinking it would be really fun, but at the same time, 'The Office' is like this perfect gym, 200 episodes. Granted, maybe there's a dozen that weren't so great." Wilson then proceeded to make the extremely valid point that, in the years since "The Office" went off the air, the show remains an incredible achievement and has steadily built up a larger and larger fanbase. He stated, "Just leave it alone. Like, step away. Anything you attempt to do is only going to tarnish the kind of like reputation and legacy of the show."
Wilson may object to returning to the show in any serious capacity, but that didn't stop him from having fun imagining ways for him to reprise his character. He playfully pitched an idea for an "Office" movie, in which the employees go on a cross-country road trip to attend Creed's funeral, only for him to turn out not to be dead after all. This led Wilson to his crazy and hilarious pitch for a crossover between "The Office" and "The Walking Dead."
Wilson concluded, "Then we combine it with a 'Walking Dead' spin-off series, Dwight versus zombies. Everyone has wanted to see Dwight versus zombies from the get-go. So, there's a world of possibility out there."